Apply for the 2020 Orientation Leader Team!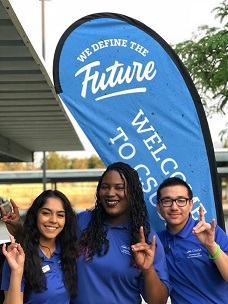 Selection to be a California State University, San Bernardino's (CSUSB) Orientation Leader is an honor and a rewarding opportunity for your personal and professional growth. Orientation and First Year Experience selects mature and dedicated student leaders to assist with the implementation of the Transfer Orientation, First-Year Orientation, and Parent and Family Orientation programs at  CSUSB. They are instrumental in helping newly admitted first-year students, transfer students, and their families in their adjustment and transition to CSUSB and the college experience.

Orientation Leaders serve as peer educators, resource contacts, and role models to the new incoming first-year and transfer students. They play a major role in facilitating the adjustment of new students and their families to the CSUSB community and life as a Coyote. They share accurate information about academic, personal, and social resources while working collaboratively with faculty, professional staff, and student staff from a variety of departments and organizations on campus.

We are excited about your interest in our amazing student leader opportunities and hope that we will see you soon at an information session!
Applications are now closed for our 2020 Orientation Leaders. Keep an eye out in the fall for information about hiring and selection for our 2021 Orientation Leaders! 
You can also join our email listserv here to ensure you get all the updated information as it is available!
Questions?
Contact Orientation and First Year Experience at (909) 537-5233 or orientation@csusb.edu.