Cohort Overview 
The Master of Public Administration (MPA) at California State University, San Bernardino (CSUSB) prepares students for leadership in public service.  
Our mission is to offer a high quality education in public administration founded on public service values; especially diversity, inclusiveness and democratic governance. California State University, San Bernardino is nationally accredited by NASPAA, the Network of Schools of Public Policy, Affairs and Administration.
---
The Department of Public Administration at California State University San Bernardino announces a Master of Public Administration (MPA) degree to be delivered to California County executives and managers beginning Fall 2019.  This special MPA cohort program is a practical, leadership-oriented program that ensures that participants have all the foundational skills that managers and executives need in order to be well-rounded and successful in today's county government systems. The degree program is nationally accredited, and the faculty are nationally prominent instructor-scholars. The cohort director, Monty Van Wart, who will teach several of the classes, is a nationally preeminent scholar in public sector leadership. The Public Administration program at CSUSB is nationally known as a leader in high quality online teaching. The program is designed to maximize flexibility, being largely asynchronous online learning in handy weekly modules (with weekly feedback), but will also include real-time videoconferencing. This substantially enhances the quality of interactions as well as student comfort in an online environment.  All classes will feature county-level examples and exercises based on best-practices by counties in California and the United States. 
Timing
The 12-course program will run from Fall 2019 through December 2021, providing two classes a term, one class in the two summers and a Comprehensive Exam in Fall 2021.  Graduation will be December 2021. The program includes two residential meetings.   Apply no later than July 8, 2019
---
Cost of Program
Tuition and fees are based on the California State University San Bernardino tuition schedule and charges are assessed per term. The total cost of the degree is approximately $24,000 over two and a half years, plus costs for books and travel.
Apply
To apply for this special program, applicants must have: 
a bachelor's degree from an accredited institution
a GPA of at least 3.0 in the last 90 quarter units or 60 semester hours of post-secondary studies OR Program Director approval
Experience in administrative leadership in County Government in California
See our How to Apply page for detailed instructions on applying online.
Free Information Sessions
Details
Schedule

Join us for a free online information session - learn more, get your questions answered. No registration needed; click the link to join at the scheduled time.

Learn more about joining and participating in a online session from your computer through this brief video.

TBD

Previous County Cohort Recording
Zoom Recording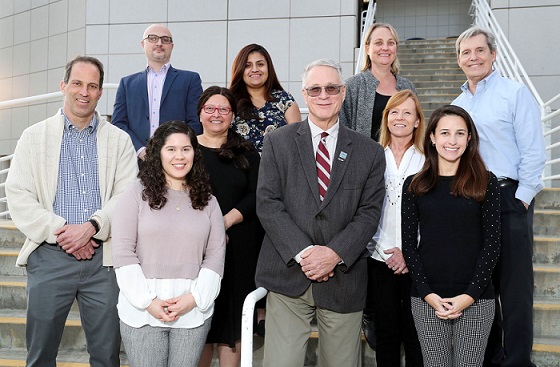 Top Row: Dr. Alexandru Roman, Biany Huerta Ramirez, Dr. Kimberly Collins, Dr. Montgomary Van Wart
Second Row: Dr. Anthony Silard, Dr. Sharon Pierce, Toni Ditty
Bottom Row: Marisol Botello, Dr. Jonathan Anderson, Dr. Pamela Medina 
Missing Dr. Marc Fudge, Dr. Thomas McWeeney
Contact and other information on faculty and staff can be found on our Faculty & Staff page.  Click on Professor's names to see Curriculum Vitae and other information