Welcome to Hospitality Management at the California State University San Bernardino, Palm Desert Campus!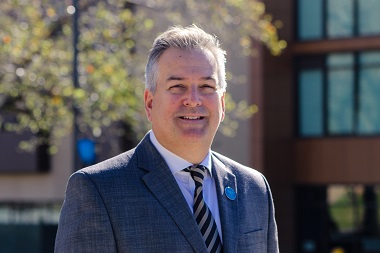 Dr. Joseph Tormey, Director
The Hospitality Management degree in the Department of Marketing is offered under the Jack H. Brown College of Business and Public Administration.  The College is accredited by the Association to Advance Collegiate Schools of Business (AACSB International), a distinction that less than five percent of all business schools in the world have achieved.   Moreover, CSUSB was the first university in Riverside and San Bernardino counties to offer AACSB-accredited business programs.  We are proud of this recognition that highlights the quality of our hospitality business degree!  By this standard we have designed the program that is situated in one of the top hospitality and tourism destinations with 100's of hotels, resorts, golf courses, sports and entertainment events and much more.
The coursework for the B.A. in Administration, Hospitality Management Concentration is quite comprehensive and rigorous, and the teaching is student-centric.  The program is comprised of co-and extra-curricular experiential learning opportunities, social activities, academic and professional experiences that include guest speakers, personal mentorships, field trips, study abroad and internship opportunities locally, nationally and internationally.
Our commitment to students and the college experience is to provide an incredible academic education supplemented by outstanding professional development that is delivered with a high degree of personalized attention.  Please know that we are here for you and feel free to contact me to chat via video conference, email or telephone should you have any questions.   I wish you continued health and success, and look forward to hosting your virtual visit to the Palm Desert Campus in the famous resort area of the Coachella Valley as the first step in defining your future!
Thank you and best wishes,
Dr. Joseph Tormey
Director
jtormey@csusb.edu
(909) 537-8213