High Desert Daily, Readiness of Power Grid for Surge of Electric Vehicles Discussed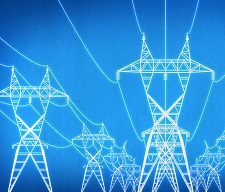 By Staff Reports
 
Published: August 25, 2019 
 
The dialogue will look into what challenges will be encountered by electric utilities, and transportation and utilities planners as these groups and entities will have to effectively model their performance and incentive charging programs for both the general public and business sector from the increase of electric vehicles. Read full High Desert Daily article here.
Inland Empire US, Leonard Transportation Center explores if power grid is ready for major increase in electric vehicles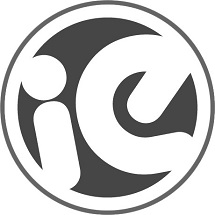 By Press Release
 
Published: August 22, 2019
As the number of electric vehicles on the road is expected to grow to about 18 million by 2030, the need for the power grid and transportation infrastructure to keep pace will be the focus of the Regional Mobility Dialogue Series of the Leonard Transportation Center at Cal State San Bernardino on Tuesday, Aug. 27. Read full Inland Empire US article here.
Patch, Los Angeles Local News, Leonard Transportation Center Regional Mobility Dialogue Series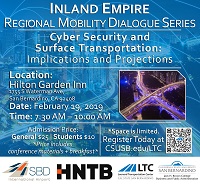 By AHPR, Community Member  
Published: February 5, 2019
Experts address cybersecurity challenges facing surface transportation now and in the future. Building on the success of last year's inaugural Regional Mobility Dialogue Series, the Leonard Transportation Center at California State University San Bernardino is presenting another series of six dialogue sessions for 2019 on topics relevant to the future of transportation in the Inland Empire.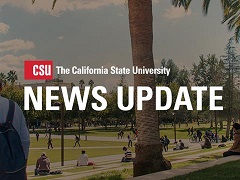 By Elizabeth Chapin/Staff Writer, CSU Gridlock State
Published: August, 2018
Solving a problem as big and complex as traffic in a state the size of California requires creating a dialogue with a wide variety of people. That was the genesis of California State University, San Bernardino's William and Barbara Leonard Transportation Center (LTC), which focuses on issues related to reducing transportation costs and increasing efficiency in Southern California.
Patch, Los Angeles Local News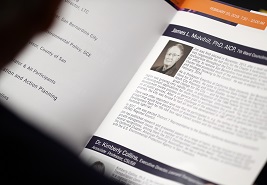 By AHPR, Business 
Published: January 25, 2018
As part of CSUSB, the Leonard Transportation Center is interested in bringing people together to provide the facts, discuss the major issues, and work to resolve them. The center is committed to the notion that finding solutions to the mobility challenges in Southern California is much more likely when people from different walks of life are engaged in the conversations. Kimberly Collins, LTC executive director, said, "We invite anyone interested in being part of the conversation and solution to join us for this innovative and engaging series."
LTC Attends the World Trade Conference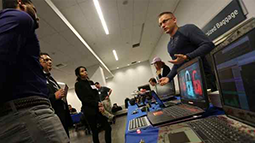 By Paul Prado/Staff Writer Highland Community News 
Published: May 26, 2017 
The William Leonard Transportation Center, the Analytics Center of Excellence, AR Tech, and the CSUSB Student Research presented during the Global Innovation Fast Pitch Series.
Cal State San Bernardino Picked to Help Find U.S. Traffic Solutions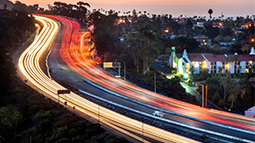 By Mark Muckefuss/Staff Writer, The Press Enterprise
Published: Jan. 9, 2017 Updated: Jan. 10, 2017 6:35 a.m.
Cal State San Bernardino has been selected as one of 18 institutions that will take part in a U.S. Department of Transportation program to study transportation issues facing the nation.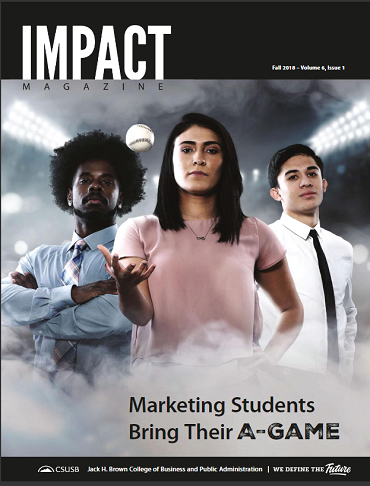 The Jack H. Brown 2018 Impact Magazine
Talks on Transportation Move Forward 
The Leonard Transportation Center's (LTC) Regional Mobility Dialogue Series, launched in 2018, is drawing local and statewide interest in addressing transportation challenges and identifying opportunities in the Inland Empire and Southern California region.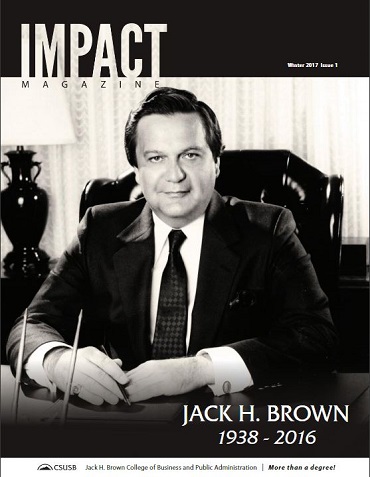 The Jack H. Brown 2017 Impact Magazine
New Beginnings for the Leonard Transportation Center
In 2006, with a start-up grant from Bill and Barbara Leonard, San Bernardino residents, business owners. and philanthropist, the Leonard Transportation Center (LTC) became part of the Jack H. Brown College of Business and Public Administration. In its early years, the LTC hosted annual transportation conferences and forums to connect Inland Empire residents and business with transportation professionals and government agancies. 
Read More: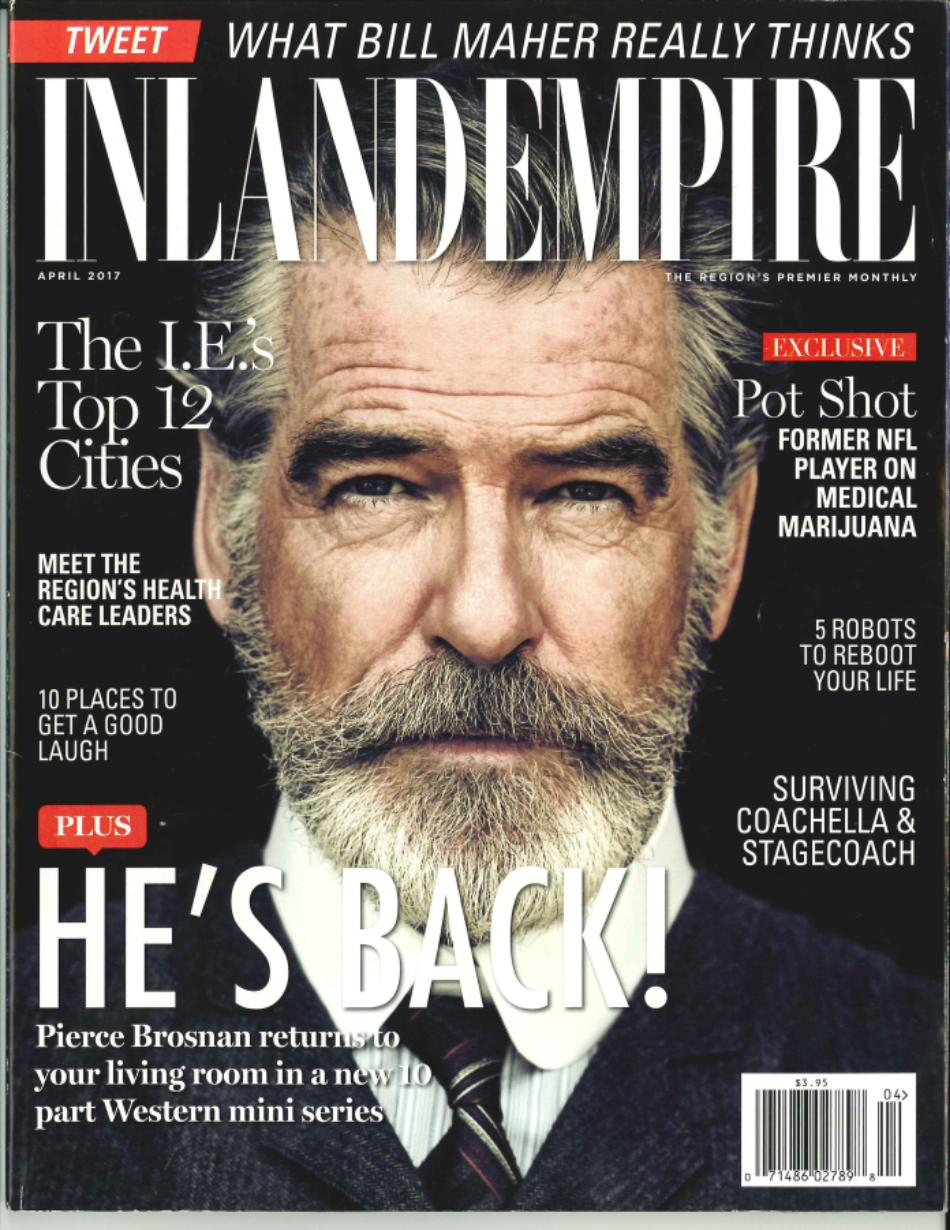 Traffic Study
Cal State San Bernardino seeks transportation solution 
The U.S. Department of Transportation has chosen Cal State San Bernardino's William and Barbara Leonard Transportation Center (LTC) as on the the 18 Universities throughout the United States to lead newly established "Beyond Traffic" Innovation Centers. 
Former U.S. Secretary of Transportation, Anthony Foxx Visits CSUSB Hosted by the Leonard Transportation Center
On October 19, 2016, Secretary Foxx outlined his new "Ladders of Opportunities" initiative and explained how the communities in the Inland Empire can make a major contribution to national policy.  He encouraged the work of the LTC and indicated that DOT will watch with interest as the LTC program evolves.  
Event representatives from the various state and local government's having transportation responsibilities, representatives from the business community, as well as community organizations from Ontario to Indio attended the event.  In was the first time that such a wide range of interests has come together under a common agenda.