CSUSB is now an EIM-OC Gold Campus! 
For the complete list of recognized campuses, please click here! 
---

FREE Exercise Consultation Service in the Dept. of Kinesiology
An EIM-OC program at CSUSB
Exercise is easy!  Want to learn more?  
 
For a free 15-minute exercise consultation, please visit our Virtual Exercise Consultation Room and speak to one of our Exercise Consultants to learn about how to begin adding more physical activity into our daily life.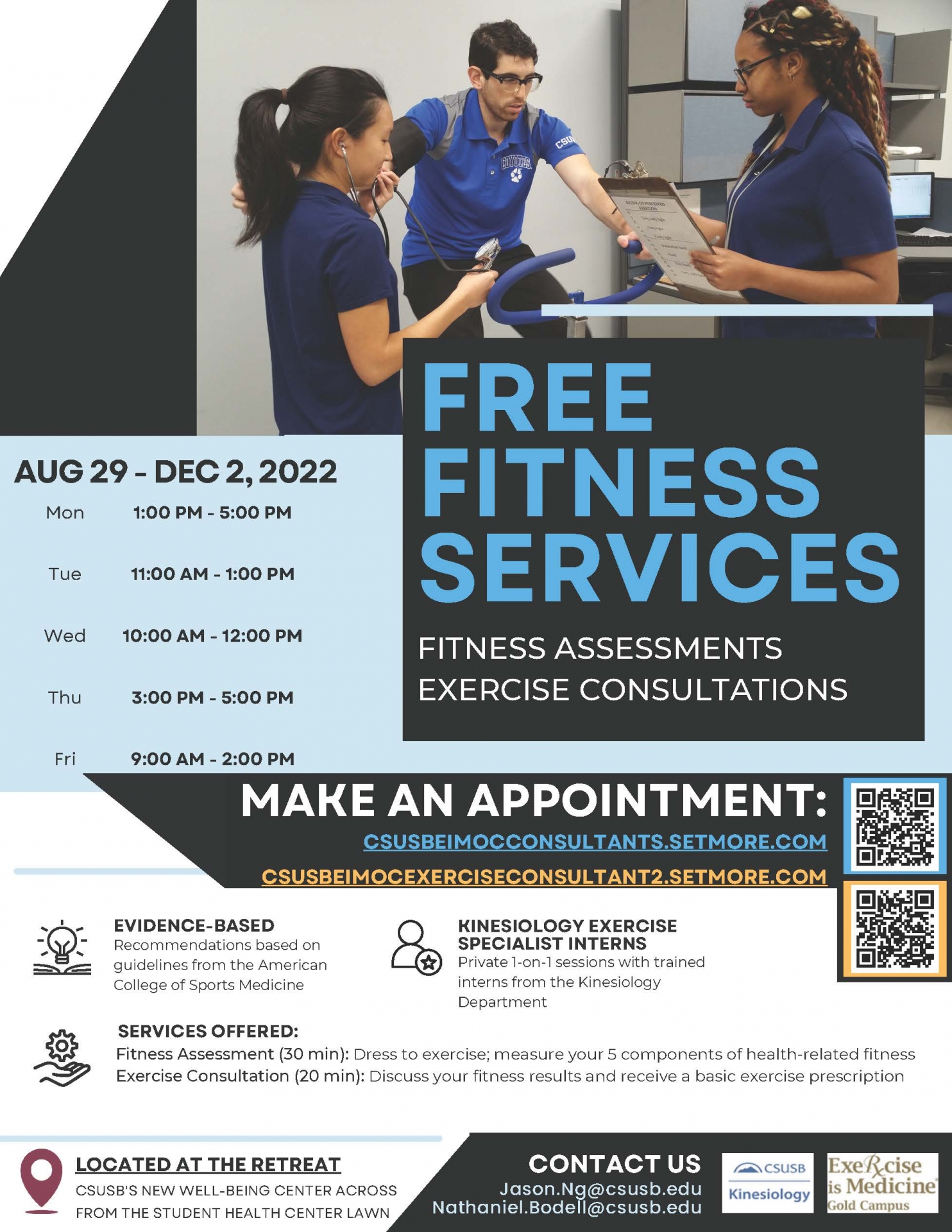 Want to be an EIM-OC Exercise Consultant Intern? 
Apply here before the end of this semester to serve next semester.  To learn more about the internship, please contact Dr. Jason Ng at Jason.Ng@csusb.edu.
About EIM-OC
Exercise is Medicine (EIM) is a global health initiative started by the American College of Sports Medicine and the American Medical Association.  Part of the mission is to encourage health care providers and exercise professionals to work together to use physical activity as a form of medicine to prevent and treat a number of non-communicable diseases. 
Exercise is Medicine – On Campus (EIM-OC) applies the EIM mission to our CSUSB community.  The mission of EIM-OC is to foster collaborative relationships and leadership on campus between exercise, health, and other disciplines that support the EIM-OC vision and goals.  The vision of EIM-OC is to see all campus and community members across multiple disciplines discover, share, and adopt principles of EIM-OC that will help change the culture of chronic disease prevention and management campus-wide.
Here at CSUSB, the Kinesiology Department, Student Health Center, Student Recreation, and Wellness Center, and EIM-OC Student Club are collaborating to bring awareness to the concept of exercise as a form of prevention and management of diseases.  EIM-OC aims to make exercise resources more accessible to the CSUSB campus community. For more information about the Exercise is Medicine Global Initiative, please visit https://www.exerciseismedicine.org/
EIM-OC Leadership Team
Advisor
Dr. Jason Ng
Assistant Professor
Department of Kinesiology
 
Health & Fitness Professional
Sonia Martinez, NSCA-CPT, ACSM-EP, EIM2
Wellness Supervisor
Student Recreation and Wellness Center
 
Health Care Professional/Representative of Student Health
Dr. Richelle Marracino Ghazal
Medical Chief of Staff
Student Health Center
EIM-OC Student Organization
Join the EIM-OC Student Organization;
For more information, please contact EIM Advisor, Dr. Jason Ng (jason.ng@csusb.edu)
Follow us on Instagram  

The CSUSB Student Health Center
Keep track of your health at the CSUSB Student Health Center.  The Student Health Center offers services to students with the goal of promoting good health on the road to academic and professional success.  Medical services include primary care, immunizations, nursing care, and health education.  The Student Health Center is also equipped with a pharmacy and laboratory.  For more information, see https://www.csusb.edu/student-health-center.