Organizations maintain contact with business and public agencies in the community through speakers, field trips, and other activities. Clubs provide CSUSB students valuable organizational experience, as well as professional and social contacts. Many clubs have links to other social media sites. Below is a brief list of current Jack H. Brown College of Business and Public Administration clubs/organizations.  
To learn more about other CSUSB clubs and organizations, please visit the Office of Student Engagement, or search via Coyote Connection.
Accounting Association (AA) & Beta Alpha Psi (BAP)- National Scholastic Fraternity for Financial Information Professionals


Accounting Association and Beta Alpha Psi members work together, and meet weekly to maintain a busy calendar. Speakers from local CPA firms, governmental accounting agencies, private compaines, and CPA review courses are just a few of the events. Meet the Firms is the largest networking event for accounting students, is hosted by AA and BAP students, and is held yearly in October. 
For more information, please email: BAP/AA.
American Marketing Association (AMA)

AMA is a student-run marketing club that provides students with unique opportunities and training for careers in marketing. During the 2012-2103 academic year, AMA was named CSUSB's Outstanding Student Organization. Additionally, in 2013, CSUSB's chapter placed 3rd in the AMA Saves Lives video contest, and was awarded Excellence in Chapter Planning at the AMA International Collegiate Conference in New Orleans, LA. 
For more information, please email Dr. Haakon Brown, Faculty Advisor.
American Production & Inventory Control Society (APICS)

The APICS CSUSB student chapter is an organization for success driven students interested in the business functions involving supply chain and operations. Membership, however, is open to all administration concentrations. Students in APICS gain skills needed to work in a business environment, and network with industry professionals and local organizations. Club members have access to industry approved educational resources, tour companies, manufacturing firms, and distribution centers.
Entrepreneurship Club

The Entrepreneurship Club strives to provide students interested in entrepreneurship with the opportunity to communicate, network, and brainstorm business ideas with peers and business leaders throughout the Inland Empire. Club members gain immediate access to community leaders, while building on their confidence through networking, community involvement, hands-on entrepreneurial experiences, and knowledge-sharing.
For more information, please contact Dr. Mike Stull.
Financial Management Association (FMA)

FMA provides academic and professional support for students who are interested in the financial industry. Students will learn the different fileds of finance, how to market yourself, interview, and construct unique résumés. Additionally, club members network with guest speakers, receive industry insight, and learn practical applications.
For more information, please email FMA.
Future Business Leaders of America (FBLA)
Future Business Leaders of America (FBLA) is a national organization available to all majors. FBLA (PBL) explores real-life scenarios in a business realm, strengthening student confidence.
For further information, please email FBLA.
Information Security Club (InfoSec)

The Information Security Club is open to all majors. The club provides students the opportunity to practice skills in the Information Assurance and Security Management research lab, attend events, and become a member of the National Information Systems Security Association (ISSA). 
For further information, contact Dr. Tony Coulson, Director.
Society for Human Resource Management (SHRM)
SHRM is the world's largest association devoted to human resource management. CSUSB's student chapter is a program designed to help members learn more about human resources, and the real-world of business through networking, job shadowing, guest speakers, student competitions, and workshops. Membership is open to all majors, but is especially beneficial for human resource management majors and/or minors.
For more information, please email Pat Flaherty, Faculty Advisor.
Toastmasters
Toastmasters supports members in three professional areas: public speaking, leadership, and practice for those whom English is not their primary language. Students will learn to speak effectively, develop keen listening skills, adopt leadership abilities, gain self-confidence, all while creating friendships.
For more information, please email Toastmasters.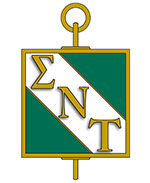 Sigma Nu Tau is the only academic honor society dedicated to Entrepreneurship. Sigma Nu Tau's mission is to promote, recognize, and reward academic excellence in entrepreneurship and to encourage and recognize the practice of principled entrepreneurship. Cal State San Bernardino, through the Jack H. Brown College's School of Entrepreneurship, hosts the second largest chapter in the world for the honor society, which recognizes students who exhibit honor, integrity, and a strong entrepreneurial spirit. Undergraduate students are eligible to join in they are juniors or seniors and have a cumulative GPA of 3.2; graduate students are eligible to join if they have completed 50% of their program and have a cumulative GPA of 3.5.
Questions and Contact
For more information contact Mike Stull at mstull@csusb.edu