Welcome to Information Technology Services at California State University San Bernardino. We pride ourselves in providing world class customer service, fostering and supporting faculty led innovation and research, and improving operational efficiency through the use of information technology tools.
At Information Technology Services, innovation drives our pursuit to foster and support the academic mission of the University. The innovative projects that our team is pursuing at the moment support the tactical objectives of the University Strategic Plan, the ITS Strategic Plan, Quarter to Semester Conversion, Graduation Initiative 2025 and WSCUC Accreditation Visit 2021. Tactical projects then become operationalized to create room for ongoing innovation.

I invite you to check out the current innovative projects on which we are working.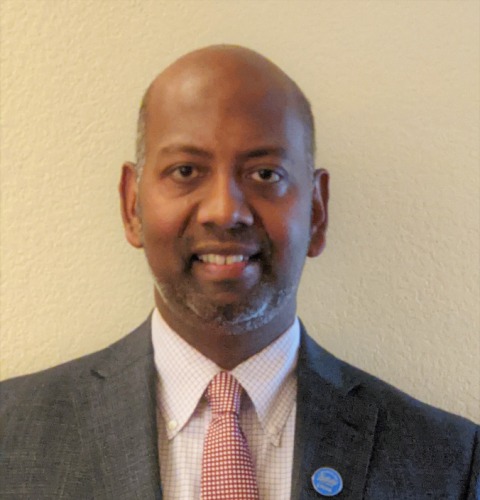 Dr. Samuel Sudhakar serves as the Vice President for Information Technology Services at California State University, San Bernardino, where he provides leadership to nine department heads, orchestrating academic technologies & innovation, institutional research & analytics, digital transformation, administrative computing, and business intelligence, technology operations & customer support, information security, compliance, & emerging technologies, and strategic technology initiatives. 
Under his leadership, CSUSB was awarded University Business Magazine's "Models of Excellence" honors for the Vital and Expanded Technologies Initiative (VETI) and continues to enjoy high visibility across the system for innovative technologies for student learning and success to include Artificial Intelligence/Machine Learning, Immersive Learning Technologies, and Infrastructure to support faculty-led innovation and research. Since joining CSUSB in 2013, Sudhakar has turned IT Services into a proactive, customer-centric division with a priority on providing world-class customer services to students, faculty, and staff and improving operational efficiency in all areas of university operations. 
Dr. Sudhakar serves on the Board of the Corporation for Education Network Initiatives in California (CENIC), where he is the immediate past Chair of the Governance and Board Development Committee and the current Chair of the Audit Committee.
He is a regular invited speaker on the CIO Talk Network, which broadcasts thought-provoking talks, insights, and discussions on Leadership, Innovation, and Management by Global IT Leaders.
Prior to joining CSUSB in 2013, Dr. Sudhakar served as the Vice President of Administrative Services and CIO at Carl Sandburg College in Galesburg, Illinois. Under his leadership, Carl Sandburg College was ranked No. 1 in the nation for digital technology by the Center for Digital Education and has been named among the top 10 in that category from 2006-2013. Sudhakar was named among the top 50 educational technology innovators by Converge Magazine. Dr. Sudhakar holds a Ph.D. in Business Administration from Northcentral University, an MBA from St. Joseph's University, and a Bachelor's degree in Electronics & Communications Engineering from Bharathiar University in India.