Downloading Class Roster
Issue Description:
ITS has identified a problem with the Download Icon in PeopleSoft on the Class Roster page.  The downloading of the Class Roster Via Curriculum Management > Class Roster > Class Roster does not work in FireFox 38 or Chrome 42 and is problematic in IE 9, 10, 11.  We apologize for any inconvenience this may cause.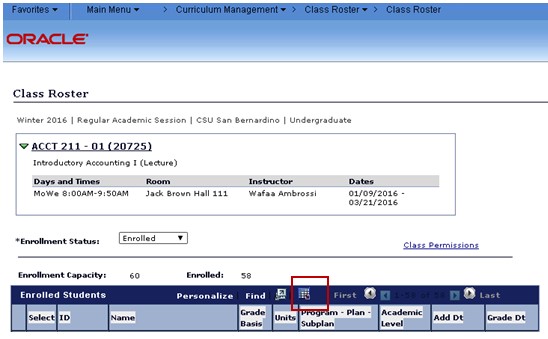 Finding:
This issue is caused by the HTML stylesheet that is used in the current version of PeopleTools (PT 8.54.09 ), which was upgraded in April, 2016. The style sheet for Curriculum Management > Class Roster > Class Roster page was not updated to the current stylesheet as the rest of the pages in Class Roster, so when the download icon is clicked, it jumps on the page and does not activate the download.  At this time, there is no permanent fix available until the system upgrades to a newer version of PeopleTools in the future.
Resolution:
Below is a work-around until the HTML stylesheets are upgraded:
For Firefox and Google Chrome:
Press Ctrl and Plus (+) keys to zoom the screen anywere past 100%, the button becomes active/clickable again.
Click on the download button icon and watch it bounce around and drag it while clicking the second time a little to the right then it will activate the download process.
Tab nine (9) times (the tabbing starts at the top - header of the page - then jumps to the bottom - footer of the page - then it pops back up to mid page onto the table column headers) to finally get to the download button icon (yes, 9 times) then press Enter key and it will download.
For Internet Explorer: It will take three tries to download successfully.