Using the ProofPoint Email Spam Control
CSUSB Email Spam Control solution (Proofpoint)
Email Spam Control offers the following functionalities:
Individual spam preferences: Detection profile, Safe List, Blocked List.
Next-generation spam detection.
Blocking of malware in emails before they hit your inbox.
Prevent sophisticated email "phishing" attacks (Targeted Attack Protection).
Access CSUSB Email Spam Control
,
Email Spam Control Components
Toolbars, panes, views, lists, and links are all components which are provided in the Email Spam Control Web Interface. This section describes each one and how to use them.
Initial Homepage – Quarantine
'Quarantine' is the default homepage page.  The Spam – Quarantined page will be empty initially. The page will fill with quarantined emails should you opt-in to the Quarantine profile.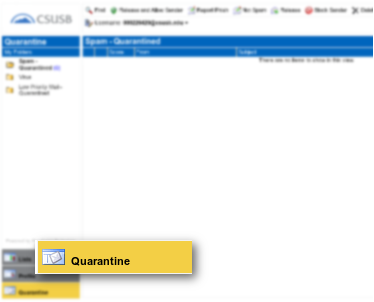 ,
Profile View
Profile allows you to change your preferences for: receiving End User Digest email, language, or spam detection behavior.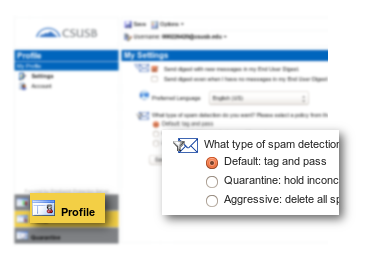 Spam Detection Preferences
The system is defaulted to Tag and Pass spam detection. Options include:
Tag and Pass (inconclusive email is tagged with a subject of [Spam]).
Quarantine (holding any inconclusive emails with regular notifications).
Aggressive (delete all spam including inconclusive spam; no quarantine).
Safe/Block Lists View
Save/Block Lists allow you to view and modify the Safe Senders and Blocked Senders lists.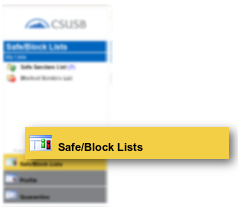 ,
Safe Senders
Include only email addresses from which you deem it is always safe to receive messages. Addresses on the Safe Senders Lists will be delivered to your inbox and will not tagged as [Spam] or caught in quarantine.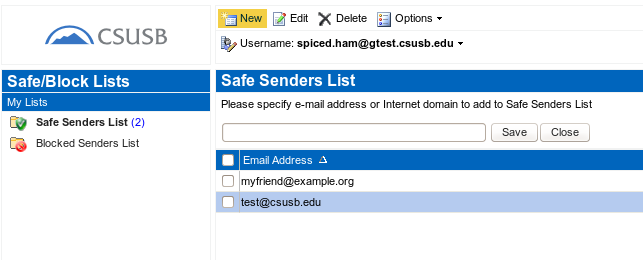 Blocked Senders
Include only email addresses you do not wish to receive messages from or that are neversafe. Addresses on the Blocked Senders list will be discarded rather than tagged or quarantined.

,
Quarantine View
The Quarantine view displays any suspicious emails that have been quarantined.

View and Take Action in the Quarantine Folder
The Quarantine folder allows you to safely view the author, subject and content of suspicious emails when you click them using a preview pane. You can use the Quarantine toolbar (Fig. 8) to edit the status of a quarantined email.

,
General Procedure
Click the check box next to the quarantined email to select it.

Click the button that represents the action you wish to apply to that email.
Click the Save button.
Quarantine Toolbar Actions
Find - search for a quarantined email using a keyword.
Report Phish - alert the Email Spam Control server that the sender of the selected email is attempting to 'phish' information from you.
Not Spam - alert the Email Spam Control server that an email address is not spam, and is safe to receive.
Release - release an email from Quarantine and allow it to go to your Inbox.
Delete - delete an-mail from the Quarantine list.
Safe list - add an email address to your Safe list.
Options - refresh the screen to show latest changes, or request an End User Digest email, or unselect all that is selected, or delete all selected.
Request New End User Digest
You will automatically receive a daily digest if you have items in quarantine.  However, you can manually request a digest at any time.
From the Options Action
Options > Request Digest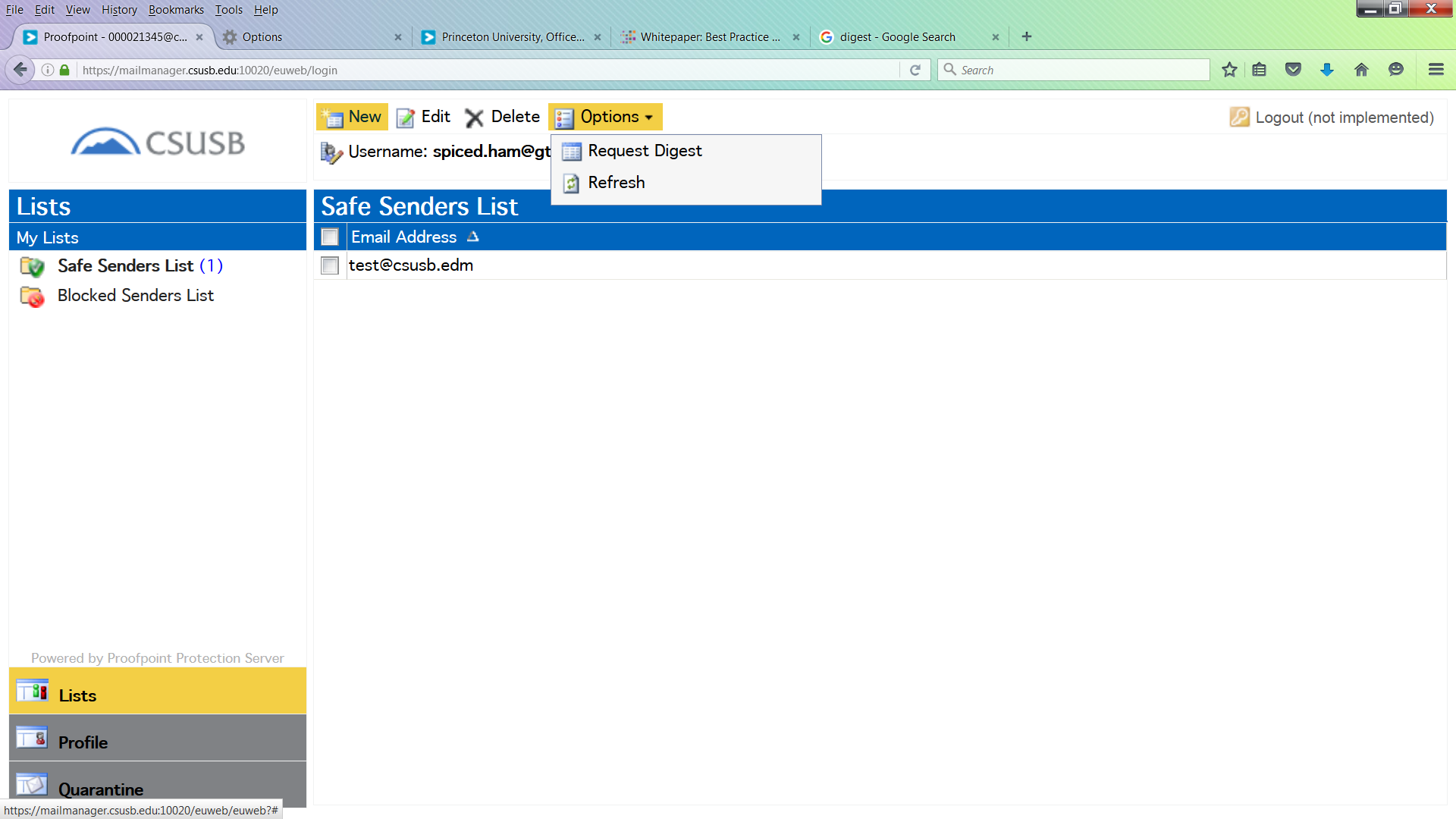 ,
From a Previous Digest
To manually request a digest from your inbox, open a previous End User Digest email and use the Request New End User Digest link

Access Help and More Information for Using Email Spam Control
For more information, please contact:
CSUSB Technology Support Center online at Support Center or by phone at (909) 537-7767.