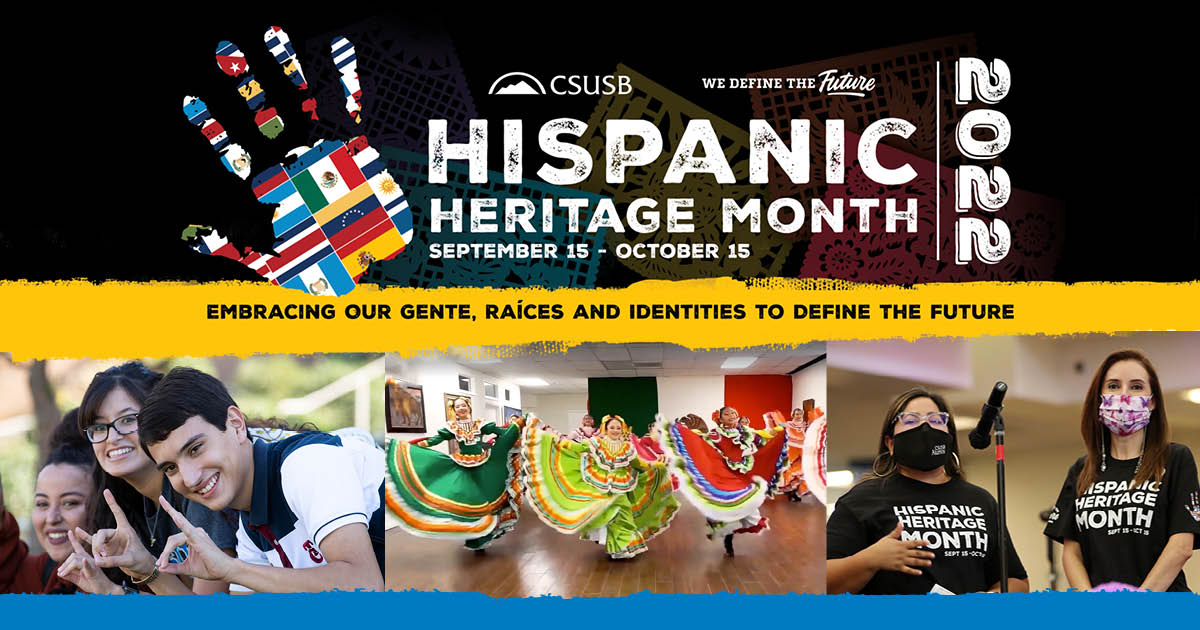 The virtual tour has been brought to you by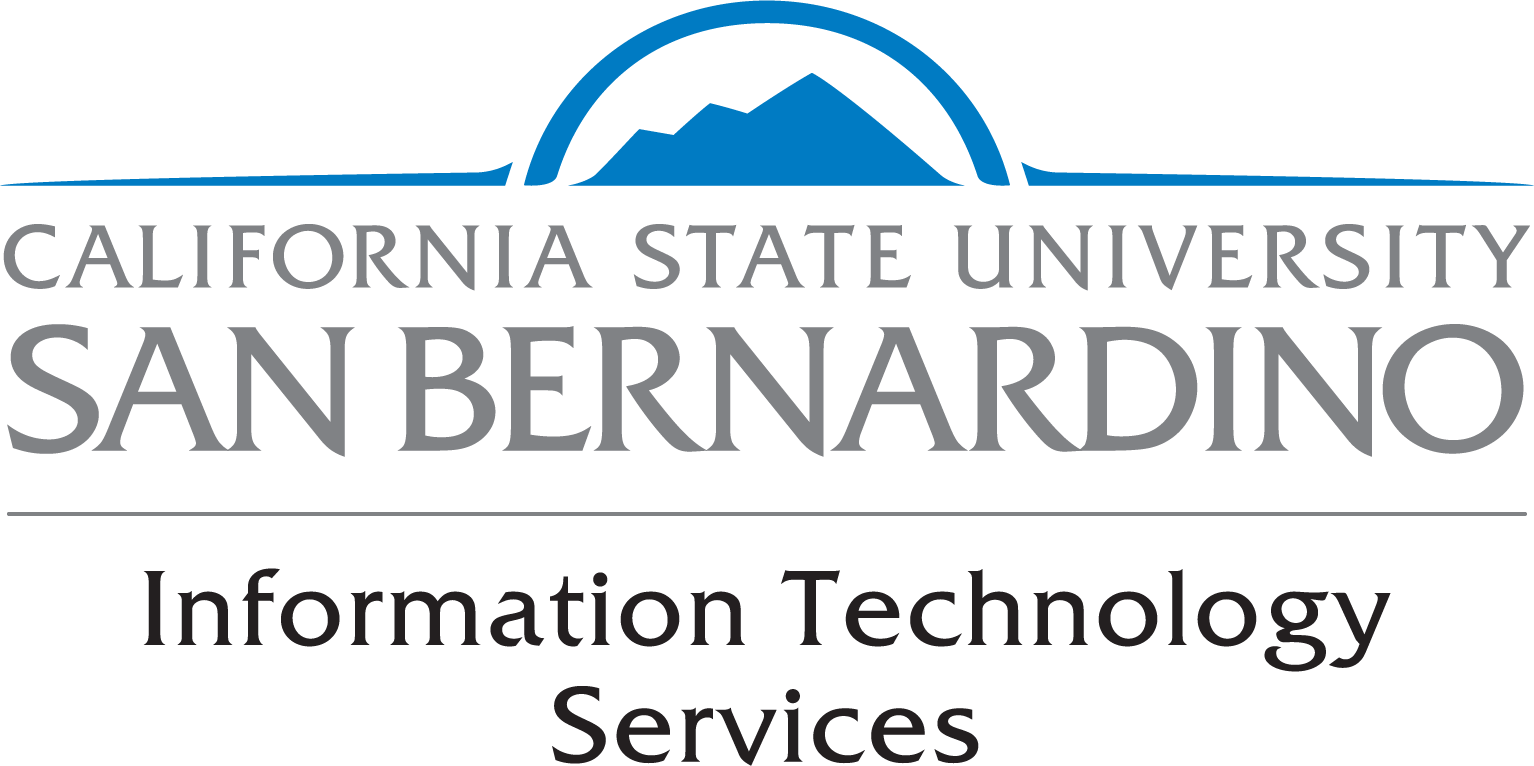 and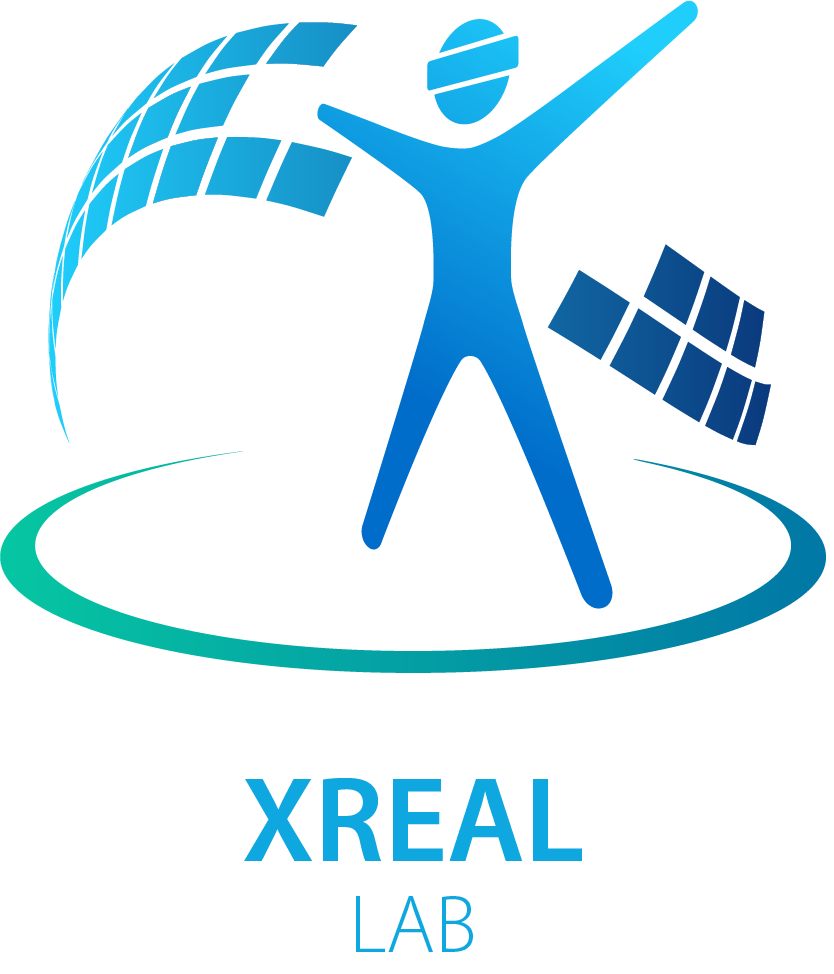 The virtual tour on this website has known accessibility issues that may affect those utilizing assistive technology. All information displayed in the tour may also be viewed via the linked webpage below. If you are not able to access the displayed information due to an accessibility barrier, please contact James Trotter, Assistant Director, Jamest@csusb.edu, and 909-537-5063 from ATI or the xREAL Lab for assistance.
Visit the Virtual Tours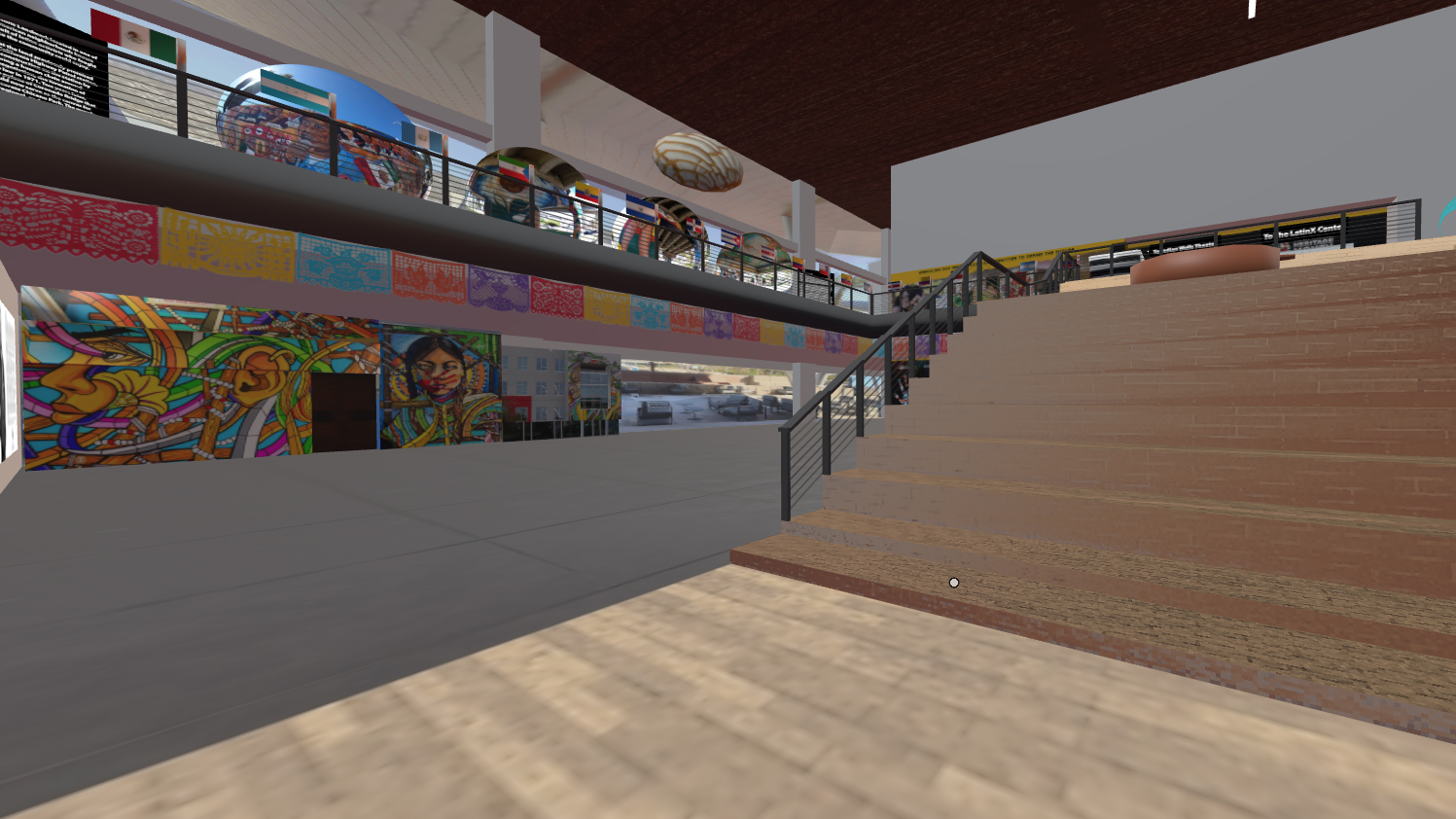 SMSU North Virtual Tour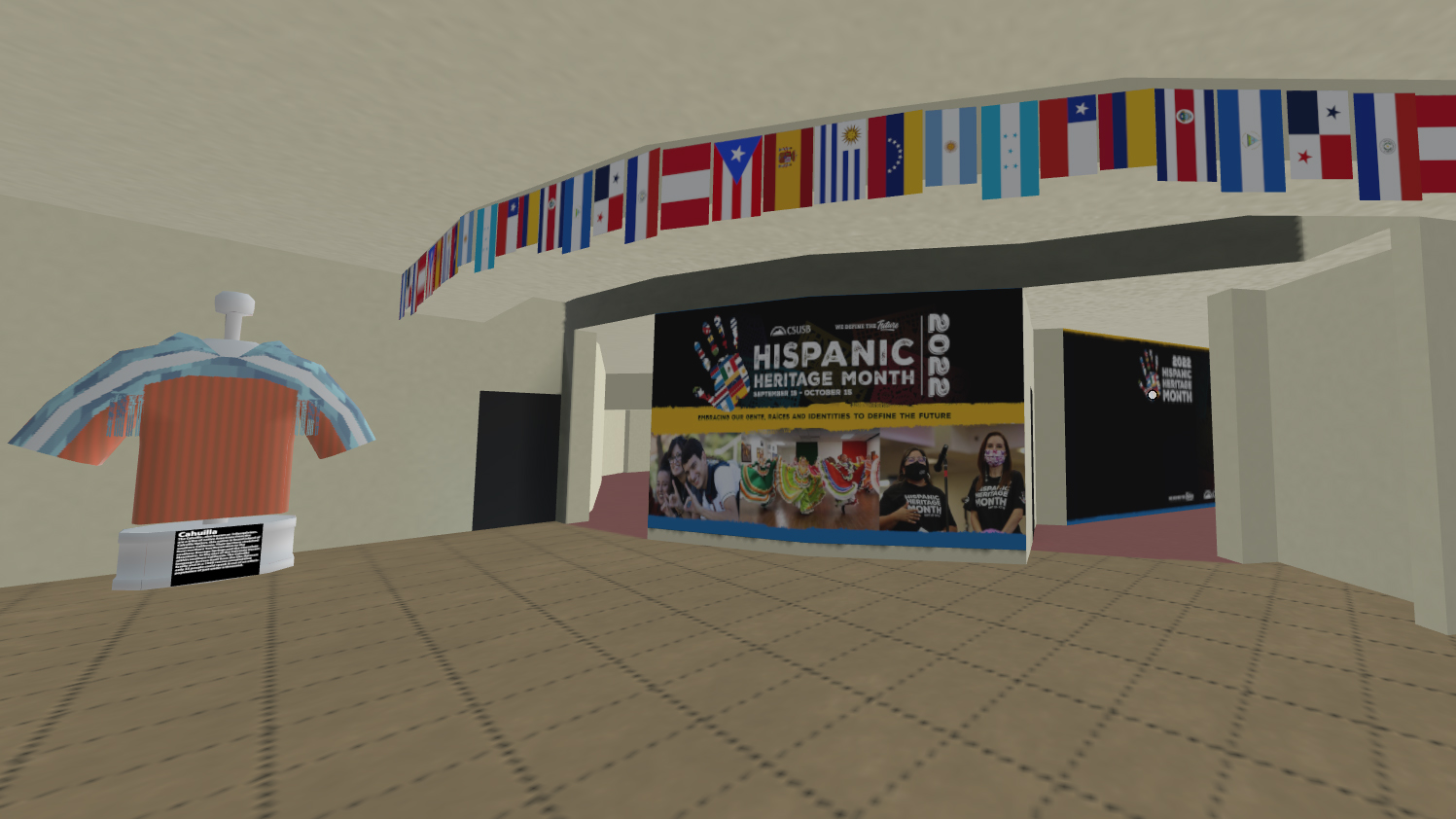 The Indian Wells Theater Virtual Tour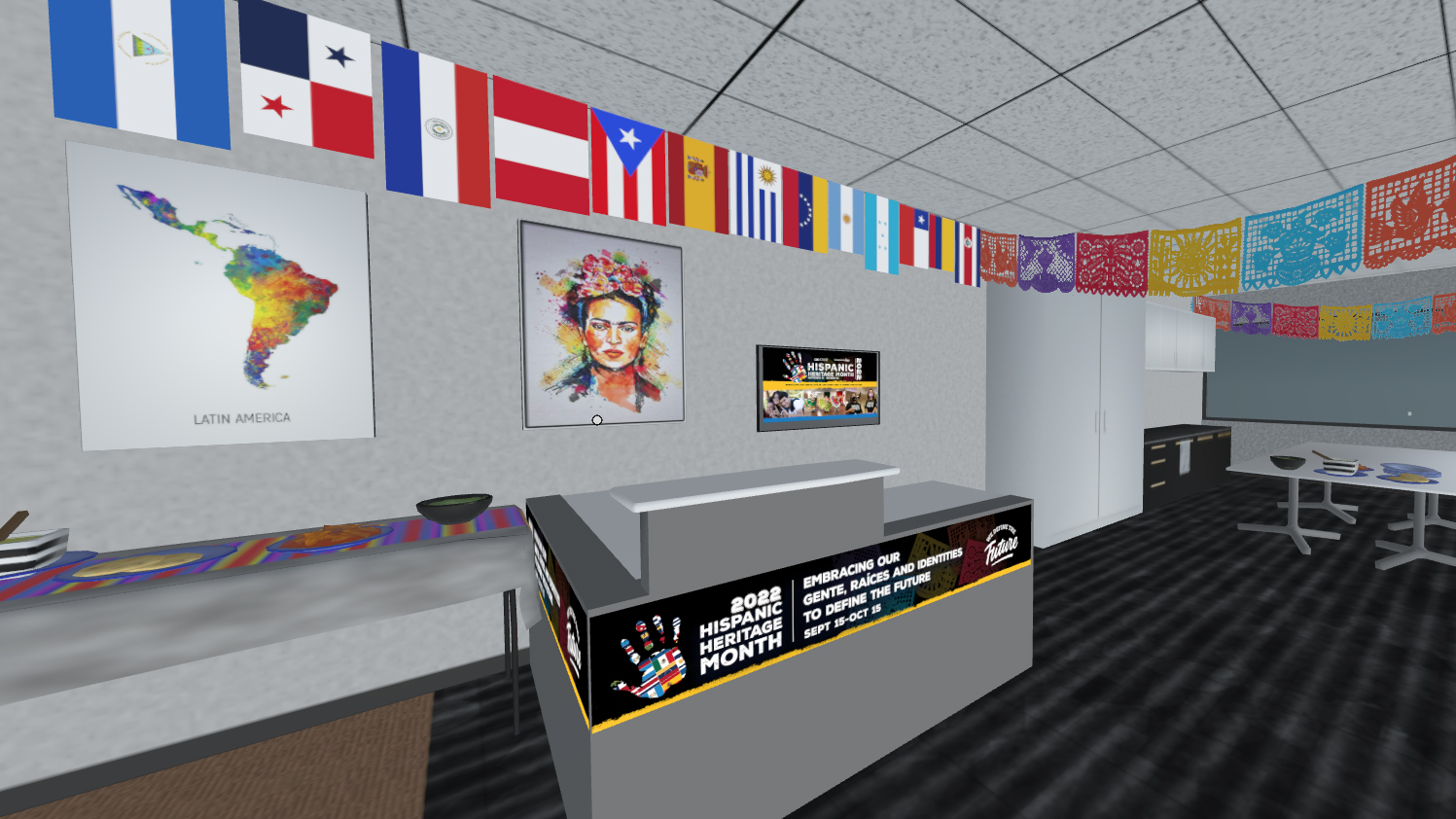 The LatinX Center Virtual Tour
SMSU North 
David "Don Rimx"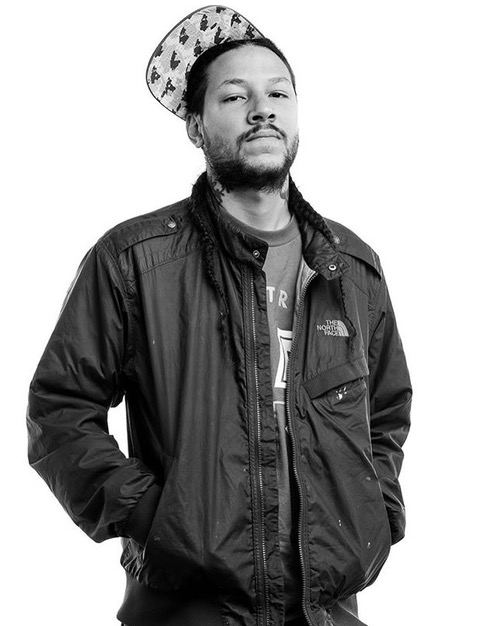 Sepulveda was born and raised in San Juan, Puerto Rico. His family lived in the public housing development, Nemesio R Canales, where in the early 90s had a very high crime rate. Drugs and gun violence were part of his everyday life. Through his parents' watchful eyes Don Rimx was kept on the straight and narrow. They noticed his interest in drawing at a young age and nurtured it by enrolling him in weekend art classes at the local art school. He later received his diploma from the Central High School of Visual Arts and went on to continue his education at the Escuela de Artes Plasticas. Upon finishing his studies, he dedicated himself to incorporating the various techniques of classic art into urban art, with a specialization in murals. Lorenzo Homar, Jose Alicea, Rafael Tufino, Antonio Martorell, Rembrandt, and Joaquin Soralla are just a few of the influences one sees in the line work, color treatment and poetic Imagery of his pieces.
In 2009, Don Rimx moved to Brooklyn, NY. Life in the big city had a profound effect on his body of work, from the different cultures and styles to the many textures and materials. The skeletal structures explore the synthesis of man and his city. Resulting in works of art comprised of rigidity and personality. 
"16 Barras" Brooklyn was an exploration of this connection. Murals were painted throughout Brooklyn, of randomly chosen residents, interlaced with one number and word, that when put in numerical order, created a poem. It was meant to inspire people to search for the pieces to the puzzle, to get to know their borough and its residents. "16 Barras" received media coverage in the MY Daily News and various online publications. The concept was later extended to Puerto Rico and featured in the annual art event 'La Campechada.' 
Don's individual style bridged the gap between the streets and corporate America. His work caught the eye of a progressive commercial real estate developer and was commissioned to produce several grand-scale murals in the Bryant Park area of NYC and in Oakland, California. The synthesis of the two resulted in breathtaking works of art. An arrangement so unique, it received media coverage in the NY Times in 2014. 
That same summer, Don Rimx and his family made the move to Florida. The warm climate and Latino culture really attracted the artist, making him feel a little closer to home. Since the move, Don was selected as the guest artist at the Brooklyn Museum in 2014 for National Hispanic Heritage Month. In 2018 he created a beautiful mural for the Starbucks Heritage Month, where he designed a pair of Chuck's that could be fully customized by the purchaser.
Don has participated in national and international urban beautification projects including Los Muros Hablan New York & Puerto Rico, Beck's Urban Canvas Miami, Muraleo Puerto Rico, Fiesta de Colores Ecuador and Color Caribe Puerto Rico. 
He has realized more than a dozen murals across the United States. In 2018 he created a beautiful mural for the Starbucks on Miami Beach. And more recently, he painted the facade of the new Electronic Arts Building in downtown Orlando's Creative Village.
Don Rimx's unparalleled artistry sets him apart from the rest. As a classically trained fine artist, graffitist, and grand scale muralist, he's guaranteed to continue doing what he loves for many years to come.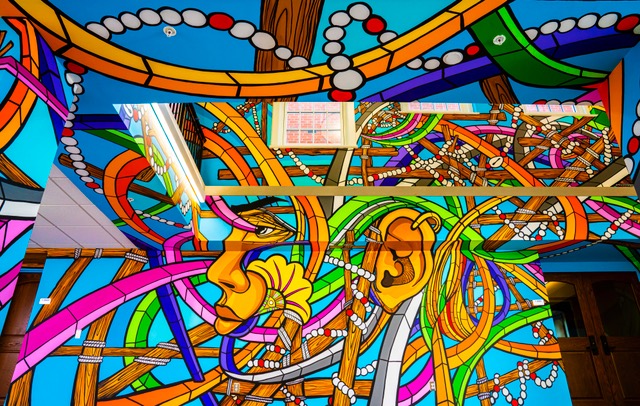 Mural title: Curiosidad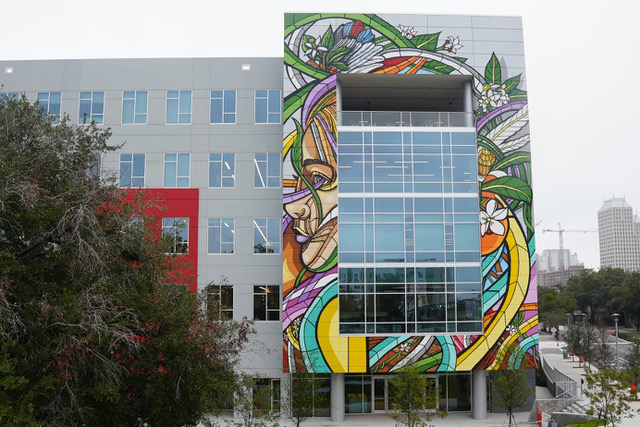 Mural titled: Sangre Indigena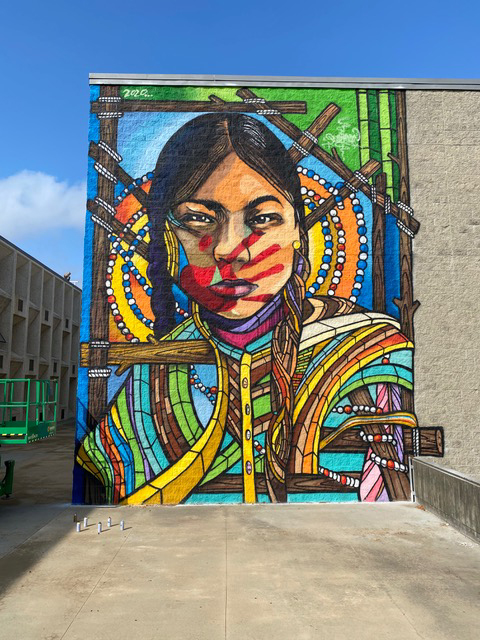 Mural titled: Sangre Indigena
América Tropical: Oprimida y Destrozada por los Imperialismos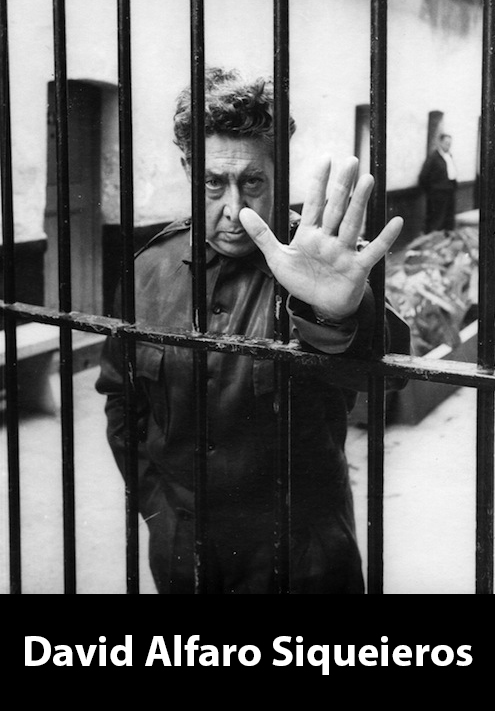 Siqueiros came to Los Angeles asa political refugee in 1932 and was sponsored by the Plaza Art Center to create a mural that was supposed to be about happy men, parrots, and palms with fruit falling into the mouths of people. However, Sequeiros completely disobeyed the institutional project requests in pursuit of his own unique artistic idea by creating his own mural, which turned out to be one of the most controversial art pieces in Los Angeles history, Tropical America (full name: América Tropical: Oprimida y Destrozada por los Imperialismos, or Tropical America: Opressed and Destroyed by Imperialism).
The mural became the center of controversy, as the painting clearly depicted a Maya-like pyramid with surrounding twisted trees, and in the center was an indigenous person crucified, dead on a double edged cross. There are sculptures laying at the bottom of the mural, destroyed, which signify pre-Columbian architecture and ancient indegenous civilization. On the left side of the pyramid there are two snipers overlooking the imperial American eagle which is on top of the crucifed indigenous person and the two Mexican revolutionary snipers look ready to shoot at any time. 
América Tropical is an eblematic part of the Mexican muralism movement that happened from the 1920s-1970s and later inspired the Chicano art movement in the United States for Mexican-Americans. 
Siqueiros also belonged to one of the most elite groups of artists from the Mexican Revolution known as "the big three," along with Diego Rivera and José Clemente Orozco. the three of them went around all over the Americas painting murals that depicted the struggles of people.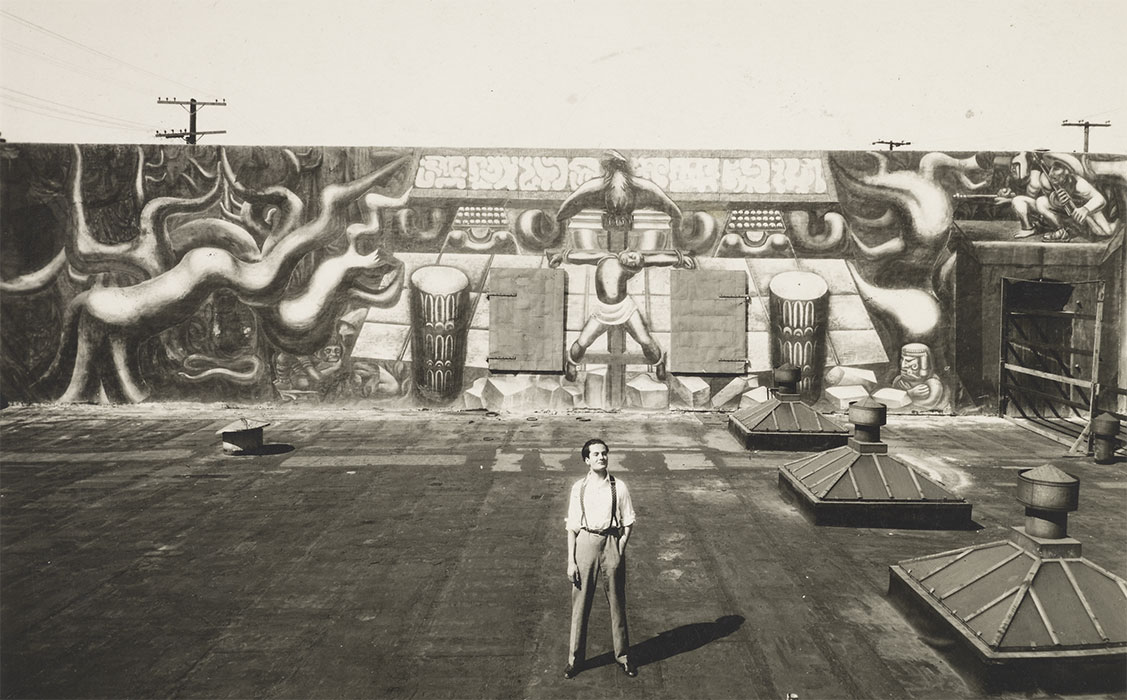 Roberto Berdecio, a close associate of Siqueiros during the 1930s, stands in front of América Tropical shortly after completion. Mural: © 2012 Artists Rights Society (ARS), New York/SOMAAP, Mexico City. Photo: The Getty Research Institute, Los Angeles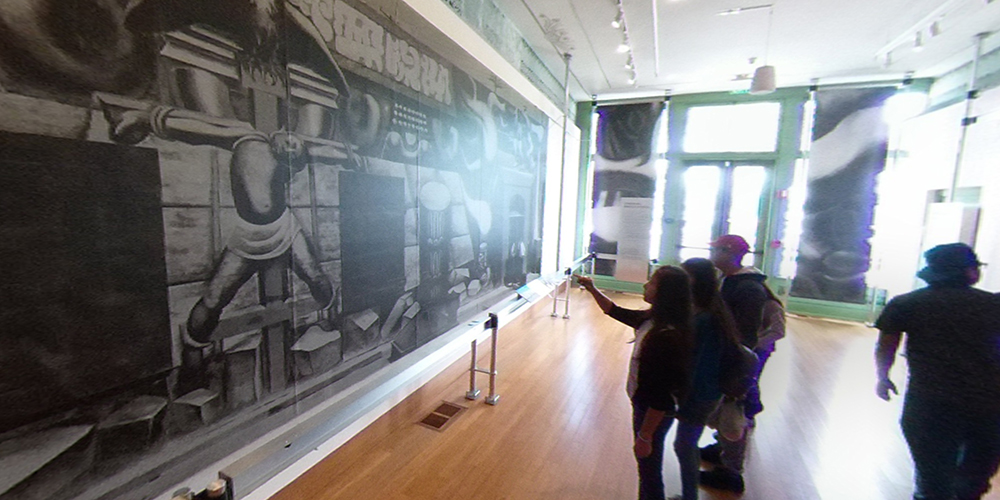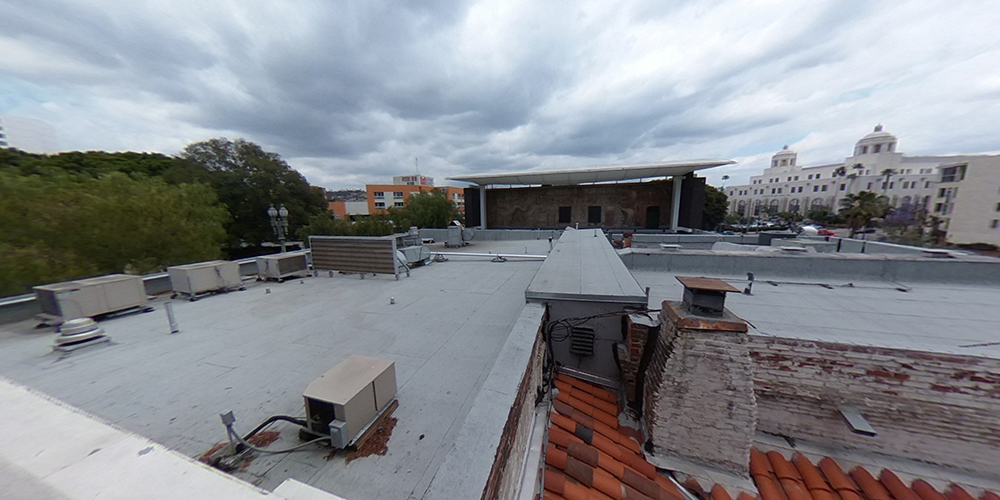 Original wall of America Tropical mural
Chicano Park 
Chicano Park is a National Historic Landmark located in one of San Diego's oldest Mexican American neighborhoods known as Barrio Logan and is the result of latino activists who fought for their right to a public space the community could enjoy.
In 1970, residents learned that the land previously promised to them would be used for a California Highway Patrol station. For 12 days, residents halted construction on the station by occupying the space and forming a human chain around bulldozers. After months of negotiation, the formation of Chicano Park was signed into law in 1971. Two years later, painting began. The concrete pylons of Coronado Bridge that had split the town in two would now serve as the canvas for the over 80 paintings that decorate Chicano Park. The murals were created by local, state, regional, and even internationally known artists and consist of diverse imagery including different aspects of Chicano culture, revolutionary struggles, plants and animals. historical figures, civil rights leaders, immigration, and feminism.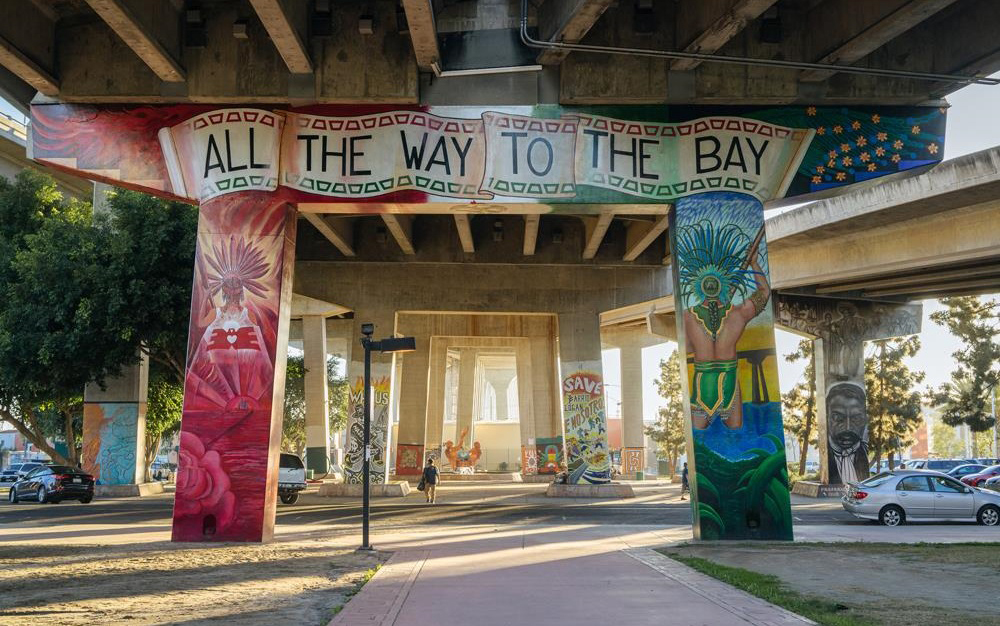 Photo by Robert Benson: Original source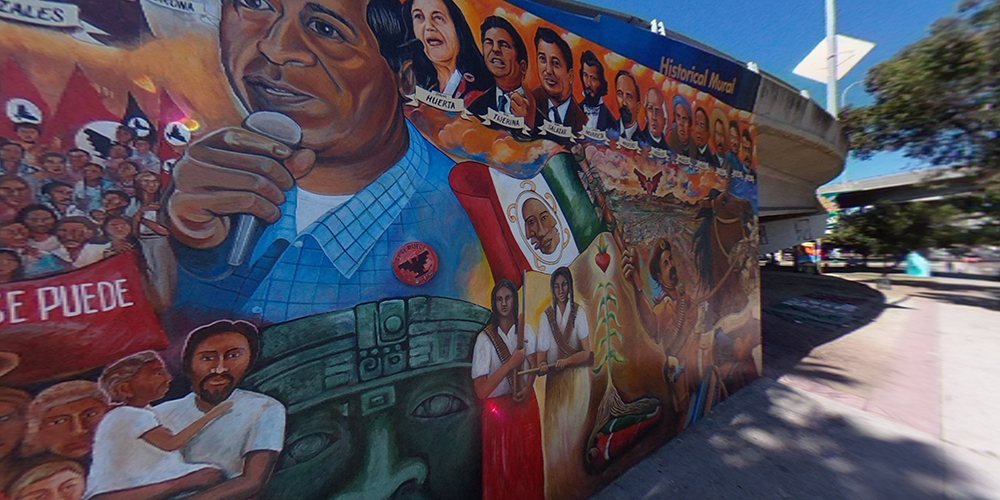 Mural: Hugo Chavez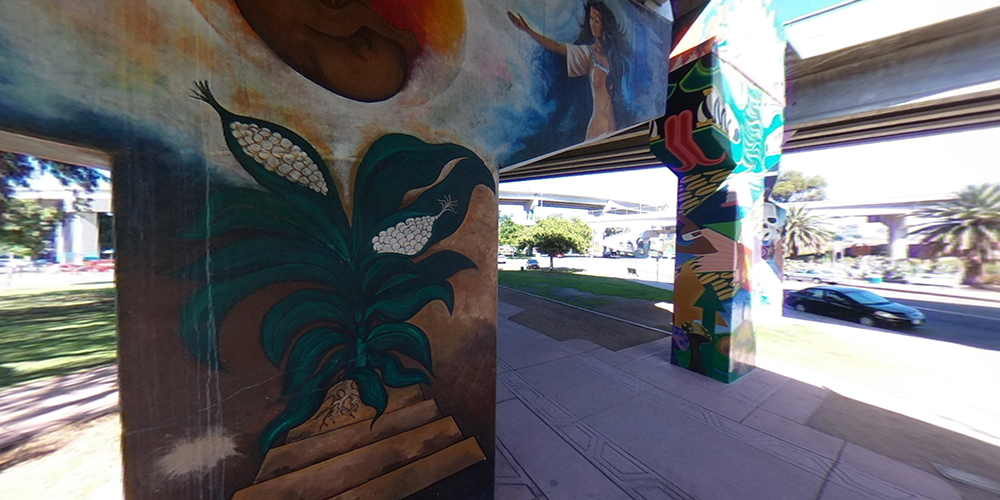 Mural: Birth of La Raza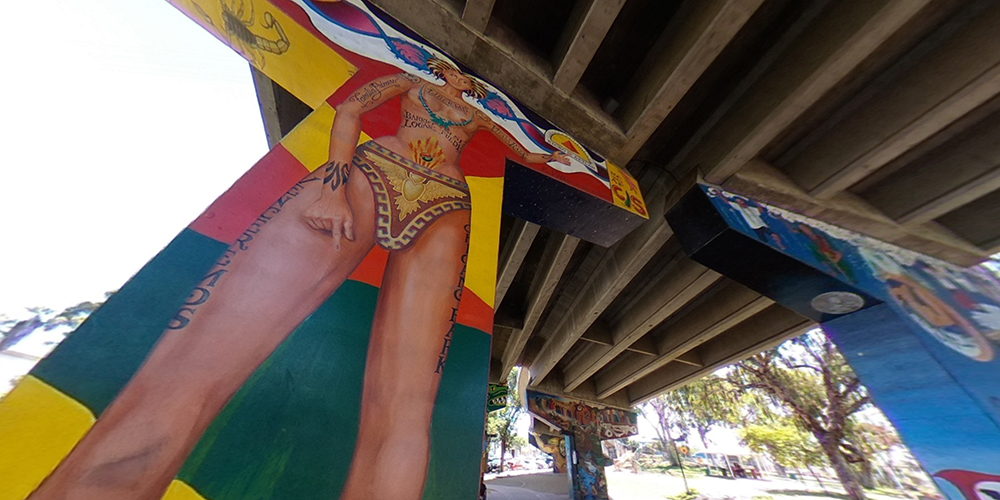 Mural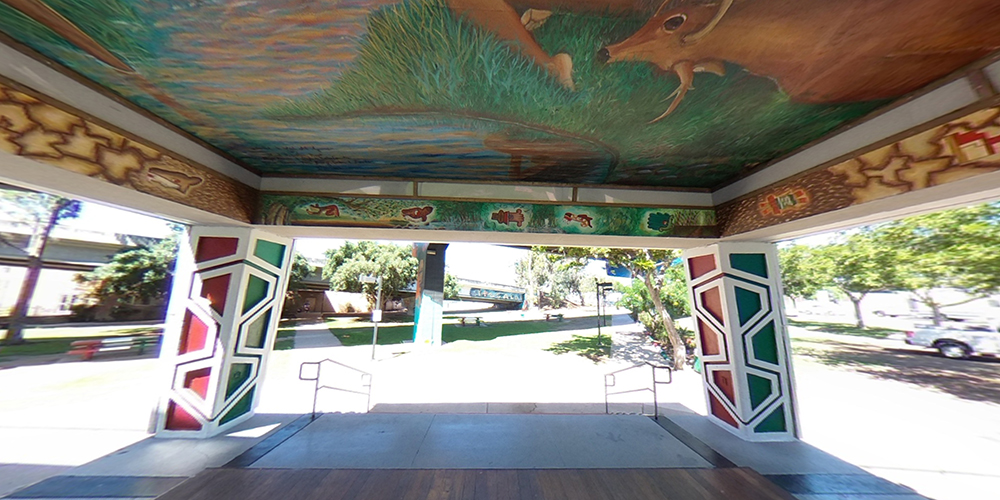 Mural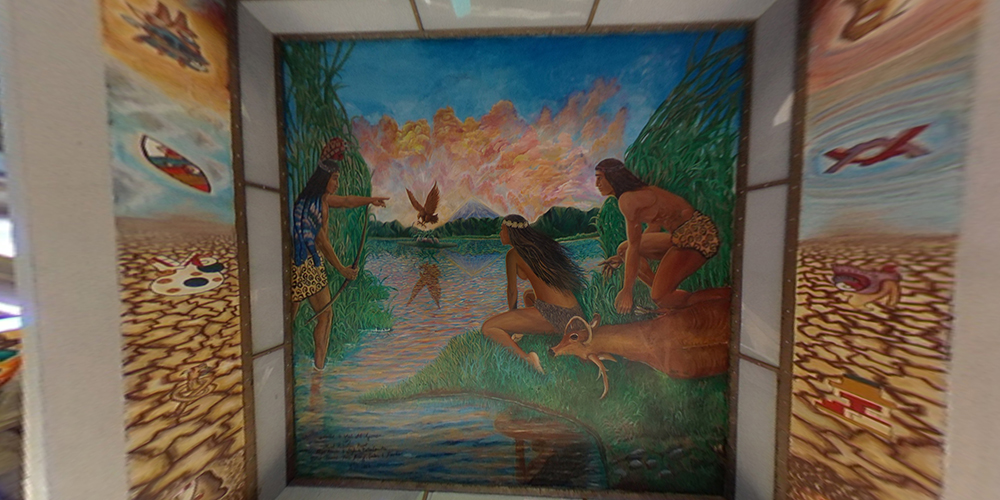 Mural
Frida Kahlo
Magdalena Carmen Frida Kahlo y Calderón was a Mexican painter known for her many portraits, self-portraits, and works inspired by the nature and artifacts of Mexico. Inspired by the country's popular culture, she employed a naïve folk art style to explore questions of identity, postcolonialism, gender, class, and race in Mexican society. Her paintings often had strong autobiographical elements and mixed realism with fantasy. In addition to belonging to the post-revolutionary Mexicayotl movement, which sought to define a Mexican identity, Kahlo has been described as a surrealist or magical realist. She is known for painting about her experience of chronic pain.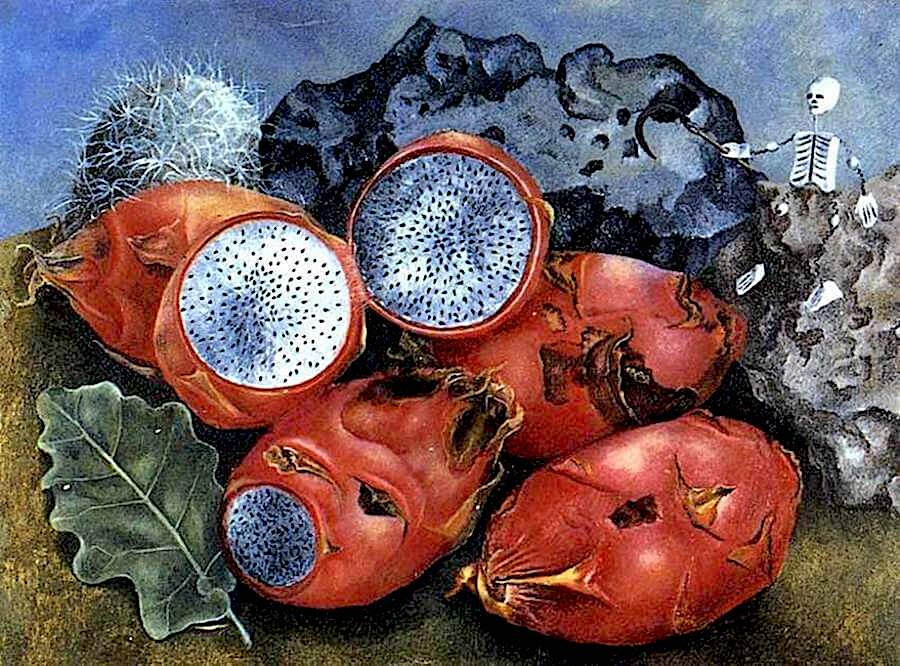 Frida Kahlo: Pitahayas (1938)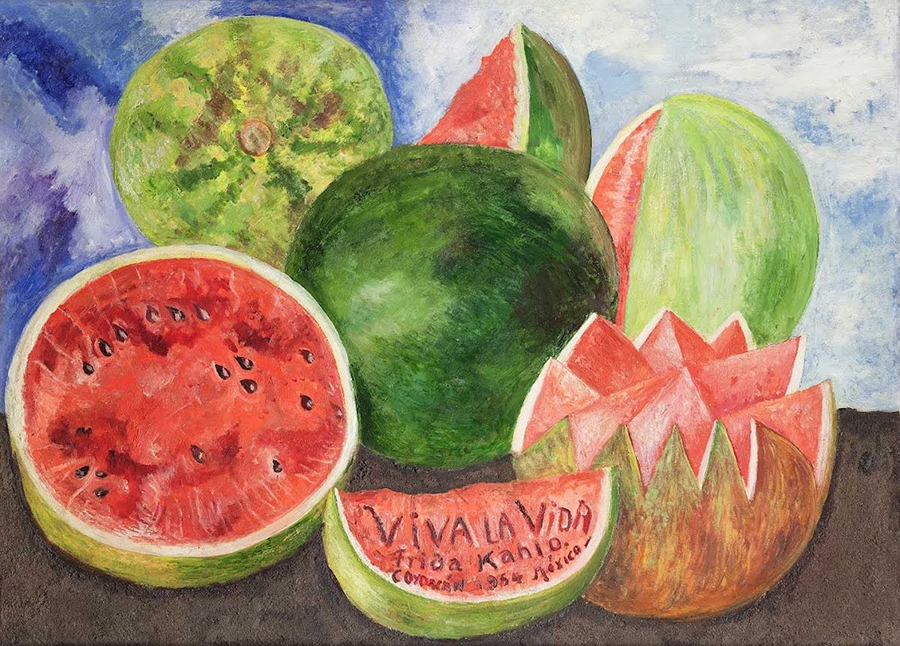 Frida Kahlo: Viva la Vida (1954)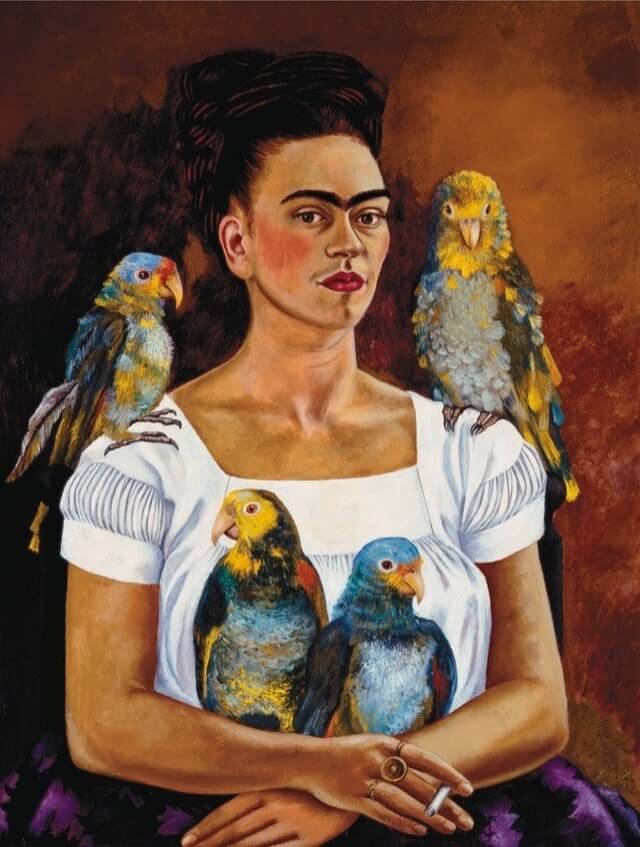 Frida Kahlo: Me and My Parrots (1941)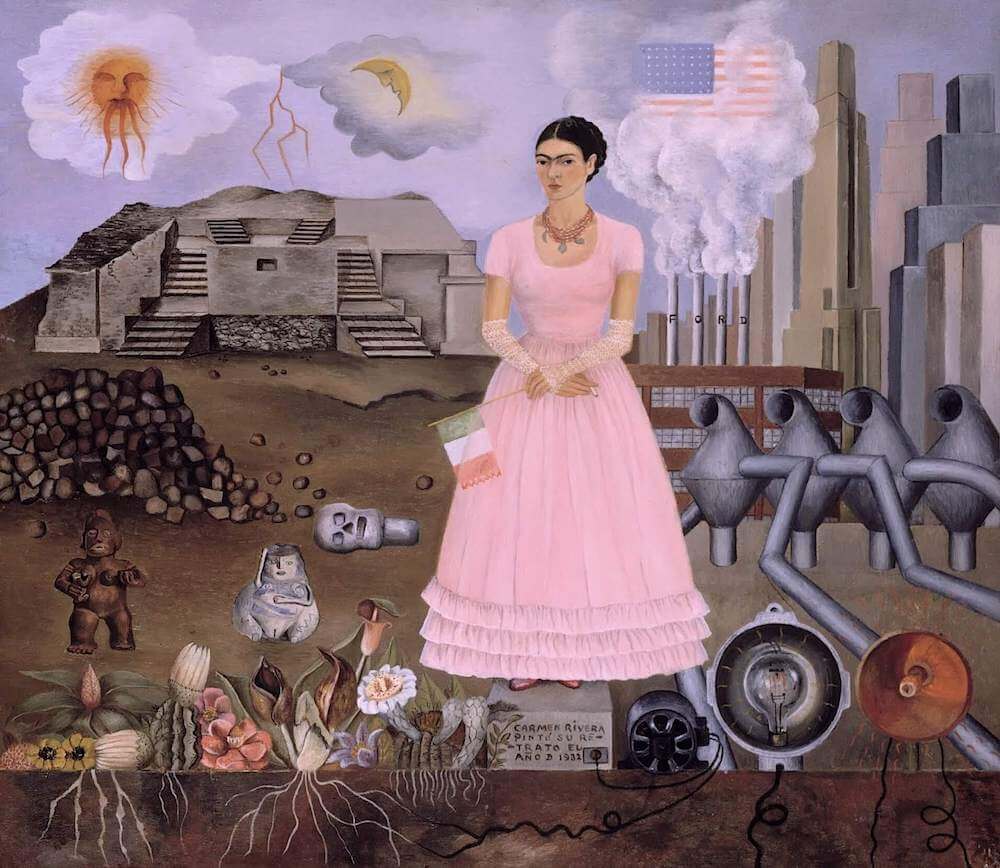 Frida Kahlo: Self-portrait on the Borderline between Mexico and the United States (1932)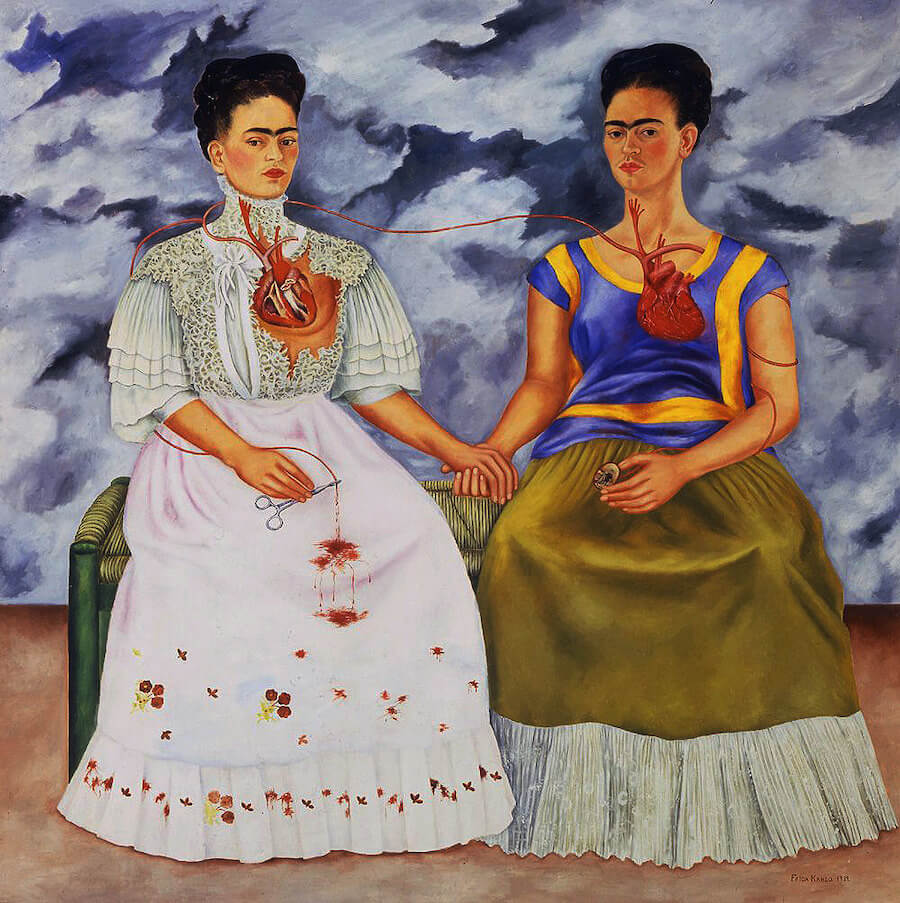 Frida Kahlo: The Two Fridas (1939)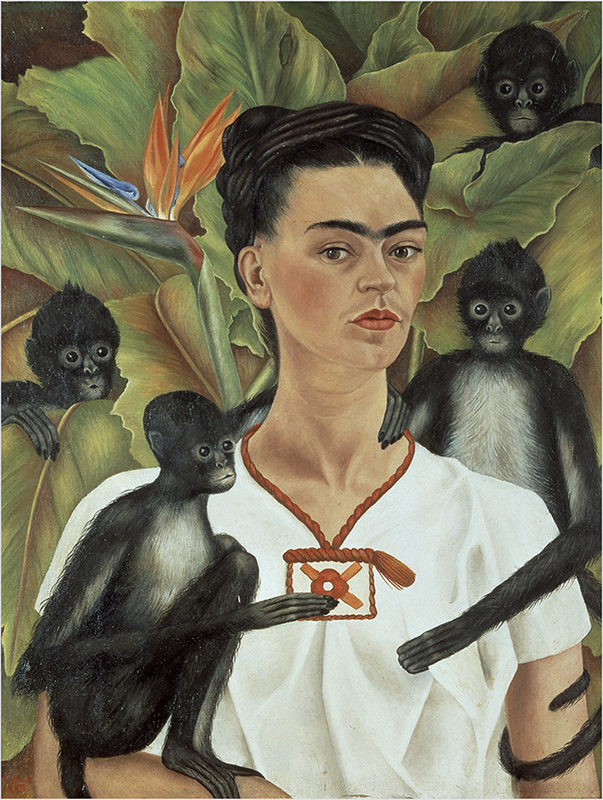 Frida Kahlo: Self Portrait with Monkeys (1943)
LiDAR and Maya Cities 
In 2018, Maya archaeology had a major breakthrough thanks to a technology known as  LiDAR, short for "Light Detection And Ranging". LiDAR uses laser pulses to gather data on the contours of jungle and vegetation covered land and after digitally removing the tree canopy from aerial images, scholars identified the ruins of more than 60,000 houses, palaces, elevated highways, and other human-made features that have been hidden for centuries under the jungles of northern Guatemala. 
The data from this project has already begun to change the perception of the Maya civilization. The previously unknown structures suggest that Central America supported a civilization comparable to ancient Greece or China rather than scattered and sparsely populated city states that research had long suggested. It also disputes the long standing belief that civilizations cannot flourish in the tropics. 
This is the first phase of a three year project that will eventually map more than 5,000 square miles of Guatemala's lowlands, part of a pre-Columbian settlement system that extended north to the Gulf of Mexico. 

Boyle Heights at Sunset
"Boyle Heights was part of the original Spanish land grant that established the city of Los Angeles in 1781. The community has served as a home for Russian, Jewish, Japanese, and most recently, Mexican immigrants." - SANDRA BALTAZAR MARTÍNEZ Original source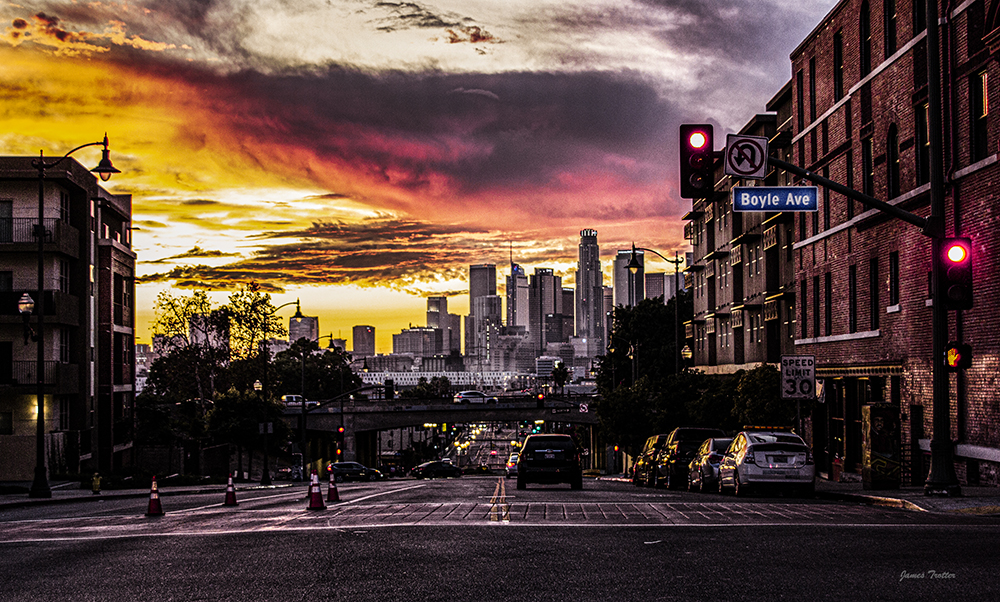 James Trotter: Boyle Heights at Sunset
The Indian Wells Theater
The Indian Wells Theater Virtual Tour
Cahuilla
The Cahuilla, also known as Ivilyuqaletem, are a tribe of Native Americans from the Cahuilla Nation, this nation is found inland of southern California. Their territory stretched from northern San Bernardino to the southern Borrego Springs and the Chocolate Mountains, to the East of the Colorado Desert within southern California. The Cahuilla language derives itself from the Uto_Aztecan family and in 1990 census revealed that only 35 people could speak it out of an ethnic population of just under a thousand.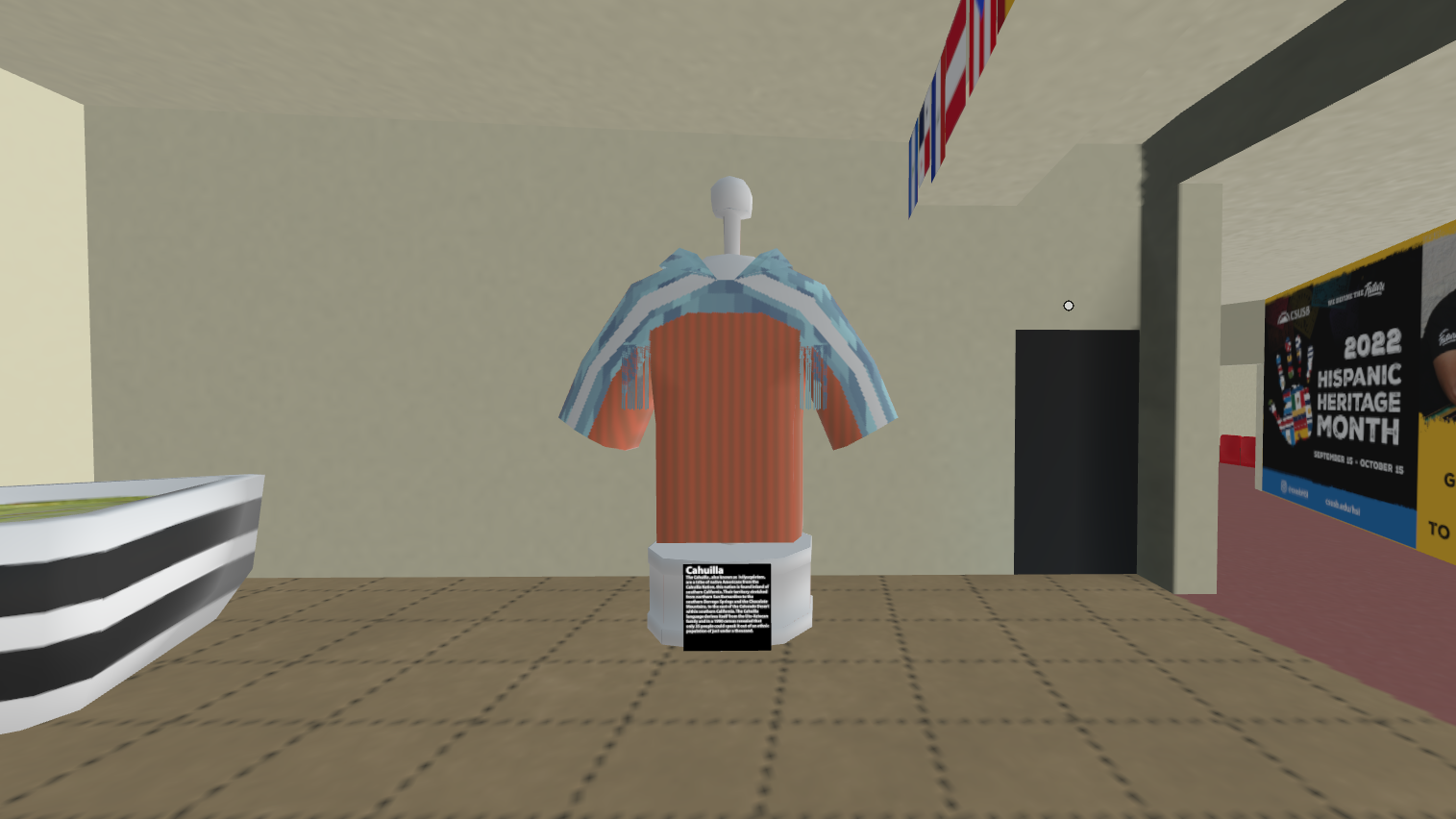 A virtual tourh screenshot of The Indian Wells Theater, Cahuilla section.
Quechua
The Quechua Native Americans lived within the Andean highlands from Ecuador to Bolivia, their language was an offshoot of many regional dialects derived from the Inca empire. They later became the lingua franca of the Spanish and Native American tribes throughout the Andes and had become a profoundly important part of the Andean Civilization throughout the early 15th century.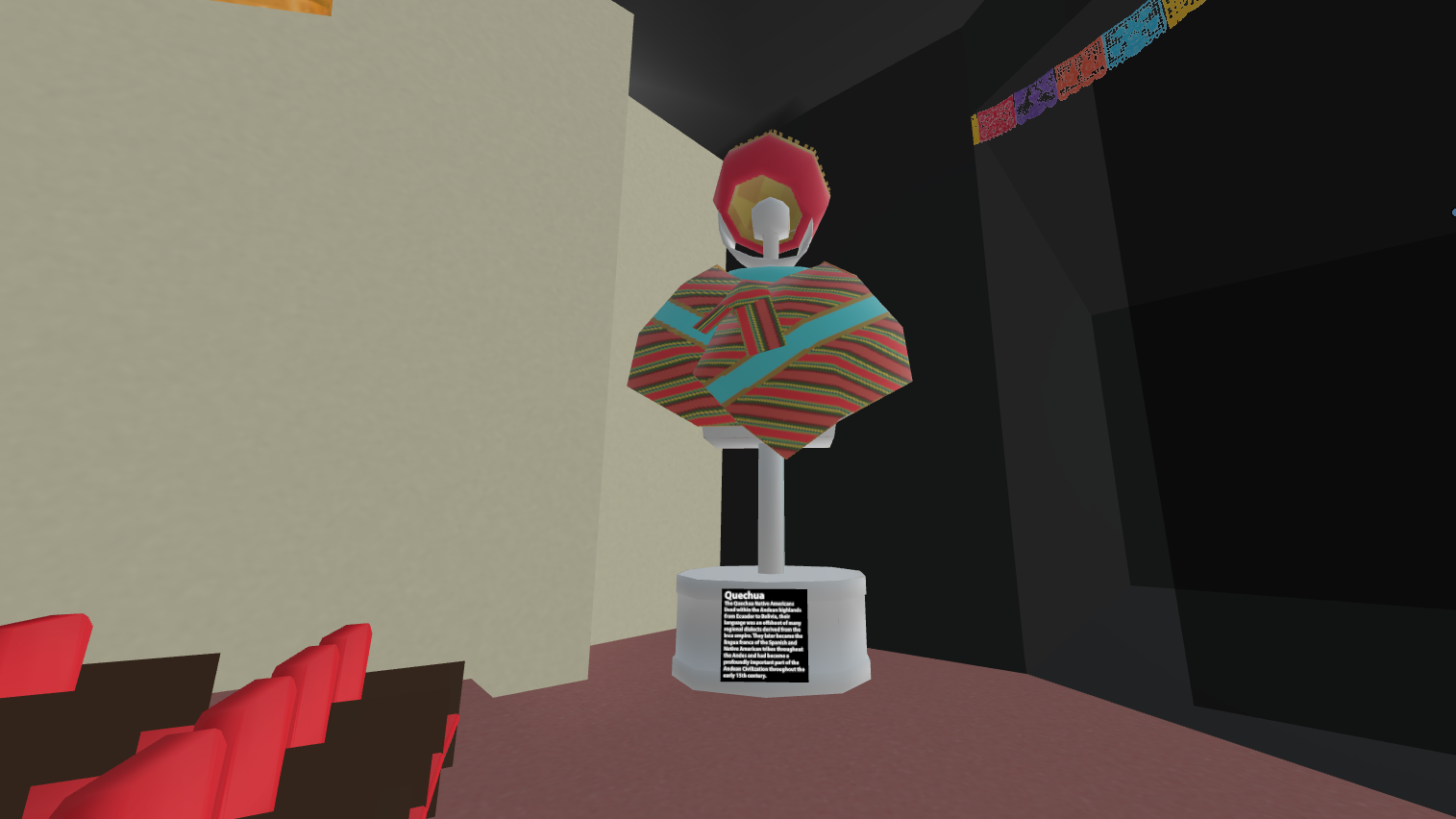 A virtual tourh screenshot of The Indian Wells Theater, Quechua section.
Serrano
The Serrano people were from the High San Bernardino Mountains at Yuhaaviat, an area of land near present day Big Bear. This land is marked by pine trees and was formerly known as the clan of Maara'yam. Now they are known as the San Manuel Band of Mission Indians. Their mission is to maintain the traditions of holding sacred land and everything that it provides.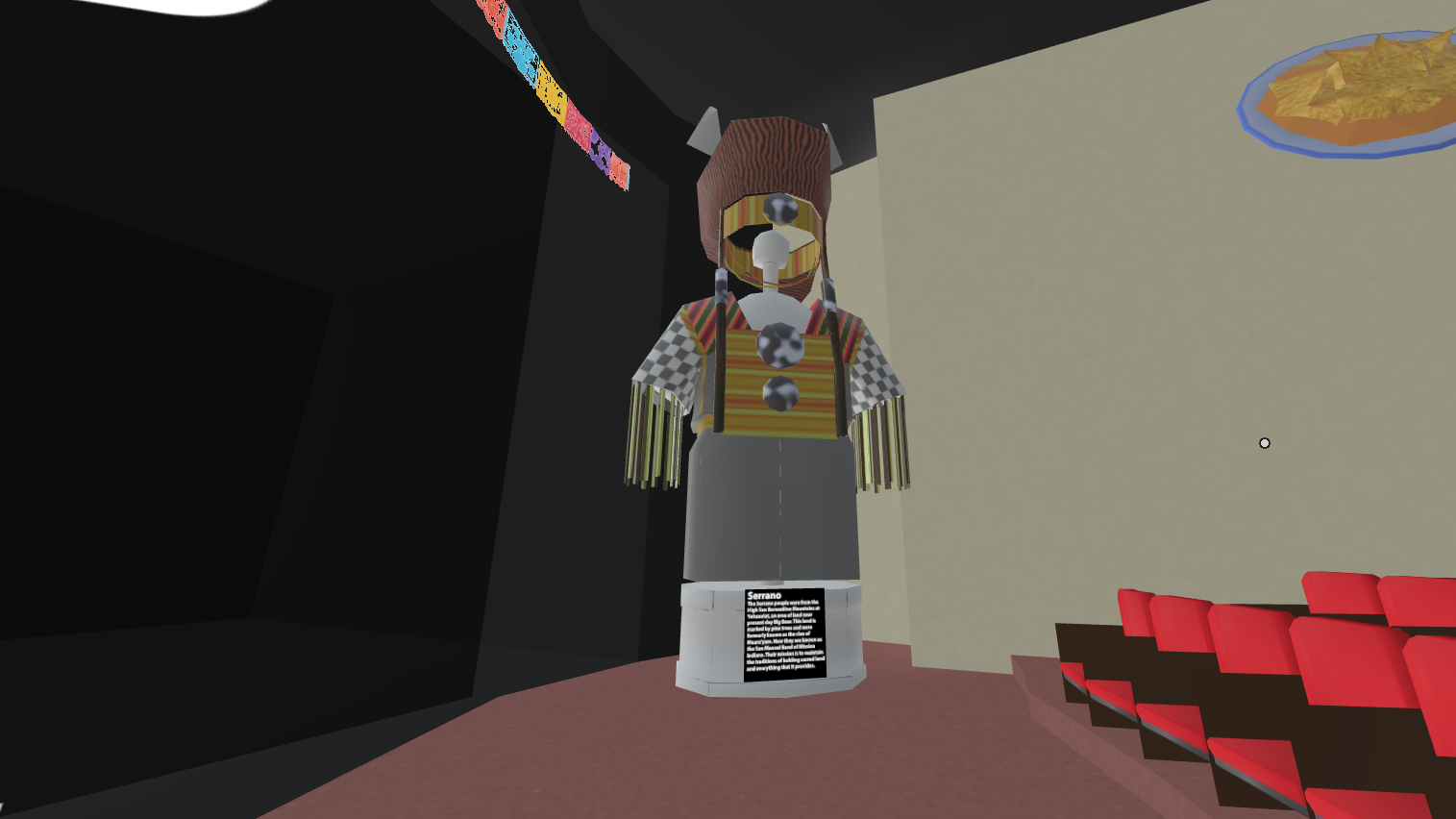 A virtual tourh screenshot of The Indian Wells Theater, Serrano section.
The LatinX Center
The LatinX Center Virtual Tour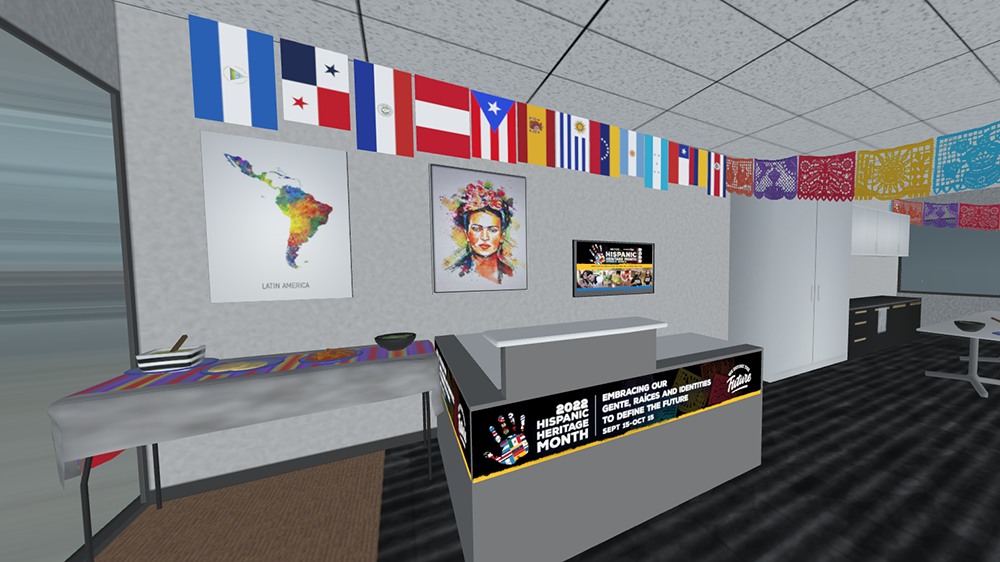 The LatinX Center. Screenshot of the virtual tour facing left.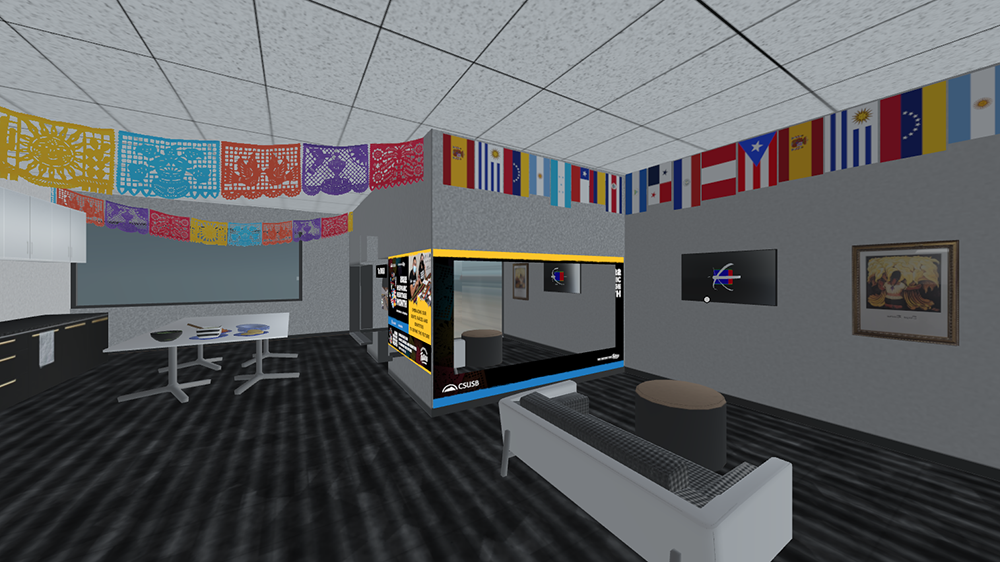 The LatinX Center. Screenshot of the virtual tour facing right.