Fall 2020 Move-In Information
We recognize students now are facing many challenges, so supporting students remains our primary concern.  Please review all the details below to ensure a safe, healthy and smooth move-in experience for all.  Face coverings are required on the CSUSB campus, please plan accordingly.  Given the circumstances, we highly encourage residents to pack light! 
Prior to Arriving
Housing and Residential Education at CSUSB is looking forward to the start of the 2020-2021 academic year!  We care about your safety and success, and we encourage you to prepare to arrive to campus healthy and ready for your academic journey – whether virtually or in-person.  This year requires extra precautions for healthy living and the University encourages all students to limit their exposure to others 14 days prior to arriving on the CSUSB campus. It is in everyone's best interest that students arrive after taking these precautionary steps, to reduce the possibility of community exposure to the COVID-19 virus.
Sign up for a move-in appointment time and plan your route to campus.  Everyone will arrive to the common check-in area located along Coyote Drive (curbside loading zone area in Parking Lot F).  Please utilize this map for specific directions.
COVID-19 Screening Process: Residents
You will be responsible for completing an online screening (more information will be forthcoming). You will need to show the results of the online screener to DHRE staff at check-in on a mobile device.  If you do not have a mobile device, specific screening questions will be asked at check-in.
If you pass the screening, you will receive a wristband to wear during the move-in process.  If you respond affirmatively to any of the questions, your move-in will be delayed until such time that a licensed medical provider or a county health department has provided clearance or you meet CDC guidelines. If you have no other housing alternatives, you should contact DHRE prior to your arrival to campus.
Move-In Helper
During your designated move-in, you are permitted to have no more than one other person assist with moving personal items.  It is highly recommended that this person be from your immediate household and be at least 18+ years of age.
All residents and move-in helpers must wear masks/face coverings and adhere to University guidelines.
Move-in helpers may stay for a short time immediately after your move-in appointment to help unpack and set up your room.
Plan ahead with packing.  Focus on the essentials and pack efficiently for a smooth move-in. Limit time in hallways and public areas to maintain physical distancing, and always wear a mask/face covering outside of your room.
To maintain the staggered move-in process, move-in helpers (or any guests) are not permitted to return or linger in the residence hall after your move-in steps are complete.
COVID-19 Screening Process: Move-In Helper
As noted above, your move-in helper should be a member of your immediate household.  Your move-in helper should not come to campus if they were exposed to or have symptoms related to COVID-19 within the past 14 days.
DHRE staff will ask COVID-19 screening questions of your move-in helper.  Helpers who pass the screening, will be provided with a wristband to wear during the move-in process.  Helpers who respond affirmatively to any of the questions will be advised to leave campus immediately and cannot assist with your move-in to campus housing.
Packing List
We want your move-in to go as smooth as possible.  It is advised to only pack essential items; in the event there are future shelter in place orders or that campus needs to depopulate – having only essential items will be helpful.  You likely already have most of what you'll need!  Avoid over-packing and limit belongings to one car load. Utilize the Packing List to help you decide on what to pack.  It is advised that you bring a rolling cart or a hand truck to assist with your move-in process.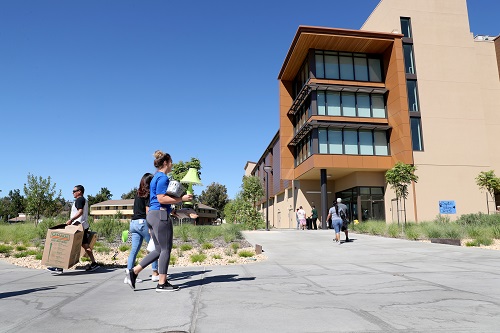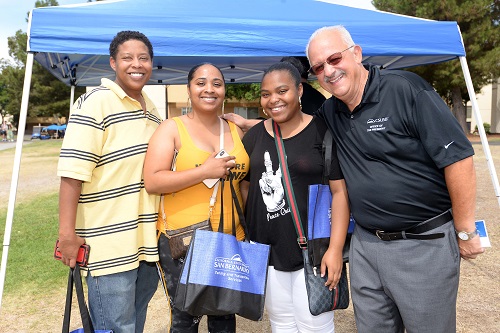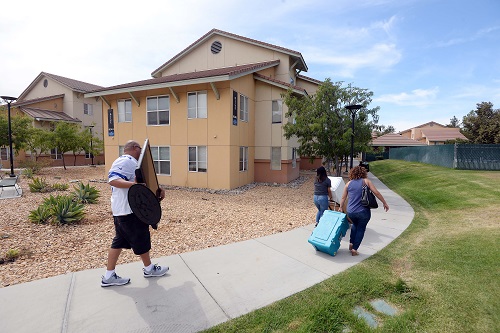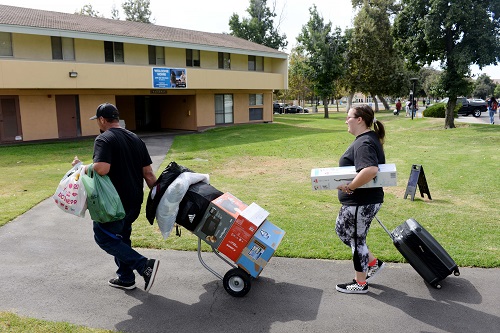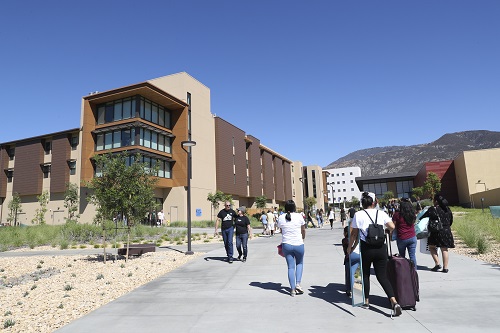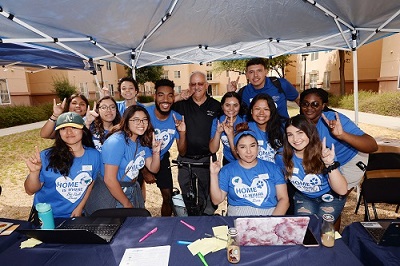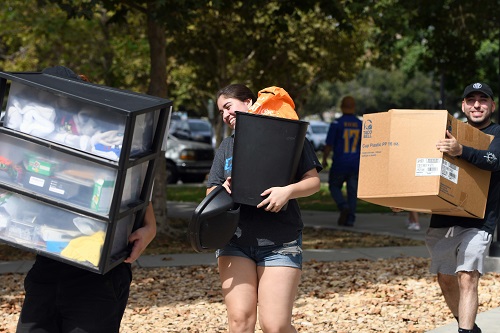 Move-In Process
Move-in details were provided in your housing assignment email.  You must sign up for a specific move-in appointment for the week of Sunday, August 16 – Sunday, August 23.  Move-in appointments will be staggered to promote healthy, safety, and necessary physical distancing.  Your confirmed appointment time will be communicated through Coyote email in advance of your arrival to campus.
Move-in appointments will be staggered during specific time blocks:
Arrive to the check-in area located along Coyote Drive (curbside loading zone area in Parking Lot F).
If arriving in a vehicle, you (and your move-in helper) will be asked to stay in the vehicle.  There will also be designated check-in space for those being dropped off or arriving by other methods to campus.
DHRE staff wearing PPE will:

Verify only one other assist person
Verify an active/working phone number
Share expectations about face coverings, physical distancing, and visitors/overnight guests with the move-in helpers as an exception for their move-in appointment.
Issue room key/key card

Staff will direct the vehicle to either Arrowhead Village or University Village to check out a blue bin for move-in.  It is also advised that you bring a rolling cart or a hand truck to assist with your move-in process.

Blue bins measure 27"w x 37"l x 34"h and will be available at your unloading zone to check out for 60 minutes during your move-in appointment. Our staff will provide you additional details when you pick up the blue bin, and will sanitize bins between each appointment.

Transport all belongings from your vehicle to your room, and return the blue bin by the designated time.
Signage will be posted throughout your Village to direct/guide where to go, and please allow for adequate physical distancing if you encounter others.  Elevators will have rider limitations and directions will be provided for stairwell usage.
Please wear a face covering and ensure your move-in helper also wears a face covering while on-campus.  We also ask that you and your move-in helper wash your hands for at least 20 seconds regularly while moving in to your space.
Getting to Your Village
All residents will be housed in University apartments at Arrowhead Village and University Village.  Campus maps and driving directions can be accessed on the campus' Maps & Directions page.  All residents should arrive to campus on their scheduled move-in appointment date and time at Parking Lot F – Coyote Drive curbside loading zone.  Please utilize this map for specific directions.
Residential Parking Permits
All residents must have a parking permit to park overnight in any CSUSB lot.  Please visit the Parking and Transportation Services website to purchase your permit.  Once purchased residential student permits can be picked up from Information Center II on Coyote Drive.  The hours of operation are Monday – Friday from 8:00 am-5:00 pm. 
Check Your Coyote Email
Continue to check your Coyote email regularly to stay up to date on important information and additional details preparing you for move-in day!
Edison Public Safety Power Shutoffs
During fall 2019, Southern California Edison Power implemented Public Safety Power Shutoffs (PSPS) events when there were potentially dangerous weather conditions in wildfire-prone areas.  During these events, SCE proactively turned off power in high fire risk areas to reduce the threat of wildfires.  The CSUSB campus, including on-campus housing, had several PSPS events during October and November 2019.  Due to similar weather conditions, we foresee PSPS events to occur during the fall 2020.  We have included several items on the Packing List that we feel would be beneficial to all residents during future PSPS events.  We encourage all residents to plan in advance of the potential for loss of power in on-campus housing during fall 2020.  DHRE will provide additional information, updates, and suggestions throughout the upcoming months.