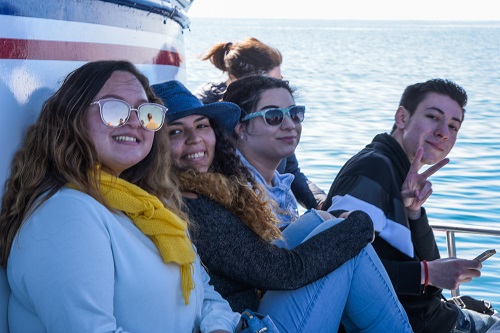 Exploratory Excursions
The purpose of the Exploratory Excursions Program is to provide students with opportunities to learn about both the region in which they are studying and diverse areas of knowledge through experiential learning. The program takes students in the University Honors Program out into the surrounding area to learn about diverse topics on location.  The trips are no cost to students, except for meals.

Exploratory Excursion destinations include cultural, historic, and scientific spaces. Cultural excursions have taken students to The Getty Center, The Los Angeles County Museum of Art, The Huntington Library and Gardens, and stage productions at the Pantages Theatre in Los Angeles. Science trips have taken students to, among other places, The California Science Center, kayaking in Black Canyon, and on whale watching trips. Still in development, the historical component will allow students to visit locations such as The Getty Villa and historic locales in the metro-LA area.

Each trip has limited capacity and sign-ups are on a first-come/first-serve basis. As noted above, the only out-of-pocket expense for students is meals, since the program covers transportation and admission fees.
Honors in Action
With our emphasis on community service, The University Honors Program initiated Honors in Action, a community partnership program that teams the Honors Program with community groups in need of support in achieving their missions. Those partnerships range from pairing students with children in the community through the Big Brothers/Big Sisters Program to larger scale events, such as our work with Rebirth Homes and the San Bernardino County CASE office to sponsor a week of activities to raise awareness around issues of human trafficking. This event includes a campus-based exhibition, speakers, a film, and an awareness walk.

Students in the program commit to 30 hours of service per academic year, combining these individual activities and the Honors Program organized events. These hours contribute towards the program's efforts each year to earn recognition through the Presidential Service Award. In recent years, the University Honors Program has consistently won recognition at the Gold level, earning participating students recognition medallions that can be worn with graduation regalia.