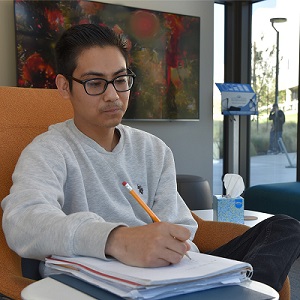 Students relax and get homework done in "the incubator."
CSUSB's University Honors Program is comprised by a community of individuals who share their unique talents and strengths with the program, campus community, and world. We hope to cultivate more students who incorporate the program's core characteristics into their academic journey at CSUSB. Honors students strive to both develop and exude: 
Curiosity about the world around them;
Desire for life-long learning;
Strong work ethic;
Creativity;
Critical thinking and problem solving;
Community engagement and service.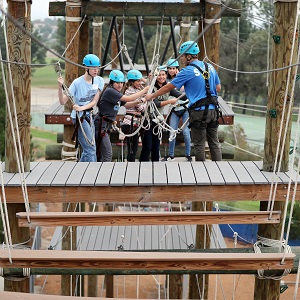 Honors students collaborate on the campus' leadership development course
Why Join Honors?
The University Honors Program enhances students' college experiences by making additional opportunities available to them. As members of a community of highly-motivated learners, honors students enjoy a variety of benefits. They:
receive priority registration amongst your grade level;
fulfill general education requirements in smaller-sized Honors classes;
design an advising plan and strengths-based career pathway with the program counselor;
enjoy the use of the Honors facilities such as: study rooms, a computer lab, and a student lounge where you can  engage with other students;
participate in free off-campus excursions to museums, galleries, and live performances.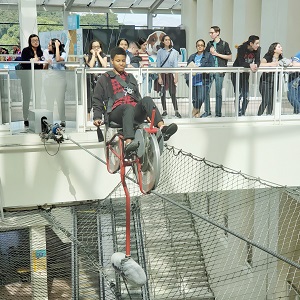 Students enjoy the California Science Center
Who Joins Honors?
The University Honors Program is an inclusive community that welcomes students from all backgrounds and interests. The program includes students from every major on campus, with programs designed to challenge students in their chosen fields of study while exploring related fields. The program's activities also celebrate the rich diversity of identities that make Honors such an exciting place to learn, explore, and build friendships. With a philosophy that embraces each student's unique blend of strengths and experiences, the program strives to help students connect their individual identities to the career and graduate school goals.