First Year Experience Faculty 
The Honors Program's core curriculum for lower division students is taught by exceptional faculty with special expertise in the fields in which they teach. With graduate degrees in Rhetoric & Composition, Philosophy, and Communication Studies, the lower division faculty devise experiences for students that provide a foundation for future learning in the Honors Program.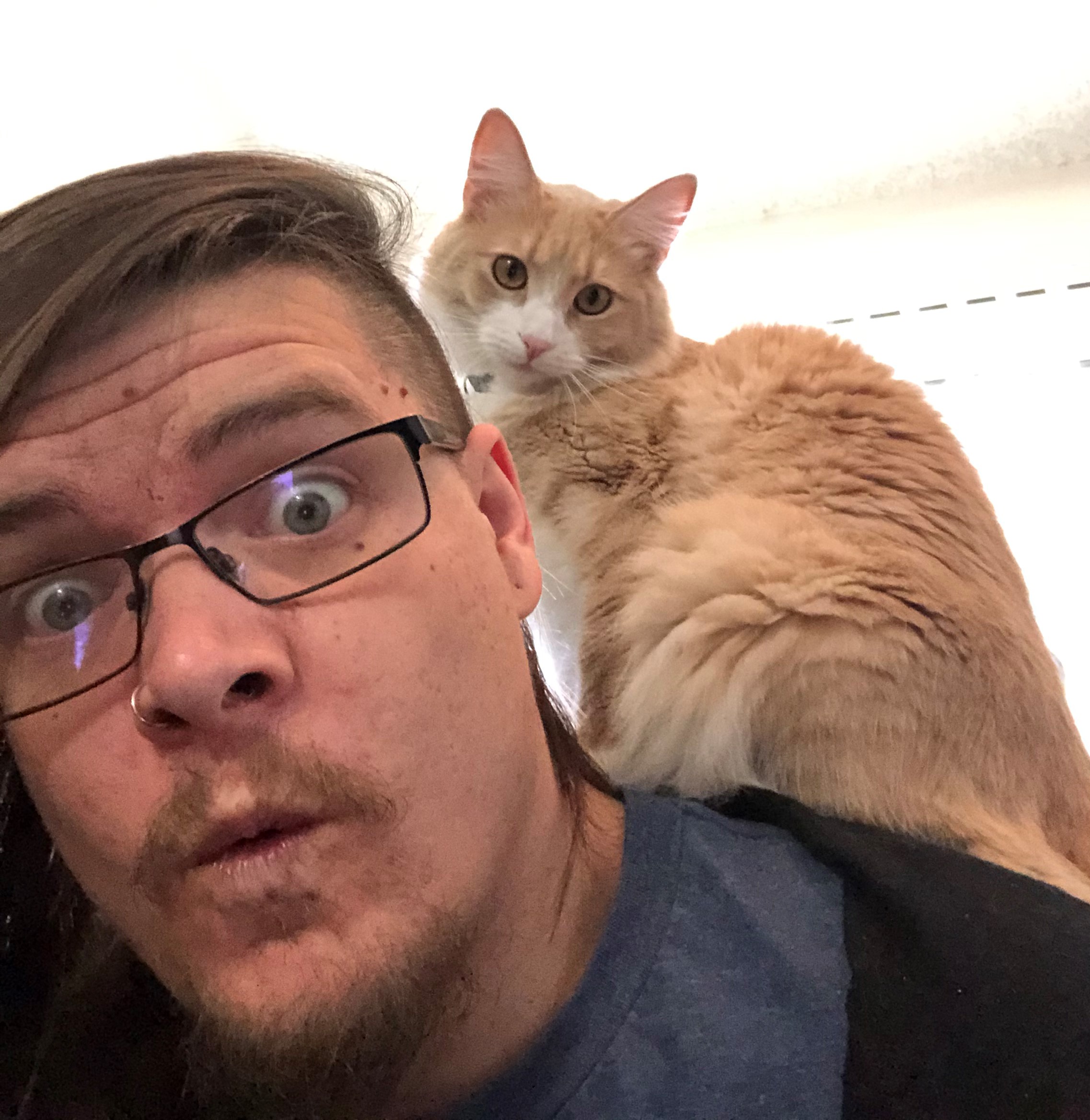 Professor Shepherd with his cat.
Dustin Shepherd
I typically teach Writing Rhetorically (HON 1100) and Constructing Knowledge (HON 1000). I have been researching film reboots and sequels in order to analyze senses of ownership and critical engagement with these properties. In addition to my academic interests/pursuits, I am also an avid bowler.
What to expect joining their class: Students should expect to engage with the material. I try to make my classroom a relaxing environment in order to help students develop and express their own ideas in a comfortable setting. Expect to challenge, expand, and question ideas about composition.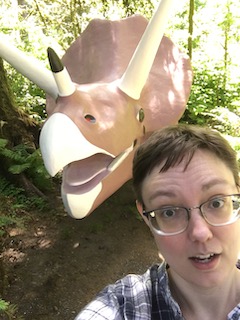 Dr. Zane with a triceratops
Dr. Megan Zane
I typically teach for the Philosophy Department: introduction courses in general Philosophy and Ethics, and upper division courses on Philosophy of Gender and Philosophy of Language. I'm also a painter of mostly colorful abstract pieces in acrylics. I read a lot of scifi/fantasy and really enjoy resource management video games.
What to expect joining their class: Learning about critical thinking can feel very abstract and weird. So in my course, I focus on how critical thinking is a skill that we already use in ordinary everyday life. We improve this skill by examining specific tools of critical thinking and their practical applications to a wide variety of topics. Some topics we cover include: validity and deduction, technology design, science, politics and ethics, and disability rights. We have a modest amount of dense reading each week and lots of low stakes opportunities to practice thinking, writing, and communicating about the world.
Professor Zarate posing with a statue of Edgar Allan Poe
Tabitha Zarate
I work in the Honors Department, teaching Honors 1100 Writing Rhetorically and 1000 Constructing Knowledge. I research pop culture, comics and graphic novels, visual rhetoric, feminist and gender studies, and dabble in a few other interests. A fun fact about me is that I play a lot of D&D and video games when I am not grading papers or petting cats.
What to expect joining their class: Students should expect a warm welcome in my classes, and to help build a community dedicated to bettering themselves as writers and rhetoricians, and constructors of knowledge!
Faculty Fellows
The Honors Program's Faculty Fellows are those faculty who join the University Honors Program as part of their teaching in the Junior Year Interdisciplinary Inquiry Experience. Based on their submission of proposals to teach in the program, they are selected by the Faculty Senate Honors Committee in consultation with students in the University Honors Program.
2021-2022 Honors Faculty Fellows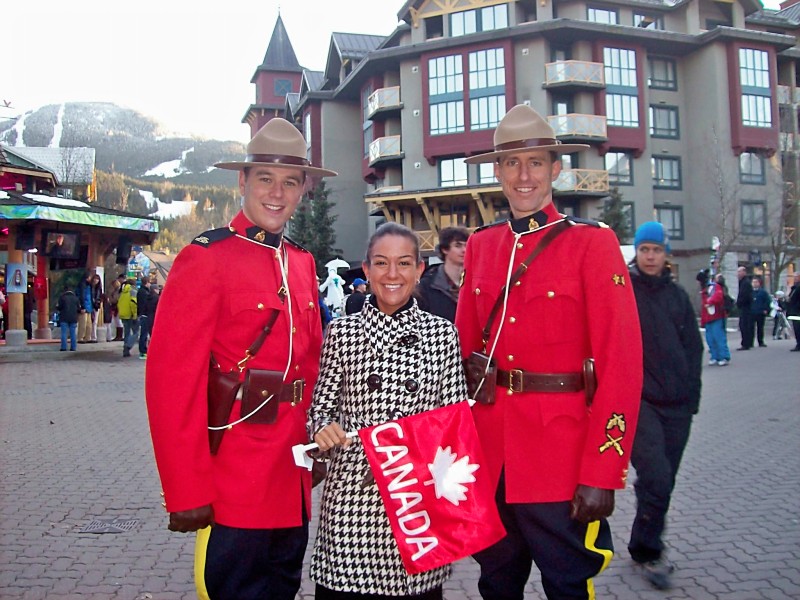 Dr. Kelly Campbell with Canadian Mounties
Dr. Kelly Campbell
I am a Professor of Psychology and typically teach courses on intimate relationships, gender, positive psychology, and race and racism. I have been directing the Psychology Honors program for the past 7 years and teach the honors seminar each fall. My research examines couple relationships and friendships including deceptive online romance (known as catfishing), infidelity, instant connections (e.g., chemistry), and love. I have conducted studies in the U.S., Canada, England, France, Greece, Italy, Portugal, and South Africa. A fun fact about myself is I love to travel and my favorite places in the U.S. include Las Vegas and South Beach, Miami.
What to expect joining their class: Students will learn about social movements from the past and present and how they can make a difference to make our world a better place.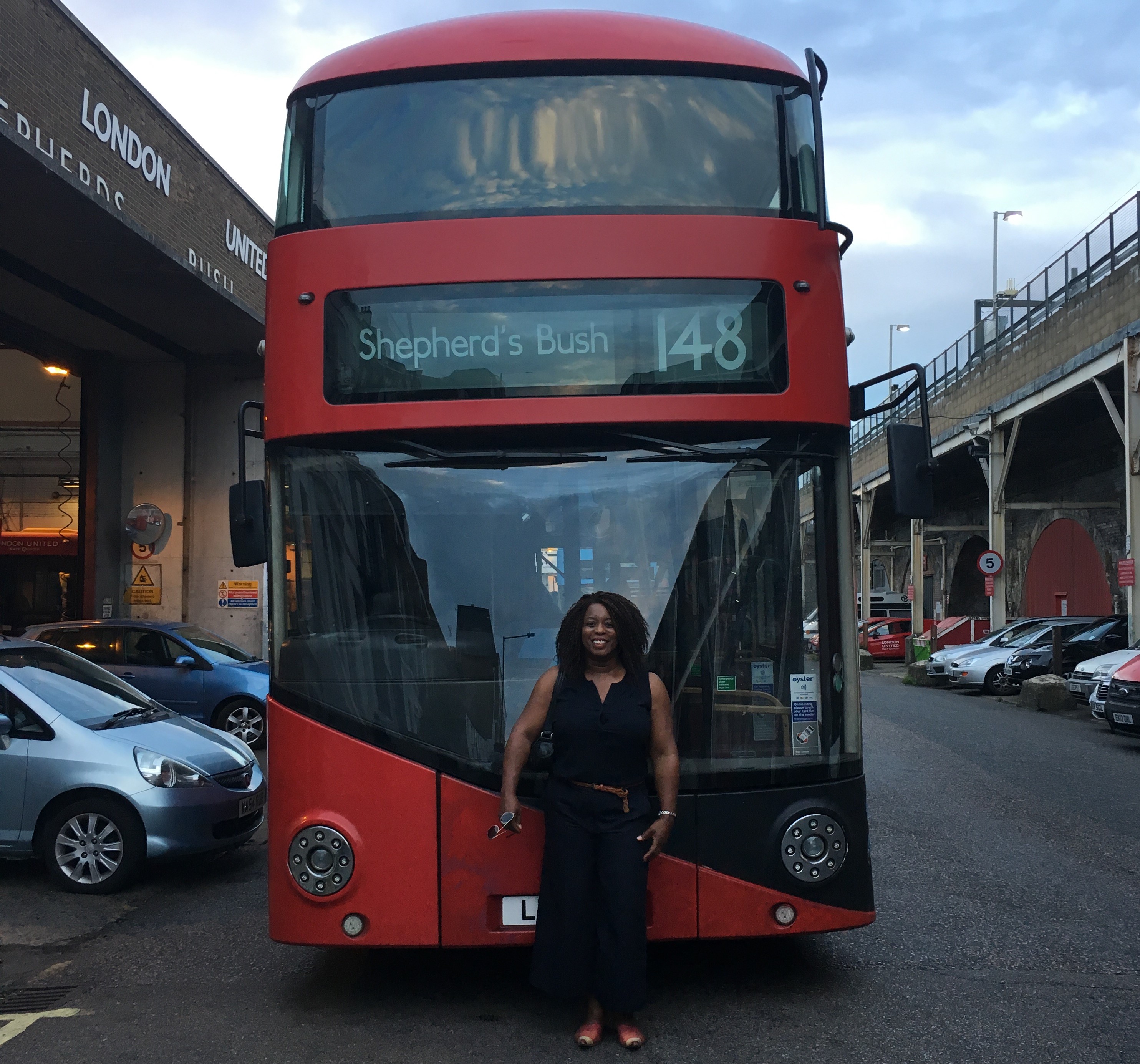 Dr. Claudia Davis with a double-decker bus in London
Dr. Claudia Davis
Greetings everyone, I'm Dr. Davis, from the Nursing Department. I teach a variety of courses in the undergraduate, RN-BSN, and graduate programs, such as research methods, community health, health promotion, and health policy, respectively. As a breast cancer researcher, my program of research seeks to investigate cancer disparities, specifically the impact of breast cancer to improve survivorship outcomes for black breast cancer survivors. I was born in London England and enjoy traveling.
What to expect joining their class: Students should expect a class that values diversity in the broadest sense and diverse thinkers.