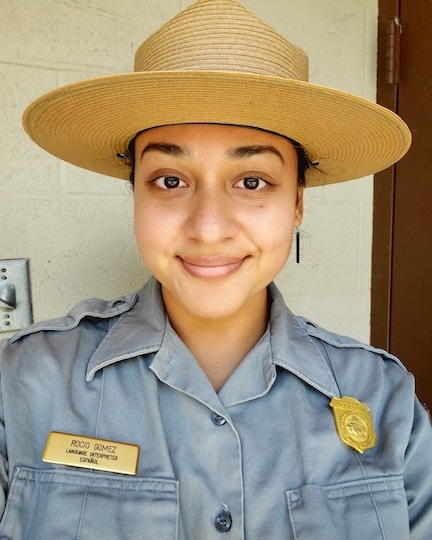 Rocio Gomez is an Interpretive Park Ranger for the National Park Service 
Rocio Gomez graduated from CSUSB in 2016 with a BA in History. During her time at CSUSB she served as vice president (2014-2015) and president (2015-2016) of the history department's History Club and Phi Alpha Theta chapter. She and her cohorts organized several events on campus, including the award-winning Chican@ History Lecture Series. After graduating she joined the Latino Heritage Internship Program (an initiative of the Hispanic Access Foundation) and interned for one year at Manzanar National Historic Site. During this time she also collaborated with César E. Chávez National Monument and helped them develop the site's oral history program. Rocio has also guest lectured at CSUSB, presenting her research from Manzanar with the talk 'Allegiance Beyond Confinement: The Ralph Lazo Story.' She is currently working as an interpretive park ranger for the National Park Service and working towards applying for a Ph. D. public history. "My experience at CSUSB provided every opportunity that helped guide me to where I am today," she states, 'I'm very thankful for the continued support from the faculty that mentored me as an undergraduate.' Rocio has also been published in CSUSB's History in the Making journal in their 2017 and 2018 issues (Vol. 10 and Vol. 11).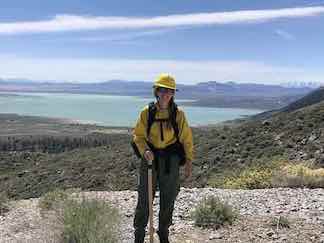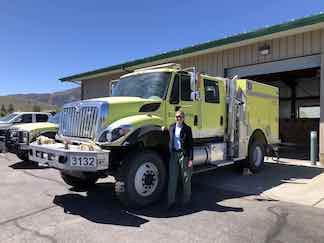 Kate Mook, Wildland Firefighter for the Bureau of Land Management
Kate Mook graduated from CSUSB with a BA in Public and Oral History in 2017 and continued on to CSUSB's graduate Interdisciplinary MA program, graduating with an MA in Public History and American Indian Studies in Spring, 2020. During her time at CSUSB, she worked as a park ranger for the National Park Service in visitor services and education. While working in Santa Monica Mountains National Recreation Area and Yosemite National Park, she utilized her background in history, specifically American Indian's practice of using fire on the ecosystem, to research fire ecology and prescribed fire history for various government education programs. This experience led to her current career as a wildland firefighter for the Bureau of Land Management where she works on a type 3 and a type 6 fire engine in the eastern Sierra Nevadas. "The history department at CSUSB gave me the skills to pursue multiple career paths and enabled me to combine my passion for American Indian history and the outdoors," she states.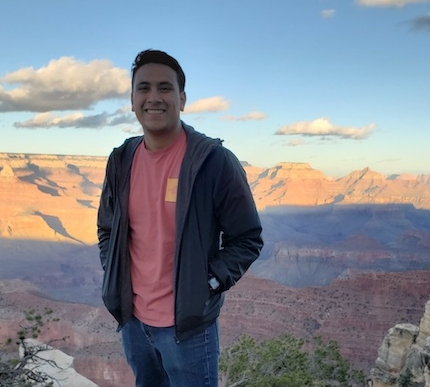 Rafael Perez Shares His Passion for History with Students in Alvord
Alum, Rafael Perez, graduated from CSUSB in 2016 after completing a BA in Teaching History and an Education Credential from the College of Education.  He has been teaching in Alvord since 2016 and is currently serving at Norte Vista High School.  He has taught Economics, World History, and US History, while also coaching cross country and track.  He has greatly enjoyed his time sharing his passion with students that come in unmotivated to learn about the past.  'I have made it a goal of mine to show students a diverse look at history that reflects their various backgrounds in order to empower them with the subject' he states.  Rafael also had a paper published in our History in the Making journal in our 2016 issue (Vol 9).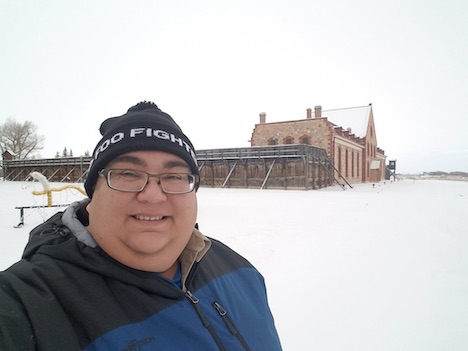 Renee Slider, Cultural Resource Specialist Reflects on her CSUSB Education
CSUSB Alum graduated from CSUSB in 2012 and went on to earn her MA degree from the University of Wyoming in 2015.  After she graduated, she landed her dream job as curator of the Wyoming Territorial Prison State Historic Site for Wyoming State Parks.  Since she was hired, she has worked on a number of projects, including acquiring a temporary exhibit from SITES about the Bracero Program.  She also implemented a chromebook program for school tours and completed a number of updates to the tours and information packets.  She is currently in the process of getting her NAI certification and she is in the Certified Public Manager Program.  'CSUSB History provided a great foundation for me to be successful,' Renee commented, 'I appreciate all that was done for me.'   For more information about the Wyoming Territorial Prison State Historica Site, see prison 
CSUSB History Alum, Dr. Alicia Gutierrez-Romine Interview on C-SPAN
CSUSB History Alum, Dr. Alicia Gutierrez-Romine, currently Assistant Professor at La Sierra University, attended the Western History Association annual meeting and was interviewed about her research about abortion in California by CSPAN.  See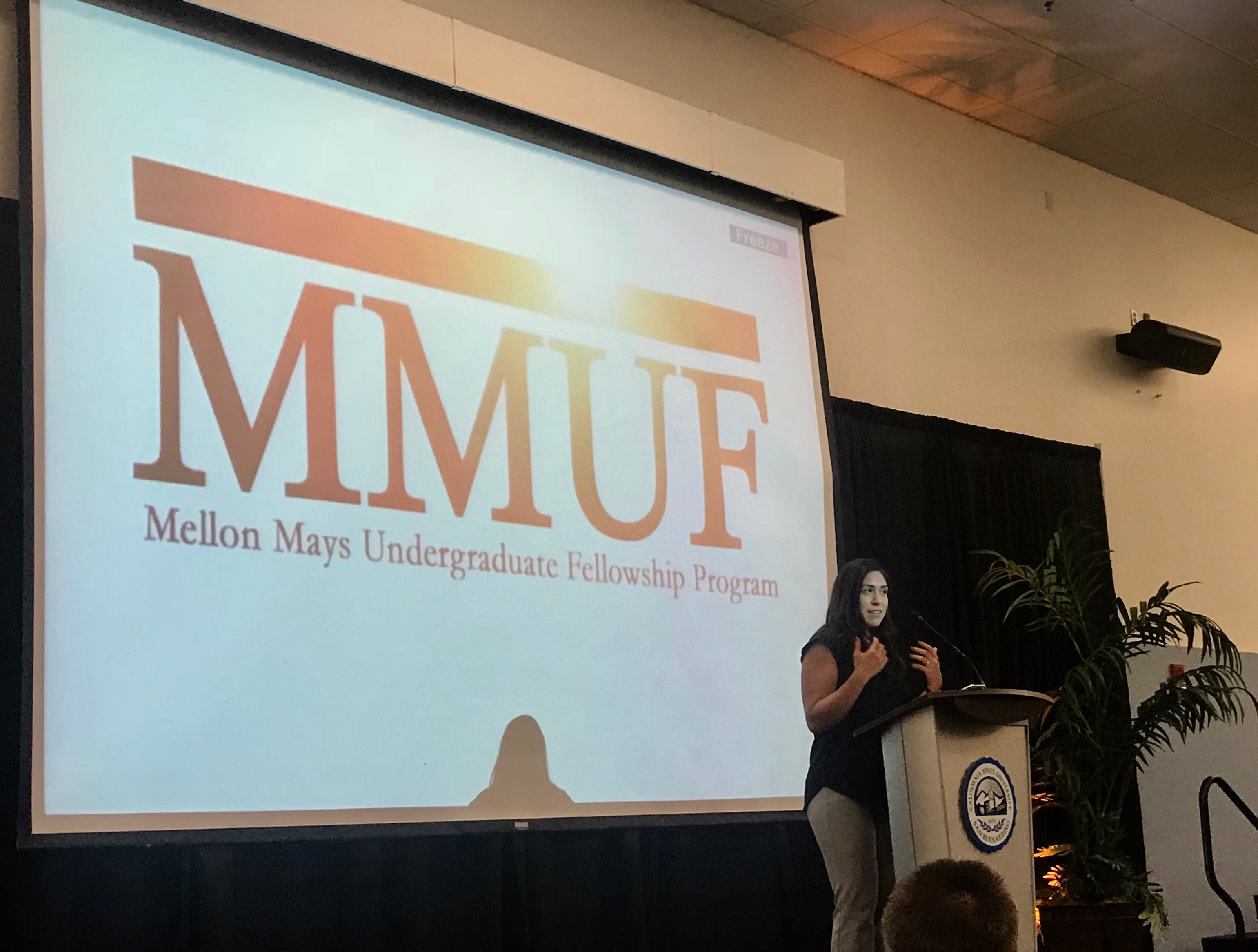 Dr. Alicia Gutierrez-Romine Speaks at CSUSB at Mellon Mays Fellowship Celebration
Dr. Alicia Gutierrez-Romine, CSUSB alum was the guest speaker at the Meet the Fellows reception on November 27th, 2018 to honor the winners of this year's Mellon Mays Undergraduate Fellowship program.  Dr. Gutierrez-Romine completed her BA in History at CSUSB in 2010, and completed a PhD at the University of Southern California in 2016.  She is now is an Assistant Professor at La Sierra University. Her forthcoming manuscript, From Back Alley to the Border: Criminal Abortion in California, 1920-1969 (University of Nebraska Press) traces the history of a medical procedure from the proverbial 'back alley' to the U.S.-Mexico border. She spoke on the importance of 'Creating an Engaging and Meaningful Scholarly Community for Your Success.'  
Q& A with Lauren Kirschke of Great Oak Press
Interim director and editor for Great Oak Press, and CSUSB alum, Lauren Kirschke discusses her vision for the press in a recent interview with the San Diego Union Tribune.  She outlines her dedication to Californian Native American history.  She discuses how her education and involvement in CSUSB's History in the Making journal led her to this appointment.  Incidently, one of the first books published by the press, which focuses on California Indian history, cultures, and langues, is one of CSUSB's adjunct faculty members, Dr. Michelle M. Lorimer's Resurrecting the Past: The California Mission Myth (2016).Click here for the San Diego Union Tribune article.
George Jauss Appointed Museum Educator at National Association of Music Merchants 
CSUSB History alum, George Jauss was appointed museum educator for NAMM in July, 2018.  The NAMM foundation promotes active participation in music and has a division of of the Museum of Making Music, which 'explores the unique accomplishments and lasting impact of the music products industry through permanent and special exhibitions, concerns and educational programs.' The museum aims to promote a world where every child has the opportunity to experience music.  For further information, see museum.  George is also a musician and has recently released an album entitled Front Porch Sessions.