Transfer Outreach Coordinator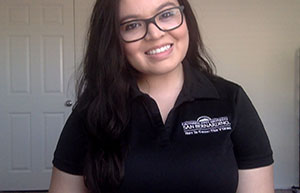 Reyna Rodarte
Hello! My name is Reyna Rodarte and I am the Transfer Outreach Coordinator for the Here to Career Title V Grant at CSUSB. I graduated from UC Riverside and received a B.A. in Sociology. I recently graduated from the University of Redlands with an M.A. Ed. in Higher Education with an emphasis in Student Affairs. I have worked in the education field for more than five years. Helping students achieve academic success is my passion. I have experience with teaching, mentoring, tutoring and advising. My goal as the Transfer Outreach Coordinator is to provide students with valuable resources that will facilitate their transferring process to the four-year university of their choice. I want to ensure that students have guidance and a great support system in order to be successful scholars. Our purpose is to help students become transfer ready and improve student success in digital media disciplines such as graphic design, communication/media studies, music industry studies, and computer science. Overall, I enjoy becoming a part of students' educational paths as they advance in higher education. Education is power!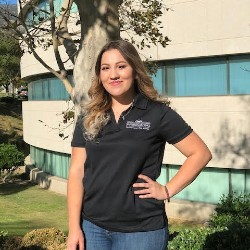 Alexis Felix
Hello! My name is Alexis Felix and I am one of the proud peer-mentors for the Here to Career Program here at CSUSB. I recently graduated from CSUSB and obtained a bachelor's degree in Communication Studies with a concentration in Human and Organizational Communication. As a proud SBVC alumna, I enjoy giving back to a college that has opened so many doors for me in my educational journey! Being a Mentor for SBVC and Norco College has been the most rewarding experience because I love sharing helpful information and resources with students. Knowledge is power!  The more you know the better, so I am here and ready to do just that and more!
Major: Communication Studies - Human and Organizational Communication Concentration
Advice for transfer students: My advice to students is to be proactive! If you ever feel lost, ask questions! Do not be afraid to reach out and discover everything your school has to offer for you!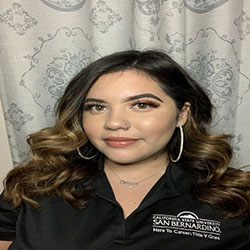 Celeste De La Fuente
My name is Celeste De la Fuente and I'm in my third year at CSUSB studying Computer Systems. Being in my third year, I have experience with different computer science programs. I started the peer mentoring program in October 2019 and learning from all the other mentors gave me an idea of how I wanted to help my students out. This program allowed me to help students that need help with transferring to a four-year university. Sharing my knowledge and information with the students gave them confidence and reassurance about the transfer process. The peer mentoring program has made me get out of my comfort zone and learn that I can influence myself and others to be successful. The best feeling is when the students let me know that I have made their lives a bit easier just by sharing knowledge and having a friend to talk to
Major: Computer Systems
Advice for transfer students: The advice I would give to students is to never lose confidence and to continue to strive for the best. Asking questions will get you out of doubt and will give you the knowledge or resource you need. After all, we are going to school to create the life we want.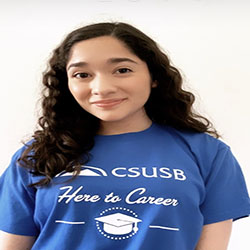 Deanna Garcia
Hello! My name is Deanna Garcia, and I am currently a third-year transfer student majoring in Communication with a concentration in Media Studies. I enjoy mentoring students because I know how difficult and overwhelming the transfer process can be. Through my experience keeping track of requirements and making sure that I am receiving the correct information was always a problem. It is important that students interested in transferring are provided with the resources needed in order to ensure an easier process, but to also support their current student success.
Major: Communication Studies - Media Studies Concentration
Advice for transfer students: It is important to know your deadlines ahead of time that way you can schedule out any meetings that need to be made. It also ensures that you don't miss any requirements as well. Also meet with transfer counselors regularly in order to make sure that requirements are being met, and you are aware of any changes that could affect you.
Jazmine Orellana
My name is Jazmine and I am a second year at CSUSB! I am very honored and excited to be a peer mentor to all you amazing students! Not only am I here to be your mentor but I am here to be your friend. I am very passionate about helping others succeed and achieve their goals! A little fun fact about myself is that one day I'd love to have my own farm with a lot of different animals.​
Major: Graphic Design and Marketing​
Advice for transfer students: 
Kelli Bolduc
My name is Kelli Bolduc. I am an Applied Mathematics Major with an emphasis in Computer Science Engineering. I am in the end of my first year here at CSUSB, but I will graduate next Spring with my BS. I am a transfer student from San Bernardino Valley College where I got my ADT in Mathematics. I transferred to CSUSB because it is close to home, my mom graduated from CSUSB, and it also seemed like it would be a great fit for me. I really like the community aspect here at CSUSB. Even though we are all virtual it feels like a family and I feel like I can reach out to any professor for help at any time. My favorite part about being a mentor is being able to give back what I got out of this program as a mentee. I really enjoyed being a mentee because it allowed me to reassure myself that I was on the right track to transfer as well as it gave me a feel for the campus before transferring. I felt like I had connections before going into the university which helped make the transition easier. An interesting fact about myself is that I love to ride dirt bikes and I have a three-year-old daughter. 
Major: Applied Mathematics
Minor: Computer Science​
Advice for transfer students: A piece of advice for everyone participating in this wonderful program is to not be afraid to ask questions about anything! We are here to help you and want you to succeed in everything. We are here for more than just giving you information we are here to help in every way that you need. ​
Omar Perales-Carrion
I am looking forward to being the best mentor I can be. I was once a mentee and I enjoyed meeting with my mentor every week. Hopefully, my students will enjoy meeting with me weekly to talk about the ways in which I can help them reach their goals. ​
One of the things I love about CSUSB is the gorgeous mountain view from outside the Art building. Something else I enjoy is going to the VRC (Visual Resource Center) and checking out the resources available to students for visual reference. ​
I transferred from SBVC last fall. I was lucky to have Dr. Batalo as a professor and mentor. I visited four CSU's in SoCal prior to applying to transfer; but I found that CSUSB was where I most felt at home. ​
Major: Graphic Design
Advice for transfer students: Something I would advise to students is to reach out to their professors and build professional relationships with them. Something I have learned is that professors are eager to hear from you and share their knowledge and experiences with students. Don't be shy to speak up and reach out to your professors. ​