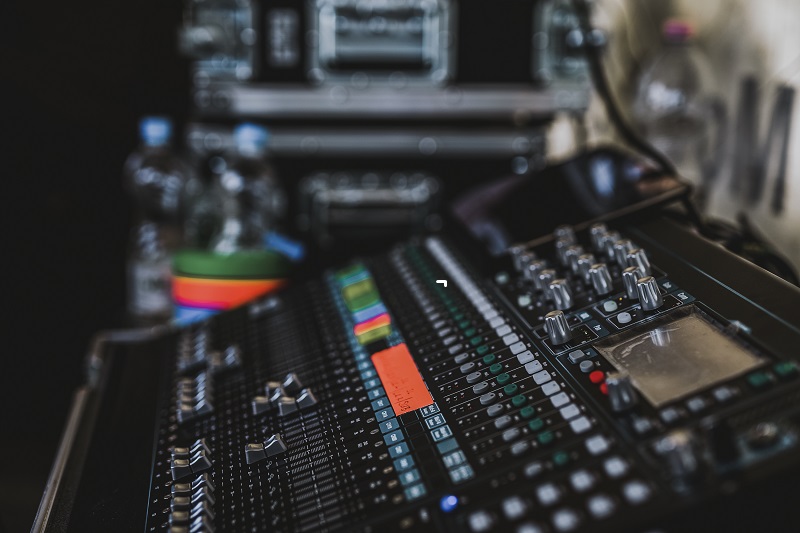 Why Intern?
Internships/ Work Experience allow students to apply theory discussed in coursework to a practical experience. Students will learn how to approach an employer they might be interested in and how to ensure they present themselves as a candidate for consideration. CSUSB, Norco, and SBVC believe students will develop skills that will help them in their career endeavors long after they leave our campuses. We know that networking skills, job search skills and developing effective communication skills will help them not only find a job but advance within their field or organization.
To further enhance student career readiness beyond the experience that the internships/work experience will provide, we propose that students entering this internship program first complete a series of workshops that will provide them with specific skills needed to be successful either in their job search or in their endeavor to start their own business. These workshops will be offered through either the CSUSB Career Center or the CSUSB Center for Entrepreneurship.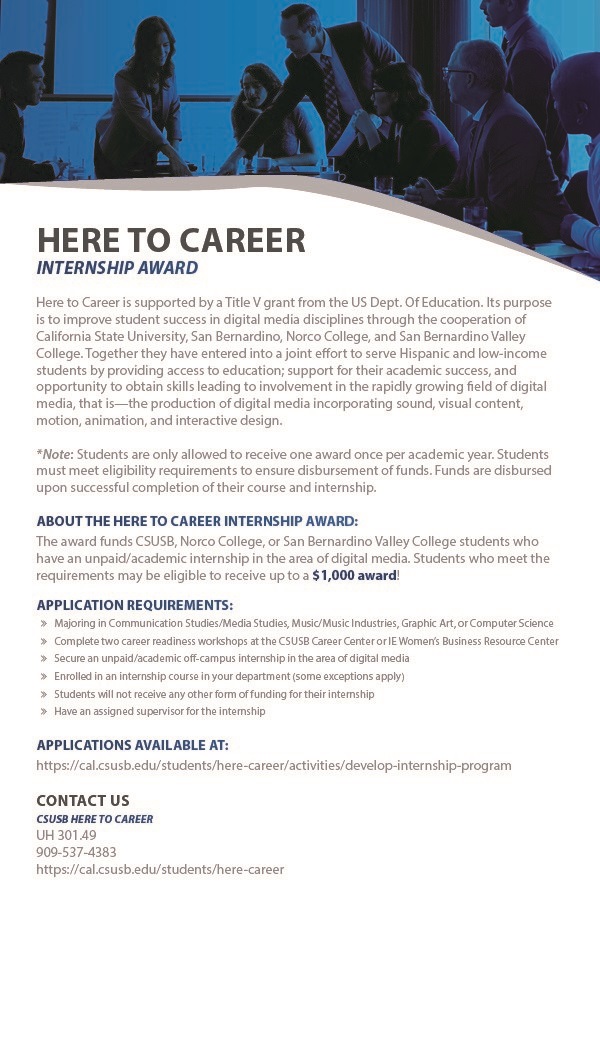 Here to Career Internship Award/Work Experience
Here to Career is supported by a Title V Grant from the US Dept. Of Education. Its purpose is to improve student success in digital media disciplines through the cooperation of the California State University, San Bernardino, Norco College, and San Bernardino Valley College. Together they have entered into a joint effort to serve Hispanic and low-income students by providing access to education; support for their academic success, and opportunity to obtain skills leading the involvement in the rapidly growing field of digital media, that is – the production of digital media incorporating sound, visual content, motion, animation, and interactive design.
*Note: Students are only allowed to receive one award once per academic year. Students must meet eligibility requirements to ensure disbursement of funds. Funds are disbursed upon successful completion of their course and internship.
ABOUT THE HERE TO CAREER INTERNSHIP AWARD/WORK EXPERIENCE:
The award funds CSUSB, Norco College, or San Bernardino Valley College students who have an unpaid/academic internship in the area of digital media. Students who meet the requirements may be eligible to receive up to a $1,000 award!
Application Requirement:
Majoring in Communication Studies/Media Studies, Music/Music Industries, Graphic Art, or Computer Science
Complete two career readiness workshops at the CSUSB Career Center or IE Women's Business Resource Center 
Secure an unpaid/academic off-campus internship in the area of digital media 
Enroll in an internship course in your department (some exceptions apply)
Students will not receive any other form of funding for their internship
Have an assigned supervisor for the internship