Graduate Studies Events, 2019-2020
Fall Events
The Graduate Student Orientation is offered each fall term by the Office of Graduate Studies.  The fall 2020 orientation is slated for Saturday, August 15th in the SMSU Event Center. Open to all new credential, masters, and doctoral students, the event gives an overview of the path to obtaining an advanced degree and explains university policies and procedures that pertain to graduate education. Current students and recent alumni share their insights through a graduate student panel, and the university's many resources and opportunities are displayed at a resource fair immediately following the event. Please see the university's web page for the latest CSUSB information on COVID-19; for information on Graduate Studies events, contact us at (909) 537-5058 or gradstud@csusb.edu

Graduate Education Week: During this week we will be hosting a panel of seminars, workshops, mixers, and more in order to help you get the most out of your graduate student career. In addition, we will be highlighting the work of some of our most outstanding graduate students, including our thesis award winners, our hardworking graduate assistants, as well as welcoming some graduate student alumni back to our home campus to see how their education has shaped their professional careers. Event date pending. Please see the university's web page for the latest CSUSB information on COVID-19; for information on Graduate Studies events, contact us at (909) 537-5058 or gradstud@csusb.edu
Three Minute Thesis is a school-wide TED talk-like competition in which CSUSB graduate students will explain a thesis or dissertation in 3 minutes or less. Originally scheduled for Monday, May 11th, the competition has been moved to fall 2020.  Watch for an upcoming Information Session! For information on Graduate Studies events, contact us at (909) 537-5058 or gradstud@csusb.edu

Spring Events
The Faculty/Staff Book Launch honors those faculty and staff members who have published a book in the past two years. This event recognizes the outstanding contributions CSUSB authors make to further the body of knowledge in their discipline. Check back again for Spring 2021 event dates. 
Graduate Student Mixer As part of our ongoing effort to protect the health of our campus community, we have cancelled our 2020 Graduate Student Mixer.  We look forward to resuming events as soon as possible. Please see the university's web page for the latest CSUSB information on COVID-19; for information on Graduate Studies events, contact us at (909) 537-5058 or gradstud@csusb.edu
Summer Events
Student and Family Game Night!
On August 14th, 2020, from 5 - 7 p.m., join the Office of Graduate Studies for a night of virtual games and fun! With your student orientation on Saturday, we thought we would kick things off with a little Friday Night Game Night!

Join us for:
Staff Introductions
Virtual Office Tour
A Home Scavenger Hunt
Trivia Games
And More!

Interested in winning some cool prizes? Submit a video to gradstud@csusb.edu that shows how you have been able to make the most out of your 2020 summer. Whether some backyard BBQ's, living room camp-outs, or family bake-off's, show us what you have been up to! Winners will be announced and their videos played at the end of our game night! See you there!
Graduate Student & Family Picnic is a great opportunity to bring your loved ones to your campus, meet some of our newly admitted graduate students, and start the year with a fun, family-friendly evening. Our 2020 picnic is tentatively scheduled for August 21st at 4:00 pm on the Library lawn. The event will be free for entry, but you will need to purchase a parking permit. Also, this will be a great time to visit the campus bookstore and purchase/rent all of your materials needed for the fall term! Please keep an eye on your student email for further information! As more information regarding COVID-19 becomes available we will update this event.
---
Apply to Grad School Campaign: The Virtual Edition!
The Office of Graduate Studies will once again be hosting our Apply to Grad School Campaign, the virtual edition! Beginning May 18th, we will have a lineup of activities for you to find information on applying for and attending graduate school!
Monday, May 18th: Virtual Office Tour: The Office of Graduate Studies has recently renovated our office space, to include student-friendly updates including a new workshop space and a resource center!
Tuesday, May 19th: Not sure which program to join? No problem! Come join us for a Zoom session with our program coordinators and see what their program is all about! There will be an individual break out room for each registered coordinator, so come with questions!
Wednesday, May 20th: You know which program you want to apply to, but maybe the application is intimidating? We've got that covered! Sign up for our Zoom Application Information Session where our Student Resource Specialist, April Lane, will go through the application with you step-by-step! We also have our in-house writing expert, Megan Kinnally to assist with your Statement of Purpose! 
Thursday, May 21st: So, you've decided you want to go to grad school, you know which program you want to attend, and the application is in. But what about funding? What kind of assistance can you get to fund your graduate education? We've got a session for that too! Join April Lane and Erma Cross for an in-depth look at funding opportunities made available for our graduate students! 
Friday, May 22nd: Last but not least, we have the Office of Student Research on deck to talk to you about the support they can provide throughout your grad school career. How can you be funded to go to academic conferences, get research supplies, or enroll in mentor programs? They've got the 411 on all of those opportunities. Join Danielle White for a look at what the OSR can do for you. 
Please visit the registration link below to sign up for any of these sessions!
Graduate Program Coordinator Registration
---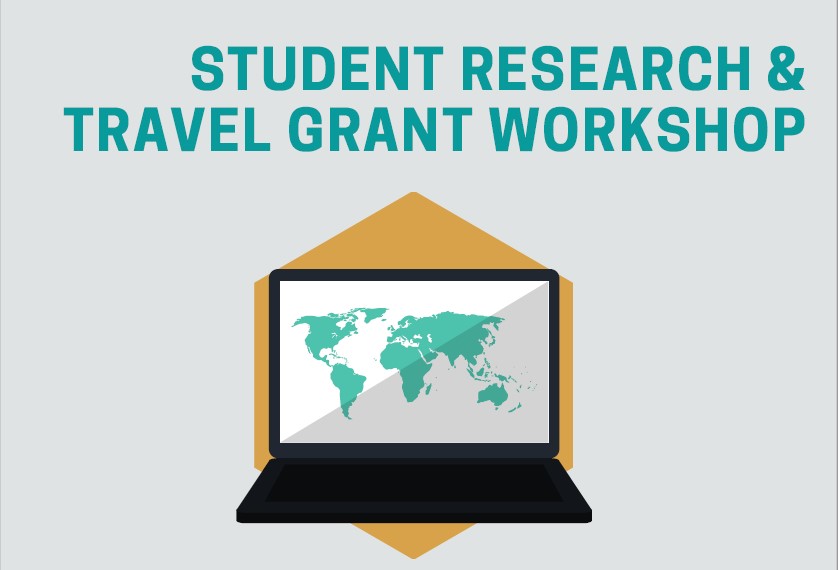 Featured Event: Student Research and Travel Grant Workshop
Need funding for your research and supplies? Apply for the Student Research and Travel Grant!  
Join us April 23rd at 4:00 pm for a workshop with the Office of Student Research to learn about the Student Research and Travel Grant and funding for research-related items and activities. We will go over the application process and deadlines, as well as the do's and do-not's for your submission.
Please note that while this funding normally includes funding for academic travel, the university is not approving any travel, foreign or domestic, at this time due to the COVD-19 pandemic. However, it can fund things like your membership to a virtual academic conference!
We want to make your spring term the most successful it can be, so please join us for this fantastic opportunity!
Register for the SRT Zoom Workshop:  April 23rd @ 4:00 pm