Career Readiness Series Agenda: 2021
Join the Office of Graduate Studies, in partnership with the Career Center, for a Career Readiness Workshop Series!
We will be joined by our top career advisors to discuss how to discover your Myers–Briggs Type Indicator, fine-tuning your resume, interview strategies in a Zoom world, and curating your online Portfolium which is free for CSUSB students!
This is the perfect one-stop shop to feel ready to put yourself on the job market with our weeklong series. We will also be doing a giveaway every session with prizes every professional should have.
Register today!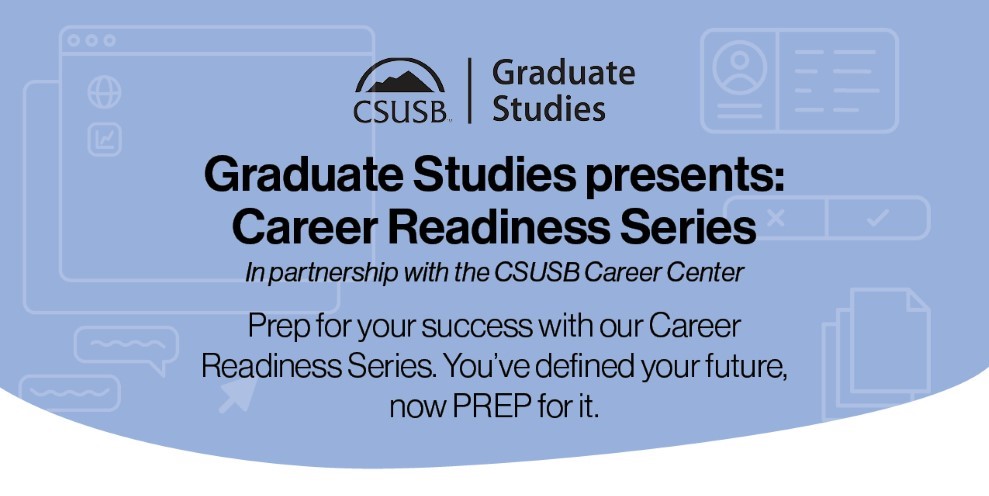 Myers–Briggs Type Indicator Personality Assessment with Valentina Felix
11/1/2021 
5:00 PM - 6:00 PM
Knowing your personality type, as measured through the Myers-Briggs Type Indicator® instrument, can help you with career planning at every stage: from your choices of subjects and majors in school to choosing your first career to advancing in your organization or changing careers later in life. Join Valentina Felix as she helps you discover your MBI! 
Resume 101 with Sarai Maldonado
11/2/2021
12:00 PM - 1:00 PM
Having an effective, clean resume is the first step in landing the job you want. Join Sarai Maldonado as she provides detailed explanations, as well step-by-step processes, for creating an effective résumé. 
Interview Strategies with Valentina Felix
11/3/2021
5:00 PM - 6:00 PM
So, you've landed an interview for your ideal job, but how to win them over? Join Valentina Felix as she discusses timely and important strategies for wowing the selection committee, the most important do's and don'ts, and how to master the Zoom interview. 
Curating Your Portfolium with Charles Rouse
11/4/2021
12:00 PM - 1:00 PM
Portfolium is used by over 3600 institutions to help assess the effectiveness of their programs and courses, certify students' competencies, and empower students to showcase their achievements and skills with evidence. Better yet? It's free to CSUSB students! Join Charles Rouse to learn how to curate your digital portfolio to use for networking, interviews, presentations, and serve as a repository for your professional development.