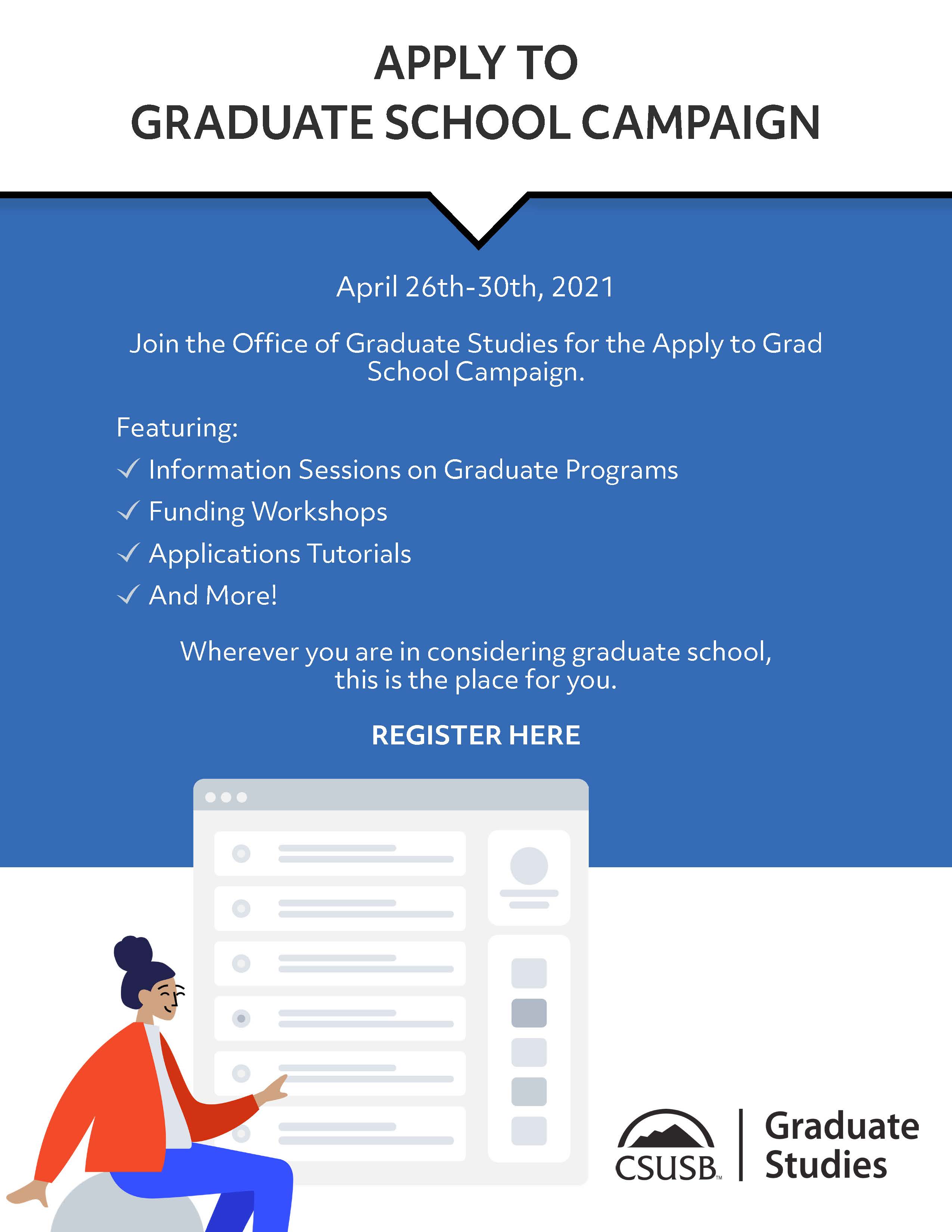 3rd Annual Apply to Grad School Campaign: April 26th, 2021-April 30th, 2021
The Apply to Grad School Campaign is designed to get you thinking about graduate school, to applied to graduate school in the span of a single week. With workshops and information sessions equipped to answer all of your questions, this is the place to be to join a CSUSB graduate program. 
Monday, April 26th: Grad School Info Session: Which Program is Right for You?
12:00-1:00pm
So, you've decided that you want to attend graduate school, but you are not sure which program is best for you? Not a problem, the Office of Graduate Studies recruitment specialist, Erma Cross, is here to kick off the campaign and guide you on which programs we offer and where might be the best fit for you.
Tuesday, April 27th
Graduate Program Info Session
12:00-1:00pm
Once you have identified which graduate program(s) you are interested in, the Graduate Program Info Session is your opportunity to meet with the coordinators of these programs and get some feedback on requirements for entry to the program, what makes a competitive application, and answer any questions about the courses, resources, and opportunities the department can provide you.
Wednesday, April 28th
Funding Your Graduate Education
12:00-1:00pm
Deciding you want to go to graduate school is the first step, but how you can receive funding to help pay for it? Join April Lane and Erma Cross to talk about the different funding opportunities available to graduate students. Remember, applications for funding are often due early so getting information about the opportunities available to you ASAP will be a crucial step in beginning your graduate education.
Thursday, April 29th
How to Write a Personal Statement/ Securing a Letter of Recommendation 
12:00-1:00pm
So, you are ready to start working on your application to graduate school, but requirements such as writing a personal statement or requesting a letter of recommendation have you feeling nervous. Not a problem! April Lane and Megan Kinnally will be giving in-depth tutorials on how to get these accomplished, including some resources to help you, timelines to work from, and some helpful tips along the way.
Graduate School Application Info Session
5:00-7:00pm
All students who wish to apply to a graduate program with CSUSB must do so using the online submission portal, Cal State Apply. If you find the application a bit overwhelming, we have you covered with a step-by-step tutorial on how to fill out the application, some tips to streamline the process and answer any questions you may have. This is the easiest and most effective way to get your application ready for submission, with the least amount of worry or confusion for you.
Friday, April 30th
Office Hour with OGS
2:00-3:00pm
Let's do a wrap-up! You've spent all week in sessions to talk about graduate school, but you still have a couple of questions you would like to ask, or maybe there was a session that you couldn't attend. That's okay, come to our office hour with the Office of Graduate Studies! Our representatives will be available to clarify any questions you may have or point you in the direction of resources. This is a nice way to end the week feeling like you have everything you need to start your graduate education with CSUSB.