Thesis Writing Resources
Writing a thesis, project, or dissertation is an exciting challenge, but at times it may feel overwhelming. While your committee members should be your first point of contact for advice on developing your topic, there are other campus resources that can help you stay on task, build connections, and produce a work you can be proud of.  
Graduate Studies offers the following resources for students writing a thesis, project, or dissertation:
Thesis Boot Camp
Two full days of goal setting and intensive writing time! The session is open to graduate students writing a thesis, project, or dissertation. 
Hosted by the Office of Graduate Studies and the Graduate Writing Center. Funding provided by IRA.  
Boot Camp Date and Time: 
Thursday, January 13th and Friday, January 14th, 2022, 9:00 am - 4:30 pm via Zoom
All Boot Camp participants will automatically be enrolled in a Writing Accountability Group.
Writing Accountability Groups
The Office of Graduate Studies is connecting graduate students to create small writing accountability groups to encourage their progress on major writing projects, such as theses, projects, and dissertations. Writing accountability groups will allow you to develop a support network and to reach your writing and research goals.
Spring 2022 writing accountability groups will meet once a week over an 8-week period from February 7th through April 1st. You and your group can decide what day and time works best for you, where to meet, and whether to meet online or in person.
Get Feedback from a Writing Coach: Your Writing Accountability Group will be assigned a writing coach, who will read up to three drafts of your work in progress and give you suggestions and encouragement over the 8-week writing accountability time period. (Writing coach availability may vary per session.)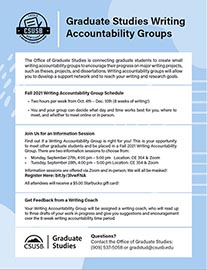 Additional Writing Resources
The Graduate Writing Center: Work one-on-one with a writing consultant. The Graduate Writing Center will read your work for clarity, grammar, citations, and will assist with all phases of the writing process. Please see the CSUSB Writing Center website for more information on their services. 
The Pfau Library: Research assistance and citation guides are available through the Pfau Library.  Make an appointment with a librarian for help tracking down journals, books, and other research materials by clicking on the Research Appointments button on the Pfau Library website. The library also offers a host of workshops on citation styles, using Zotero to track your sources, and more.