2019-2020 Outstanding Thesis/Project Award Winners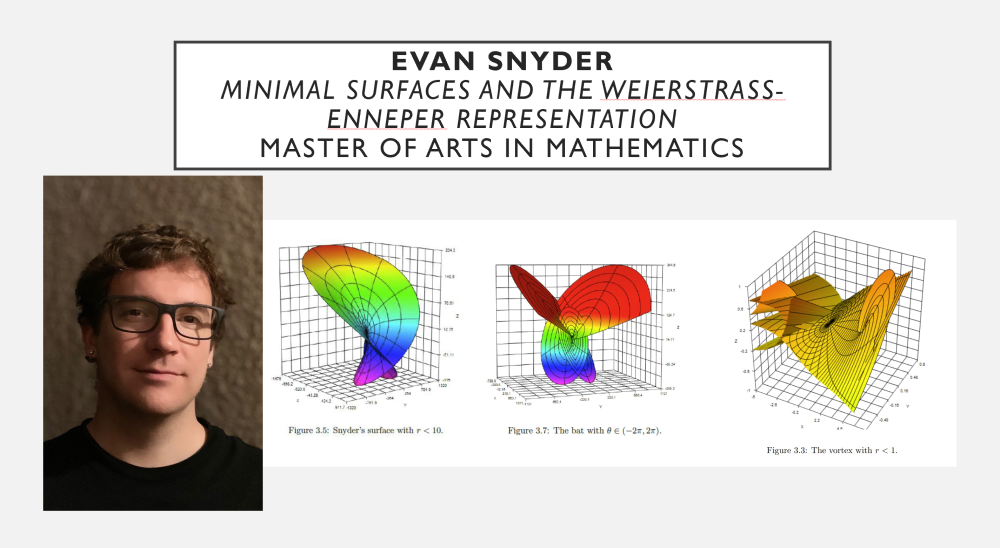 Evan Snyder, M.A. in Mathematics
Evan Snyder's thesis, Minimal Surfaces and The Weierstrass-Enneper Representation, focuses on the field of minimal surfaces in differential geometry: he first investigated the proofs of several key theorems related to the Weierstrass-Enneper representation, and using computer modeling, created 3D models of minimal surfaces. He then used what he learned to create some new minimal surfaces of his own design, which he called Snyder's Surface, The Bat, and The Vortex. An understanding of minimal surfaces has applications in a number of disciplines, including engineering, physics, and biology. 
Snyder's love of mathematics and his ability to clearly communicate a complex subject shines in his summary of his work:
"I think it is safe to say that mathematics gets a bad rap among most people, and is typically thought of as being dull, unimportant, or just too complex to bother with. I believe that my thesis puts these notions to rest, and my work is a good example of how elegant and applicable mathematics can truly be. Hopefully, my work not only contributes to the topic of minimal surfaces, but also helps in shifting societal perception of math, and brings more people into the fold to study this beautiful subject."
It's also evident that Snyder loves to teach; he is currently a high school math teacher in Riverside and he is considering teaching at the community college level. He is also thinking of returning to school as a student to pursue a Ph.D., "because I already miss taking classes and being in an academic setting. I truly enjoy teaching and have a lot of fun with it.  I know that it will be something I do for the rest of my life in some capacity."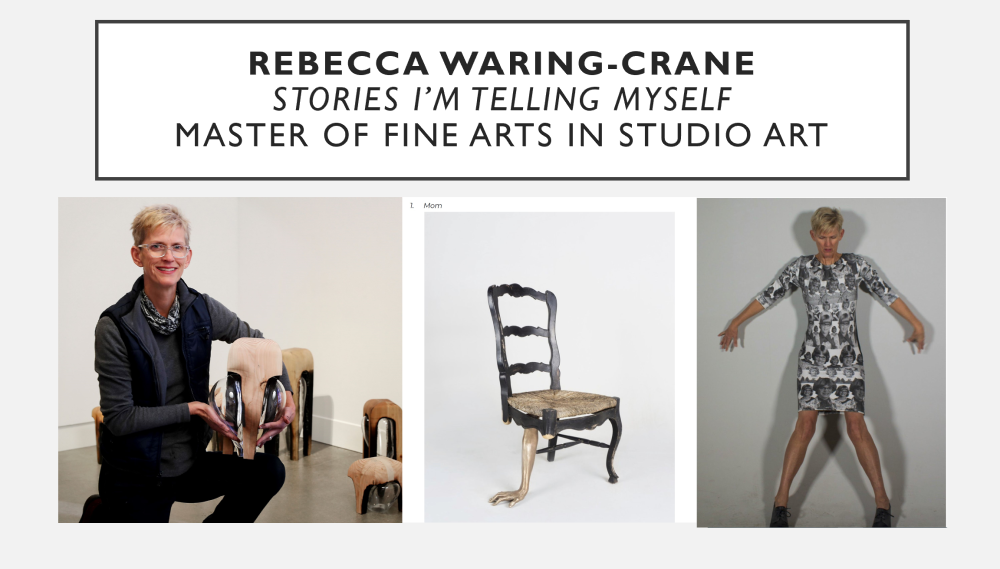 Rebecca Waring-Crane, M.F.A. in Studio Art
 As a Studio Art major, Rebecca Waring-Crane's master's project included an art exhibition and written artist's statement. Called Stories I'm Telling Myself, her project revisited the stories she unconsciously told herself during her childhood and challenged their meaning; she did the hard work of self-exploration and inward contemplation, then expressed her findings through physical artworks for display. In her artist's statement, she wrote:
 My art serves as a form of agency as I seek to understand and find the humanity in those stories—the humor, awkwardness, bravery, shame, kindness, grief. In retelling stories, I also tap into the quiet power that comes with the practice of looking intently and listening deeply to narratives that often go unexamined, unchallenged.
Her pieces include a three-legged chair kept upright by a bronze human arm titled Mom; a child's swing, the seat layered with fiberglass insulation, cardboard, and soap titled: Swing: Learning the Cost of Self-Knowing and Pleasure; and Family Portrait, a "family" of glass measuring cups that are all alike and yet so very different.
Her artwork examines the theme of family and childhood, and how our interpretation of childhood experiences color our adult lives.
This exhibit is for the general public and speaks to viewers who relate to childhood trauma that breaks no laws, leaves no bruises, and often goes unnamed. The mood of the work is awkward, mind your step, loneliness —which is how I often felt as a child. It also implies the power of reparenting the self, and the agency of being a witness to the wounded child in each of us.
Waring-Crane says that telling stories through art will continue to be central to her work. Her upcoming projects include communicating the experiences of those affected by the prison system. She is also gathering information for artwork about her neighbors.  "With the limits of COVID-19, I see more of the people on my block (16 households in all) at home. I'm meeting those I don't already know as well as those I do to ask: 'How are you coping? How do you define the word neighbor? What story would you like to share about living in this neighborhood?'"
As the Outstanding Thesis/Project Award recipients, both students were recognized at the Graduate Education Week welcome brunch and awarded a check for $500. Graduate Studies extends its hearty congratulations to both recipients for their exceptional achievements! We encourage you to read their works on CSUSB ScholarWorks.