Global Ambassador Program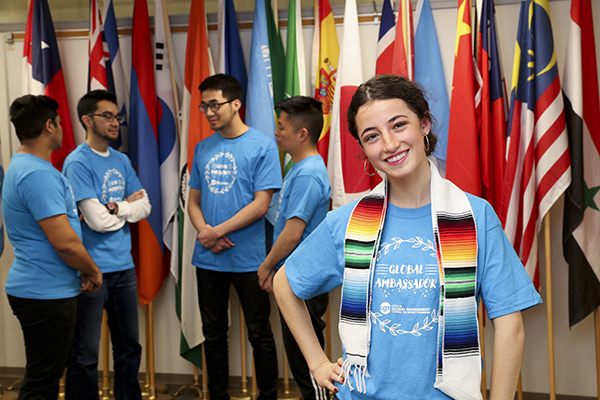 The Global Ambassador program is a global leadership program in the Center for Global Management. It provides opportunities to spark global mindsets, raise cultural awareness,  develop meaningful relationships with peers and enhance global leadership skills. The program encourages students with international interests to volunteer their talents, creativity and time to increase JHBC collaboration, connectivity and leadership. Global ambassadors might participate in the following ways: 
Share their international knowledge, experiences, cultures and talents to engage the university community.
Introduce incoming Jack H. Brown College international students to resources, people, departments and opportunities.
Collaborate on cultural events or celebrations.
Promote study abroad and other global opportunities.
If you would like to have one of our ambassadors visit your class, club, organization or table at an upcoming event as part of an interactive session or share cultural experiences, please fill out our Global Diversity Ambassador Request Form today.
Join our team of Global Ambassadors. This is a rewarding opportunity to engage with International students and become a part of the CSUSB campus community.
Upcoming Events
Event
Date/Time/Location
Global Meetup - Human foozball anyone? Join us for games, snacks, music,
networking and more!

March 5 - Noon to 2 p.m. Behind the CSUSB Student Recreation & Wellness Center

Global Meetup - Take a break from studying and join us for food,
refreshments, finals essentials and more!
March 10 - 11 a.m. to 1 p.m. Meet outside on the patio of the second floor of Jack Brown Hall.
Meet Our Global Ambassadors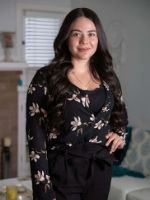 Arely Lopez
I love to read and learn about new cultures. I find that keeping an open mind to learning the different perspectives of each culture is enriching. I love to travel and hope to travel the world one day, there is so much to see and explore out there and so many different ways to live! 
Kristina Silva
I am pursuing my degree in Business Administration with a Marketing Concentration at California State University, San Bernardino. I am a wife, mother, full-time student, and part-time paraprofessional at the Veterans Success Center at CSUSB. I am proud to have accomplished many goals while attending the university, and being a part of the Global Ambassador team for the Center for Global Management at CSUSB. It has given me the opportunity to share my cultural background as well as experiences with other students on campus because networking is a major component at succeeding in school, careers, and in life. I represent the Chicano culture and exemplify what it is like to be a student of Hispanic decent at CSUSB. Si se puede!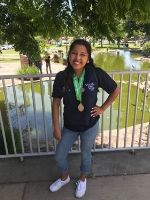 Lesly Hernandez 
Lesly Hernandez is a adventurous that doesn't let people tell her what to do. As a adventurous Lesly is she is from Orange County and there was a opportunity for her to go to a different area to study Human Resources but she move to a completely different area then where she usually call home. As you can see Lesly's a risk taker and that wants to see more of what is going on your community. Lesly will be the first in her family to receive a college degrees. Lesly has been to seven states and once out of the country but she see herself traveling as her career. Lesly is a strong independent woman that wants her culture to always rise higher with her education.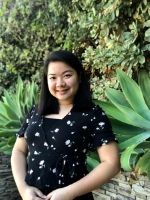 Sammonirath Phann
I am an international student who is currently pursuing Human Resources Management at California State University, San Bernardino. I am proud to be part of the Global Ambassadors here at CSUSB. I admire the uniqueness of every culture and tradition that our Yoties carry from all around the world. Therefore, I encourage you to share your story with us and I hope to support you with many resources, opportunities and experiences on campus.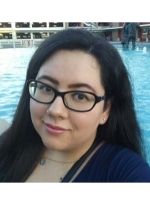 Sofia Alvarez Lopez
I am a senior majoring in Information Systems and Technology- Cyber Security. I will like to continue my education after graduation and get my master's and doctorate. I would like to one day be a professor or work at the UN or a NGO. I am also part of other programs on campus such as SAIL and Model United Nations. I love playing video games and watching Netflix or Hulu in my free time. I hope to meet and interact with more fellow coyotes throughout this quarter as a Global Ambassador!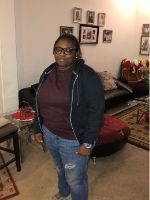 Cynthia Henshaw
I am proudly African, a dog lover, a traveller and fun loving personality. My curiosity has opened me to loads of new learning, culturally, intellectually and academically.
I made a decision to be a Global Ambassador because it affords me that opportunity to network, participate in fun events, learn new cultures and most importantly share my African heritage.  It has been an interesting journey being part of this diverse community.