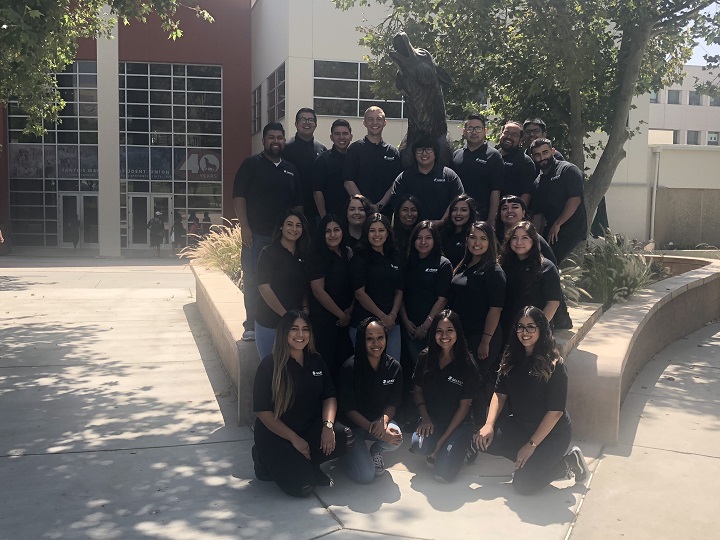 2019-2020 
Briana Sedano
Hello, my name is Briana Sedano. I graduated from California State University San Bernardino with my BA in Psychology. I've worked with GEAR UP: two years as a tutor and going on two years as an academic advisor. I work for GEAR UP because I'm passionate about giving youth the power to direct their own lives. I also wanted to give back the support and guidance I received in high school. 

Jennifer Hernandez
I am a 1st gen college student, enrolled in my 4th year here at CSUSB. I am majoring in Liberal Studies with a concentration in special education. I currently work as a roving academic advisor of all six high schools working with the special needs population.
Brianna Mendoza
My name is Brianna Mendoza. I am a First-generation college student, currently enrolled in my fourth year here at CSUSB and I am working on my bachelor's degrees in communications. I am an Academic Advisor at San Gorgonio High school and I am excited about this new school year because I love giving back to my community and GEAR UP is a great program for San Bernardino students.
Isabel Mora
I am currently starting my second year at CSUSB, where I am majoring in Liberal Studies.  I was born in Fontana and raised in Rialto, and I enjoy playing musical instruments (especially the violin), as well as listening and being there for others.  A fun fact about me is that I have a twin brother.  I enjoy working with our GEAR UP students and hope to help them get into college!
Deziree Luera
My name is Deziree Luera. I have been working with GEAR UP for up four years. I am a science tutor, in-class and after school. I will certainly go out of my way in order to help students with any subject and students with any subject and make sure they understand the information. I grew up as a first-generation college student and I want to be able to make a change and impact the student's lives because they are the FUTURE.
Patrick Huynh
My name is Patrick Huyuh and what I do for their homework GEAR UP is helping students with their homework, classwork, tests, and anything they need. I am an in-class tutor and an afterschool tutor. I am in GEAR UP because I love helping and I want to see people succeed. I want students to understand all the work they are given and I will help them if they don't. Education is everything! Never stop learning!
Cristan Meda
 
Hi, my name is Cristian Meda a graduate of California State University Fullerton. My position at Gear Up is Academic Advisor. I work for GEAR UP because I want to help students reach their full potential and make sure they can make a change in their own future. 
Tristan Kemble
Hi, my name is Tristan Kemble and I am a History and writing tutor with GEAR UP! I am graduating soon with a BA in History and I am currently applying to teaching credential programs. In my free time, I love to hike, travel, and coach Basketball. My goal is to motivate and inspires students to better their lives through education and help them to become confident in the classroom.
Nancy Concha
Hi, my name is Nancy Concha. I am a third-year at the California State University of San Bernardino. My major is Computer Engineering, and I want to get certified for Cyber Security. I am a tutor at Arroyo Valley High School. I tutor in math and Spanish. Why I wanted to work for Gear Up was because I want to motivate students to always try their best, never give up and alert them of the requirements they need, to attend college, this was something that I did not have from teachers or anyone at school.
Evelyn Witrago
Hey! My name is Evelyn Writrago and I am currently a fourth-year here at CSUSB. I am working on my bachelors in Liberal Studies with a concentration in math. I am currently an Educational Coach at GEAR UP at Arroyo Valley High school.
Sinai Estrada
My name is Sinai Estrada I am a first-generation Latino student, the first in my family to attend college and see through to the very end. Since then joining gear up our goal is to capture the attention of low-income first-generation college students in the San Bernardino area to strive for higher education or continue a route through school to benefit their future. I was placed in similar condition, my parents didn't make much money, people in my family never even got their high school diploma so the idea of college didn't even seem possible and nobody in my high school ever really reached out to me or ever gave me enough information about college until I joined my senior year. My job here at Cajon is to ensure that my kids get as much information possible before they go to college, and provide academic and emotional support.
Selina Sanchez
I am going to be the first in my family to receive a college degree this upcoming spring, and I am very excited!  I never believed I would reach this far, and I want to inspire other students to believe and strive for their dreams.  I enjoy watching movies in my spare time and going on hiking adventures.  I am really looking forward to working for the GEAR UP Program.
Kayla Lumowah
Hey GEAR UP! I'm Kayla and I am an Academic Advisor at San Gorgonio High school (Go Spartans!). My own journey through high school and college really shaped my passion for youth and working in diverse, underrepresented communities. My time so far with the class of 2020 has motivated me to pursue my master's in counseling and Guidance from CSUSB, so I can continue working with great students in a great community. I'm excited to continue to supporting and motivating the class of 2020 and to see all the changes they'll make in the world.