National Collegiate Athletic Association (NCAA) Athletic Grants-In-Aid
These grants are administered through the athletic department. A student with exceptional athletic talent may be eligible for a grant to cover a portion or all the cost of education. For further details contact the athletic department.
Federal Pell Grant
Undergraduate students working towards their first Bachelor's degree may be eligible for a Pell Grant. Student must be making satisfactory academic progress. The annual amounts range from $692 to $6895 for the 2022-2023 academic year. The award amount is determined based on the student's Expected Family Contribution (EFC), the cost of education and the student's enrollment status. All undergraduate students automatically apply for this Grant by submitting the Free Application For Federal Student Aid (FAFSA®).
State University Grant (SUG)
Students who are California residents pursuing an undergraduate degree will automatically be be considered for a State University Grant. The maximum award is up to the tuition fee cost. Campus-based fee are not covered by SUG. This grant is only available to California residents.  Students may not receive a State University Grant if they receive another type of scholarship, waiver or grant that pays for tuition fees.
Students enrolled through The CSUSB College of Extended Learning are not eligible to receive State University Grant (SUG).
Federal Supplemental Educational Opportunity Grant
The Federal Supplemental Educational Opportunity Grant is designed to assist undergraduate students. The estimated average award is $750. Any student with exceptional need who applies for financial aid will automatically be considered for this program. The CSUSB Office of Financial Aid and Scholarships is responsible for selecting the recipients of this award and for determining the amount of the award based on the student's computed need.
Educational Opportunity Program Grant (EOPG)
This grant provides assistance to economically and educationally disadvantaged undergraduates. Recipients must be California residents who are admitted to CSUSB through the Educational Opportunity Program. Eligibility is determined by the criteria of the federal financial aid programs. You must be enrolled in a minimum of 12 units to receive the award. Students with EOP admission questions may contact the EOP office at 909-537-5042.
Bureau of Indian Affairs Grant
Bureau of Indian Affairs Grants provide money to help defray the costs of education for students of Native American heritage. A student may apply who:
is certified by a tribal agency to be at least one-fourth American Indian, Eskimo, or Aleut;
has unmet financial aid eligibility;
is working toward a graduate or undergraduate degree;
completes all of the application requirements.
Although the CSUSB Office of Financial Aid and Scholarships will provide assistance in filing the application, eligible students should contact the Bureau of Indian Affairs local office for a record of their tribal background. The Bureau of Indian Affairs agency and/or area office is responsible for review and processing of post secondary education requests. For more information visit the Bureau of Indian Affairs.
California Student Aid Commission (CSAC) Grants
Cal Grants are grants provided by the State of California for undergraduate students. The California Student Aid Commission (CSAC) funds and administers the awards. If you limit enrollment to 6.0 units, the Cal Grant must be reduced to the amount of Tuition Fees. You must be a California resident and be enrolled at least half-time to qualify. Non-California residents are encouraged to inquire with their state of residence as to the availability of state programs.
There are two types of Cal Grants that can be used at CSU, San Bernardino:
Cal Grant A
Cal Grant A provides need-based grant funds to low and middle-income students to offset tuition/fee costs for students. Eligibility is based on grade point average and financial need. The amount of the award is based on the number of units the student is enrolled in (at least 6).
Cal Grant B
Cal Grant B provides need-based grant funds to high-potential students from low-income, disadvantaged families to help offset tuition/fee and other costs.
For grant recipients in their first year, CAL Grant B pays a subsistence stipend (living allowance) to assist with non-tuition costs (living expenses, books, etc.).
Recipients in subsequent years of study receive the stipend as well as an award to offset fees.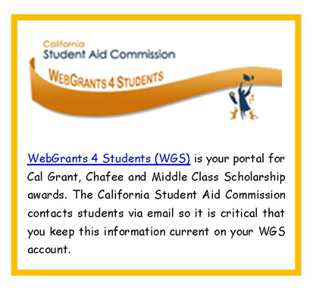 Middle Class Scholarship (MCS)
The Middle Class Scholarship is a program that provides undergraduate students, and teaching credential students, with maximum annual household incomes and assets of $177,000, a scholarship to attend University of California (UC) or California State University (CSU) campuses. If you are selected to receive the MCS, you will be notified by the Student Aid Commission.
MCS scholarshops are not set amounts and may vary by student and institution. The award is determined after you are awarded any Federal Aid, State Aid and Institutional Aid for which you are eligible. The final award amount will also be based on the number of students eligible for the MCS statewide and the funding allocated by the State Budget. To apply, complete a Free Application for Federal Student Aid (FAFSA®) or the California Dream Act Application.
Chafee Grant
To apply, students must file the Free Application for Federal Student Aid (FAFSA®).  Students should also complete and submit the California Chafee Grant Application, which is available online at California Chafee Grant or by calling toll free (888) 224-7268, press 3.
Child Development Grant Program
The Child Development Grant Program is need-based and designed to encourage students to enter the field of child care and development in a licensed children's center.
California National Guard Education Assistance Award Program (CNG EAAP)
If you are an active member in the California National Guard, the State Military Reserve, or the Naval Militia, you may be eligible for a state-funded program designed to provide an educational incentive to improve your skills, competencies, and abilities. The award is up to the maximum of a CalGrant A award for up to 4 years.
For more detailed information regarding eligibility and program guidelines, please visit the California National Guard Education Assistance Award Program website.
Law Enforcement Personnel Dependents Grant Program (LEPD)
The Law Enforcement Personnel Dependents Grant Program provides need-based educational grants to dependents and spouses of: California Peace Officers (highway patrol, marshals, sheriffs, police officers); Department of Corrections and California Youth Authority employees; and permanent/full-time Firefighters who were employed by public entities who have been killed in the performance of duty or totally disabled as a result of an accident or injury caused by external violence or physical force incurred in the performance of their duty.
Grant awards match the amount of a Cal Grant award and range from $100 to $12,192 for up to four years. Applications are accepted throughout the academic year. For further information, please contact the Specialized Program Unit at (888) 224-7268 or online at the California Student Aid Commission website.
California Emergency Grant
The California Emergency Grant is designed to provide aid to eligible students who are struggling with a personal crisis or an emergency situation. Qualified students may receive assistance in the form of a single (one-time) award for the 2021-2022 academic year. These awards are not loans, and students are not expected to repay.
Students who are able to demonstrate an emergency financial need can submit an electronic application for consideration on the Basic Needs website.
Examples of emergency situations that may qualify are:
Loss of Employment or Work Hours
Food Insecurity
Housing Insecurity or Homelessness
Unexpected Transportation or Car Expenses
Childcare Expenses
Medical Expenses
To be eligible a student must meet the following conditions:
Enrolled in at least 6 units
Demonstrate emergency financial need, including loss of employment
Based on your financial aid application have an Estimated Family Contribution (EFC) between $0 and $5,486 and the applicant must have unmet need within their 2021-2022 financial aid award.
Have either

GPA of 2.0 in one of the previous 3 semesters at CSUSB or prior institution OR
Student is disabled and receiving additional support or services through campus program for disabled students
If you have a financial emergency, you are encouraged to complete the Emergency Grant Application and provide supporting documentation for your situation.
Due to high demand we are no longer accepting applications at this time. If you previously applied for this grant please allow 6-8 weeks to process your request. For question contact Basic Needs at basicneeds@csusb.edu.
Processing time is approximately 3-4 weeks and may be delayed if sufficient documentation is not provided. Please read through the application carefully and answer each question with as much detail as possible.
The amount of award may be no more than the documented emergency – and in many cases may only cover a portion of the request.
If you have questions about the Emergency Grant program, contact the CSUSB Basic Needs program at
basicneeds@csusb.edu or 909-537-3663.