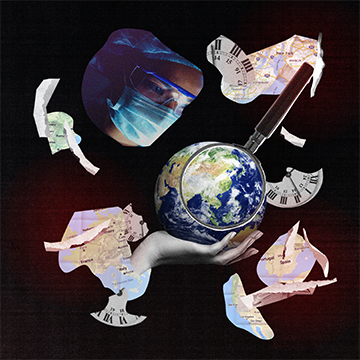 Resources for Virtual Learning, Teaching, and Working
On this page you'll find resources for virtual learning, teaching and working, listed below for students, staff and faculty.
Learning Plan: Managing Stress and Burnout During a Pandemic.
Building Resilience During and After the Pandemic
Helping Faculty Manage Stress and Burnout (Coming Spring 2021!)
Building Resilience During and After the Pandemic (Virtual Workshop Recording)
Our current working conditions mean we are juggling rapidly changing directives from work while also trying to manage a new normal at home. How do you maintain your professional resilience when faced with surmounting challenges or, even worse, layoffs? How do we keep these setbacks from becoming defeating messages we internalize? These 90-minute virtual sessions will give you an opportunity to delve deeper into the content and workshop ways to integrate what you're learning into your practice.
Session 1: Creating an Inner Coach Stronger than Your Inner Critic
Join us online to learn how you can start developing your alternative voice – your inner coach – in order to silence your inner critic and become a more effective leader. You will learn the multiple origins of the inner critic, learn techniques for counteracting its effect and how to shift from negative thought patterns to thoughts of greater self-support, resilience and self-confidence."
Session 2: Professional Resilience
Resilience is not something you're born with; it's a skill you can build. Join us virtually to discover how to break negative patterns of behavior and reset the way you respond to roadblocks. Our expert will introduce you to the three-step ABC Model, which will invite you to reflect on how you can approach adversity more constructively.
Upgrading Your Self-Care During the COVID Crisis (Webcast Recording)
Are you finding that your self-care is becoming just another thing on your to-do list? Maybe it's not a priority at all. Between taking care of your career, family, friends and household—all while working in new ways from home—you may feel as if there's never enough time in the day to take care of yourself.
Join us online and learn how to integrate self-care into your life in a meaningful way that does not feel like a
chore. You'll learn six proven pillars of upgraded self-care to practice now during the COVID crisis, when it matters the most, and when your life returns to normal. This approach will have you focus on the things you're already doing but will teach you how to do them better. You'll learn how to:
Set boundaries with your family members while you work from home
Fall asleep faster
Move your body in a way that feels exciting and purposeful
Release the shame or guilt you might feel for not performing at 100%
Manage Your Emotional Labor in the Workplace (Virtual Workshop Recording)
Emotional labor is the process of regulating your emotions and putting others' needs before your own during interactions with students, colleagues, and superiors in order to deliver high quality work. It can be difficult to detect – and even more challenging to manage – especially in environments that prioritize human connection, which includes most jobs in higher education. Expending high-level emotional labor over extended periods of time can lead to burn out, permanent exhaustion, and, at times, turnover.
Join us for a 2.5-hour virtual training where you can start building a toolkit for scaling down your emotional labor and using it on your own terms. You will first explore how emotional labor manifests for you and what challenges you have managing it. Next, Dr. Gardner will offer four strategies to help you overcome those challenges so that you can start making emotional labor work FOR you, not against you. Lastly, you will brainstorm ways you can reduce your emotional effort so that you can leave this training feeling empowered to be your unapologetic self.
How to Manage Stress as a Faculty Member During Uncertain Times (Webcast Recording)
The COVID-19 crisis has put a great deal of strain on faculty members as they juggle already taxing schedules with a rapid transition to remote instruction. Managing a new style of teaching, disruptions to research and writing practices, and the realities of working from home have proved to be a herculean task for many.
Watch this webcast recording where we facilitate a conversation with Anita Kite, PhD, and Carina Vocisano, PhD, psychologists and faculty coaches for Academic Impressions. In this open discussion space with our coaches we shared strategies and practices on topics such as:
What is most essential when pivoting to remote learning and research?
How might you limit your engagement with outside stimuli stay focused?
What are your best practices for playing the "long game" and keeping perspective?
How can you manage feelings of overwhelm and stress?
In a time of constant communication, how can you avoid burnout?
5 Leadership Lessons Hidden in the Coronavirus Crisis (Article)
Especially for those who are deliberate planners by nature, the rapid velocity and pressure of the current crisis can be turbulent. In this article, the president of the Hollins University offers higher-ed leaders the perspective of five leadership lessons or gifts that we can (re)learn in the midst of this chaotic moment.