Coyote First STEP
Student Transition Enrichment Program (STEP)
For summer 2020, Coyote First STEP (CFS) is a two-week online program that will require approximately 3-hours each day of a credit bearing Math or English course and engaging activities designed to promote college success.
With the CSUSB campus moving to emergency remove instruction due to COVID-19 (coronavirus) there will not be any on-campus housing as part of the summer 2020 program.
During the program students will earn 1.5 quarter units in a college-level course that will prepare them for transitioning from high school to college. To be successful in this program students will need a laptop or tablet (such as an iPad) and reliable internet access, CSUSB can support students with resources.
This is a FREE program for students attending CSUSB in the fall. 
Coyote First STEP Program Welcome Day Brochures below: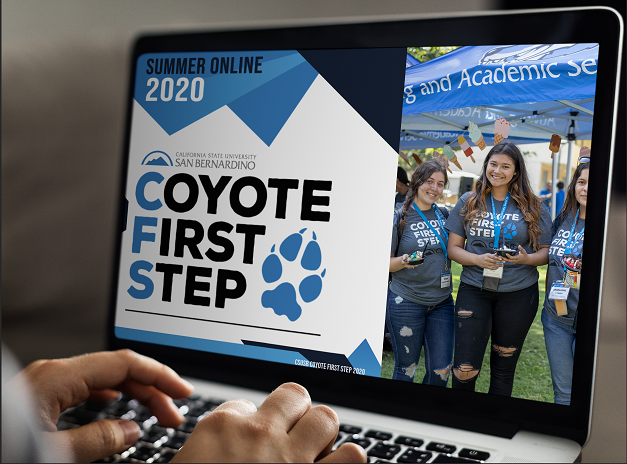 July 6 - July 17, 2020

Activity 
Schedule
Time
English (ESE 105)
Asynchronous
Optional synchronous activities
1.5 hours
Math (ESM 101)
9 - 10 am OR
10:15-11:15 am
1 hour
Lunch Break

11:30 am - 12:30 pm
Optional activities scheduled 

1 hour

ESPU 1000
(resource class)

12:45 - 2:10 pm
1.5 hours
Math Lab

Monday/Wednesday OR
Tuesday/Thursday

2:30 - 4:30 pm

30 minutes
(times will be designated
by math instructor and tutors)
Course Descriptions 
Learn more about synchronous vs. asynchronous 
ESPU 1000

Students in Coyote First STEP will engage in activities designed to promote college success. The three learning goals of this course are Connection, Navigation and College Skills. Through Connection, students will develop positive connection with peers, staff and faculty members within the university. Through Navigation, students will be able to identify campus resources that provide social, health and academic support. Finally, through College Skills, students will develop stronger skills associated with college success.

This is a synchronous course with designated times to log in.

Math (Math 101)

Introduction to Mathematical Thinking and Practices (1.5 quarter units + lab)

This course supports students transitioning from high school to college level mathematics. Focus on number sense, algebraic thinking, problem solving, numerical and graphical representations of functions in applied contexts.

This is a synchronous course with designated times to log in.

Graded A, A-, B+, B, B-, C+, C, C-/No credit.
This course has a required lab component

English (ESE) 105

Introduction to University Literacies (1.5 quarter units)

Analysis of the forms and content of literature. Emphasis is on the methodology of reading prose fiction, drama and poetry.

This is an asynchronous course with some optional synchronous activities. 

Graded A, A-, B+, B, B-, C+, C, C-/No credit.
Early Start Program
The CSU will not require students to complete the Early Start Program for summer 2020.
The Early Start Program serves CSU admitted first - time freshman requiring skills development in written communication and/or mathematics/quantitative reasoning. The goals of Early Start are to better prepare students in written communication and math/quantitative reasoning before their first term, thereby improving their chances of successful completion of a baccalaureate degree in a timely manner.
Early Start Program participation is recommended or required for students needing skills development, as determined by the Early Assessment Program, College Board SAT®, ACT® Test, high school coursework and grades. Many factors, also known as " multiple measures" are used to evaluate a students' academic preparation and to place them into general education (GE) English and math courses that are right for them. CSUSB has developed a road map to assist with understanding placement based on the multiple measures:  CSUSB Multiple Measures Road Map
Students may complete the Early Start Program at CSUSB or any other CSU, a listing of courses at all campuses can be found at http://earlystart.csusuccess.org/csu_early_start
CSU Placement
PLACEMENT
DESCRIPTION
Fulfilled Requirement: Has fulfilled the GE Subarea A2 or B4 requirement
Student has met the CSU GE Breadth Subarea A2 and/or B4 requirement via Advanced Placement (AP) examination, International Baccalaureate (IB) examination or transferable course
Enroll in GE Course: Ready for placement in a GE Subarea A2 or B4 course
Student has met examination standards and/or multiple measures-informed standards and is ready for GE Subarea A2 or B4 course
Enroll in Supported GE Course: Placement in a supported GE Subarea A2 or B4 course and recommended Early Start
Based on new multiple measures, student needs additional academic support
Participation in the Early Start Program (ESP) is recommended and may be highly advisable for some students, particularly STEM majors
ESP Required Enroll in Supported GE Course: Require placement in a supported GE Subarea A2 or B4 course or the first term of an applicable stretch course and required Early Start
Based on new multiple measures, student needs additional academic support
Participation in the Early Start Program (ESP) is required