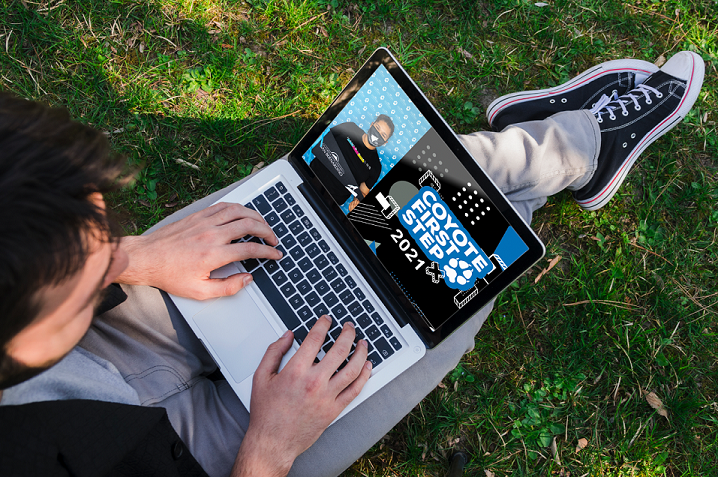 Registration for Summer 2021 is now open!
Enroll before the registration deadline of May 15, 2021. 
Log into myCoyote, go to the Student Center and then click the Early Start Program link to register. 
Need guidance? Download the Coyote First STEP Math Registration Guide
Registration Guide

Students who have been placed as requiring both math and English will not need to take both courses. CSU policy allows a student to take only one subject, at CSUSB students will be notified to participate in math. Students should check their CSUSB student email and read their summer notification to confirm the subject they should enroll in. 
Program Materials
CSUSB will host three Drive-Thru Events to pick up required program materials including requested technology items. Each student will receive a Welcome Bag that will include a program t-shirt, some CSUSB spirit items as well as any required course materials such as textbooks. Students will be asked to confirm which date and campus they will attend in a Program Materials confirmation survey that will be emailed after students register for the program. 
Technology 
To be successful in these programs you will need a laptop with a webcam and reliable internet access, which you may borrow from CSUSB. Once you are successfully registered for the program you will receive a Qualtircs survey to confirm which program materials you will need. You may request a laptop with a webcam or an internet hotspot. Requested technology must be picked up in-person at the CSUSB San Bernardino or Palm Desert campus. The deadline to request technology is Thursday, May 20, 2021.  
Drive Thru Events
It is imperative students and families adhere to CSUSB's health guidelines for the safety of all during the COVID-19 pandemic. Each person visiting campus must complete the required Health Screening Survey.
For more details about health and safety, please visit the University's central website for information and updates regarding COVID-19. 
Students are highly encourage to attend one Drive-Thru event to pick up their required program materials. Students unable to attend any of these dates must contact the Early Start & Coyote First STEP Program staff immediately. Please note that Thursday, May 27 in Palm Desert and Saturday, May 29 in San Bernardino are the designated dates to pick-up any requested technology. 
Drive-Thru Events
DATE
TIME
LOCATION
Wednesday, May 26
4:00 - 7:00 pm
San Bernardino Campus
Parking Structure East (Map)
Thursday, May 27
4:00 - 7:00 pm

Palm Desert Campus (Map)

Designated date for Technology

Saturday, May 29
9:00 am - 12:00 pm

San Bernardino Campus
Parking Structure East (Map)

Designated date for Technology