Department of Defense Cybersecurity Scholarship Program
About the Program
The Department of Defense Cybersecurity Scholarship Program (DoD CySP) at CSUSB started in 2016. Reemerging from its origins as the Information Assurance Scholarship Program (IASP) with the help of local Congressman Pete Aguilar, the DoD CySP provides regionally and nationally accredited Centers of Academic Excellence (CAE) in Cybersecurity (CAE in Cyber Defense, CAE in Cyber Operations, and CAE in Research) the opportunity to develop this grant-funded scholarship program.
As a CAE in Cyber Defense, CSUSB selects the most qualified candidate applications to send to the Department of Defense (DoD) each year. After reviewing all of the applications it receives nationwide, the DoD selects individuals to participate in the program. This program is one of the most competitive and prestigious in the Nation, with anywhere between 50-100 yearly participants. 
Students selected to participate in the program receive the full cost of tuition, books (from the institution and degree specific required book list, not books which are optional for the class), required fees (including health care), and a stipend to cover room and board. The stipends are $27,000 for undergraduate students and $32,000 for graduate students. Students can apply for either the 1 or 2 year scholarship, with a post-graduate obligation for the same number of years toward federal service. Students are required to complete an internship with the Department of Defense during the summer. Internships do NOT count towards the post-graduation obligation requirements. 
Eligibility Requirements
Before reviewing the application, you must determine whether or not you meet the eligibility requirements.
Students eligible for the Department of Defense Cybersecurity Scholarship Program must:
Be a United States Citizen, 18+ Older
Be a full-time CSUSB student (outside employment is prohibited while receiving the DoD CySP Scholarship)
Be pursuing an academic program in Cybersecurity at CSUSB
Have 3.2+ GPA for undergraduate students or a 3.5+ for graduate students
Be eligible for federal employment 
Be able to obtain a security clearance
The Federal Government uses a background investigation process to determine whether you will be granted a security clearance. Clearances are required for the positions that are available in the Defense Emerging Technologies Talent Marketplace.

To help you understand the clearance process and to assess whether a job requiring an investigation and clearance will suit your personal needs, we highly recommend you take this clearance readiness assessment.

Different from the private sector, background investigations in the Federal Government are detailed, extensive, probing, and cover many areas of your life including your personal conduct, foreign contacts and travel, alcohol and drug use, criminal conduct, personal finances, and use of information technology systems – and take from several weeks to several months to complete.

This Digital Clearance Readiness Assessment allows you a private way to evaluate your readiness to undergo a background investigation that leads to a decision on your clearance.  It is not associated with you or your account and is completely confidential. Only you will see your own results.

NOTE: This assessment does not take the place of a Federal background investigation. It is only meant to determine your readiness to go through the Federal background investigation process. Click here to be redirected to the Digital Clearance Readiness Assessment.
Application Procedure
Fill out the scholarship interest form.
Visit the DoD Cyber Scholarship Program website to begin the application process.
Attend the scholarship info session on January 19, 2022 at 2:30pm PST. Please start the application prior to the info session.
The Cybersecurity Center will schedule you for appointments with the directors. Be prepared for 3 Interviews. Starting at the info session, schedule your initial screening interview with Robin Robertson and your following meetings thereafter (For those who missed the info session, contact Robin to schedule your appointments):

From January 20th - January 28th is first round screening with CsC Director Vincent Nestler. Starting at the info session, candidates pick from the available interview times on a first come, first serve basis.
From January 26th - February 4th is the second interview period with the CsC Executive Director Tony Coulson. Online applications should be near or completed by the time of this interview.
From February 7th - February 23rd is the third interview period before the selection committee panel. Candidates are encouraged to bring parents or significant other to this final interview.

Submit the completed application on the DoD Cyber Scholarship Program website by February 1, 2022 no later than 11:59 p.m. Eastern time. You must have your application and all materials submitted by that date and time. Applications will not be processed after this date.
If you have any questions, please contact the Cybersecurity Center at robinr@csusb.edu or (909) 537-7535.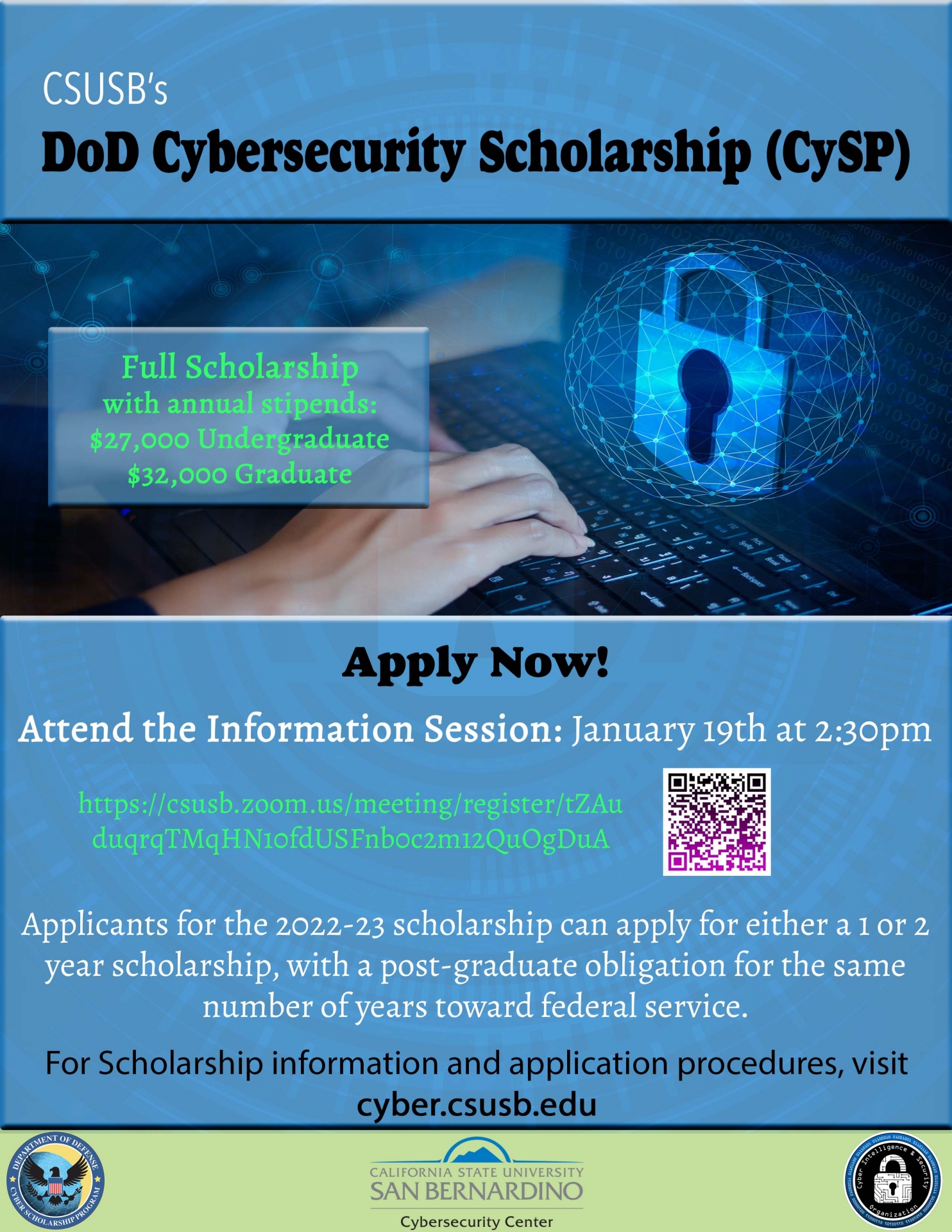 The Department of Defense Cybersecurity Scholarship Program (DoD CySP) at California State University, San Bernardino (CSUSB)  is supported by grant award number H98230-21-1-0304.