RECRUITMENT EVENTS
Cybersecurity Virtual Career Fair
Hosted by CyberWatch West, NSA, NSF and DHS, cybersecurity students around the country will have a chance to be recruited by employers such as US Airforce, DHS, Navy Federal Credit Union, Global Dimensions LLC, National Institute of Standards and Technology, Naval Supply Systems Command, National Security Agency, IBM, Defense Information Systems Agency, Palo Alto Networks and more.
Taking place September 27, 2019, 9AM-2PM PT. Registration is free. 

NSA Info Session
Wednesday, Sept. 25, 2019, 11AM-3:30PM, JB 122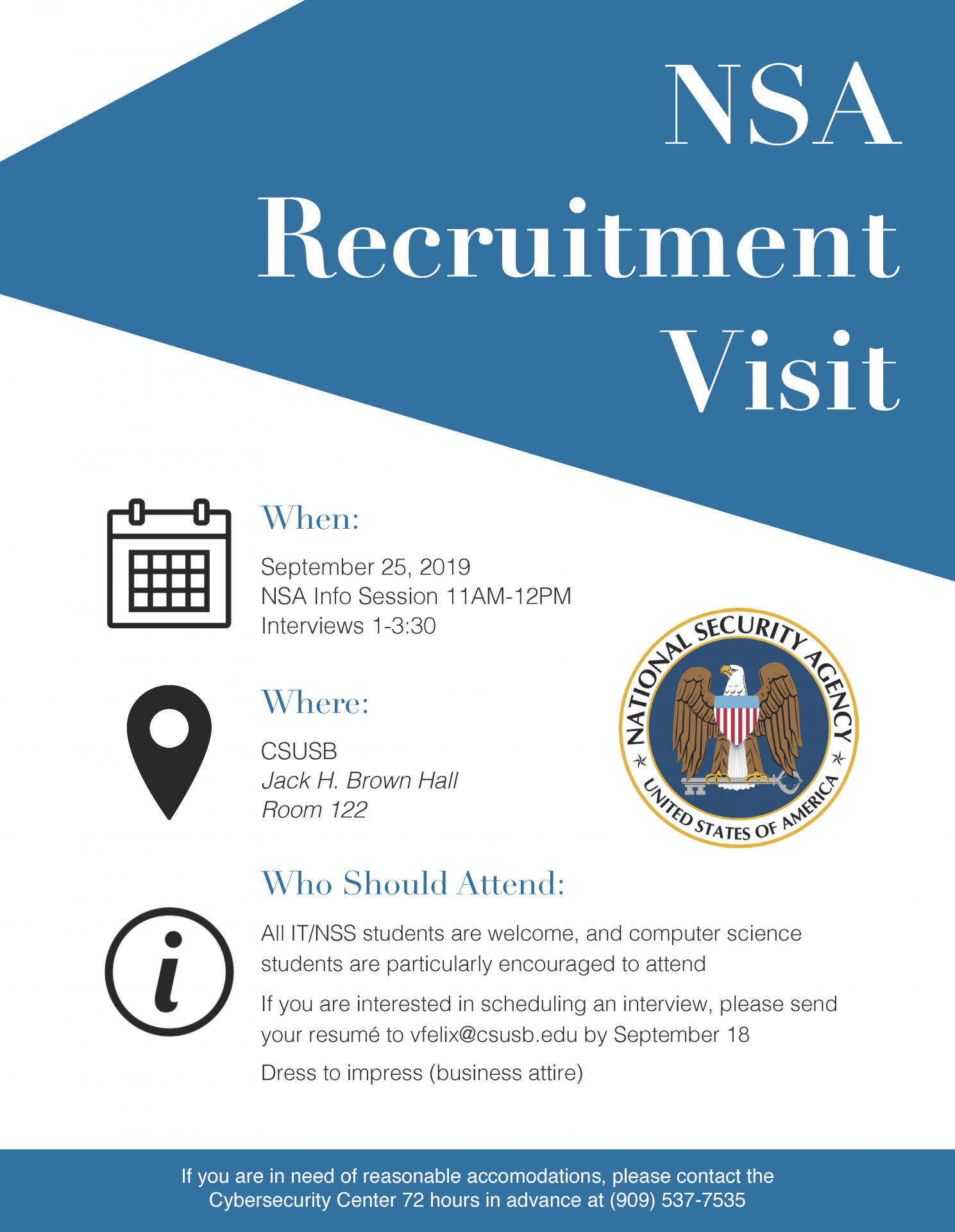 All IT/NSS students are welcome, all computer science majors are particularly encouraged to attend. If you are interested in scheduling an interview, please email resume to vfelix@csusb.edu by September 18, 2019. Business Attire.
Booz Allen Hamilton Info Session
Friday Oct 11, 2019, 10am-2pm, JB 122
If you are interested in scheduling an interview, please email resume to cyber@csusb.edu by October 4, 2019. Business Attire.
Careers in Cybersecurity
Cybersecurity is critical to defending critical infrastructure worldwide therefore they are in high demand from a variety of employers. The Cybersecurity program at CSUSB defines new directions and leads students to the beginning of a life-long learning process that helps them continue to define the future of protecting critical economic infrastructure. Graduates from the Cybersecurity program are information systems professionals with a broad spectrum of both technical and managerial skills. They use these skills to integrate information from seemingly disparate disciplines (national security affairs, information systems, computer science, business, and operations analysis) into a coherent plan to support enterprise operations.
All students in the CSUSB program are aware of principles and practices in Cybersecurity. Information Systems majors are provided with introductory skills and abilities to design and execute Information Assurance procedures and practices. Student choosing to concentrate in Cybersecurity and seek Committee for National Security Systems (CNSS) certifications, develop a full repertoire of skill ranging from Systems Administration to Senior Systems Management and Certification.
Each year, the program develops a cadre of highly motivated, educated professionals who are knowledgeable in the principles of Information Assurance. The overall quality of our program is demonstrated through our selection as a national Center of Academic Excellence in Information Assurance Education and as a National Science Foundation Scholarship for Service school (full scholarships).
Recent student placements include: Google, DHS, NSA, FBI, Encase, PG&E, Northrop Grumman, U.S. Department of Treasury, ESRI, Mitre, Idaho National Lab, Los Alamos National Lab, Department of Justice, Federal Reserve Board, Booz Allen, SoCal Edison and more.
A great place to understand your career and find job resources is the NICCS Website.
NICCS: This is a ONE-STOP RESOURCE for careers in Cyber Security
McGrew Security: Tools and tips
CiteSeer.IST CiteSeer is a scientific literature digital library and search engine that focuses primarily on the literature in computer and information science.
SWEET LABS: Pace University Secure Web Development Labs
Technical Reports
Dictionaries/Directories
Standards
Societies and Organizations