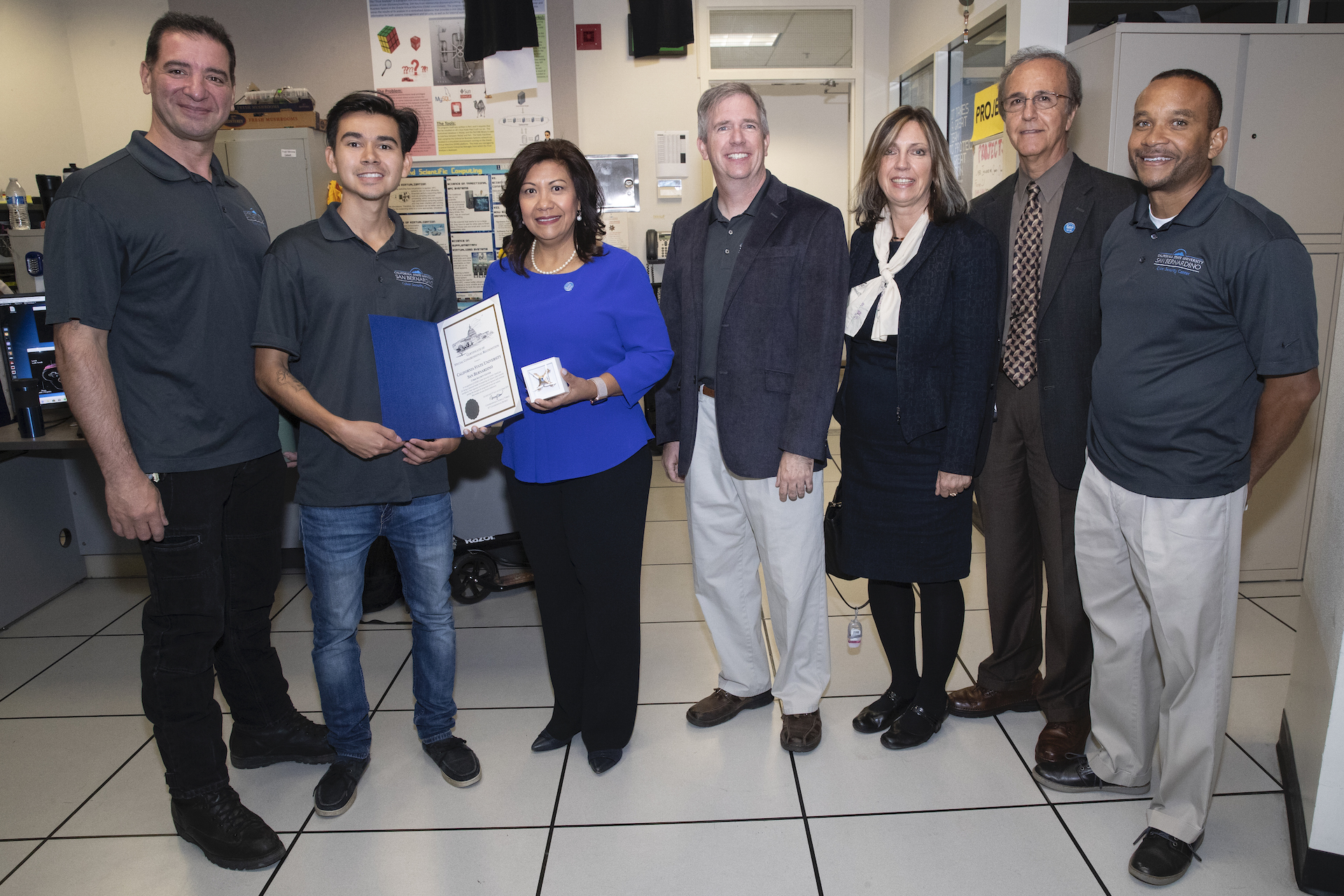 Thu, October 10, 2019
U.S. Rep. Norma Torres visits CSUSB Cybersecurity Center
U.S. Rep. Norma Torres (D-Pomona) paid a visit on Oct. 9 to the Cybersecurity Center at Cal State San Bernardino and met with students and faculty to discuss their work, as well as meeting with university President Tomás D. Morales.
 
Torres's visit included a tour of the CSUSB Cybersecurity Center in Jack H. Brown Hall, where she was greeted by students and Tony Coulson, director of the center and professor of information and decision sciences, and Vincent Nestler, associate professor of information and decision sciences.
 
She also met with the university's cybersecurity team: Shari McMahan, provost and vice president for Academic Affairs; Robert Nava, vice president for University Advancement; Ya (Anna) Ni, interim associate dean, Jack H. Brown College of Business & Public Administration; Javad (Jay) Varzandeh, chair, Department of Information & Decision Sciences; Pam Langford, assistant vice president, Alumni, Government & Community Relations; and Coulson and Nestler.
 
October is National Cybersecurity Awareness Month, and the CSUSB Cybersecurity Center will host an open house on Friday, Oct. 18, at the center in Jack H. Brown Hall, room JB 102. The open house is free and will take place from 6-8 p.m. Register online on Eventbrite.
 
Visit the CSUSB Cybersecurity Center website for more information on the open house and on the center's work.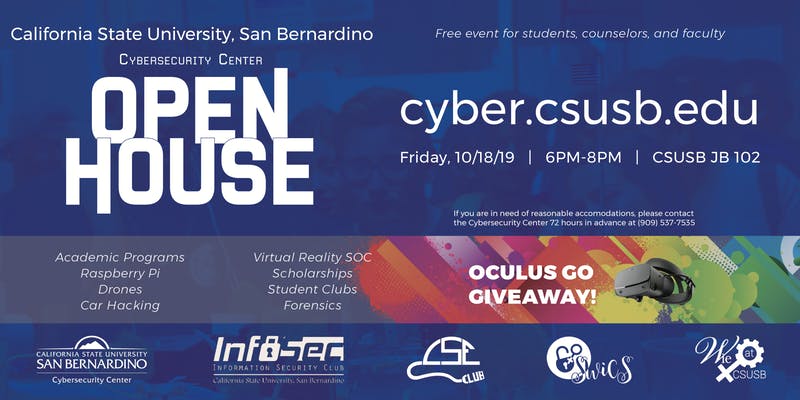 CSUSB Cybersecurity Center hosting annual Open House Oct. 18
San Bernardino, Ca -Cal State San Bernardino's Cyber Intelligence and Security Organization (CISO) will hold a free open house on Friday, Oct. 18, for all students, high school and community college counselors, parents and students interested in cyber technology.
The open house will be held from 6-8 p.m. in the Jack H. Brown College of Business and Public Administration, Room 102. Parking will be available in lots G, H, and F. Standard parking rates apply. Register on Eventbrite here.
The student organization has grown from a small student club (InfoSec Club), into a professional student organization thanks to the outstanding efforts from the CISO outreach officers and supporting team. The student organization has managed to significantly increase the number of members that are passionate and willing take on challenges in today's cybersecurity industry.
The organization's activities have garnered interest from various employers and leaders in the community, as well as visitors from Fortune 500 companies and federal government agencies, which frequently attend student project showcases. Students participating in these projects develop critical thinking and analysis techniques that can be applied in real-world cybersecurity problems.
Involvement in projects allows students to explore in-depth topics that are only briefly discussed in class. This has helped students gain an edge when seeking networking and employment opportunities.
Along with learning new skills, students in the organization are encouraged to join competitions such as Collegiate Cyber Defense Competition (CCDC), National Cyber League (NCL), Information Technology Competition (ITC) and CyberForce Competition. The competitions put students in situations that allow them to make critical decisions similar to those that businesses face every day.
CISO members' willingness to take on these challenges and learn from them has enabled the club to develop relationships with major companies such as Facebook, Red Hat and more. Thanks in part to these relationships, more companies have reached out to provide valuable training and resources to ensure that students have the best quality education possible.
The progress of the last 10 years will be evident to those attending this year's CSUSB Cybersecurity Center Open House. The program's high-quality degrees, opportunities to work with faculty, national scholarships, and student-led projects are capturing the attention of employers across the country.
Due partly to the national recognition of CSUSB's cybersecurity program, CISO club membership has soared this past year, impacting the quality and quantity of projects. Students in the club emphasize that there is no cybersecurity knowledge required to participate.
"Every day new students walk into the lab, wanting to see how they can join the club and participate in a project," club president Manny Vasquez said. "We have something for everyone."
For more information or request accommodations, please contact cyber@csusb.edu or call (909) 537-7535.
About Cal State San Bernardino
California State University, San Bernardino is a preeminent center of intellectual and cultural activity in Inland Southern California. Opened in 1965 and set at the foothills of the beautiful San Bernardino Mountains, the university serves more than 20,000 students each year and graduates about 4,000 students annually. The university offers more than 70 traditional baccalaureate and master's degree programs, education credential and certificate programs, and a doctorate program in educational leadership. Every one of its academic programs that is eligible has earned national accreditation. CSUSB reflects the dynamic diversity of the region and has the most diverse student population of any university in the Inland Empire. More than 80 percent of those who graduate are the first in their families to do so.
For more information on Cal State San Bernardino, contact the university's Office of Strategic Communication at (909) 537-5007 and visit inside.csusb.edu.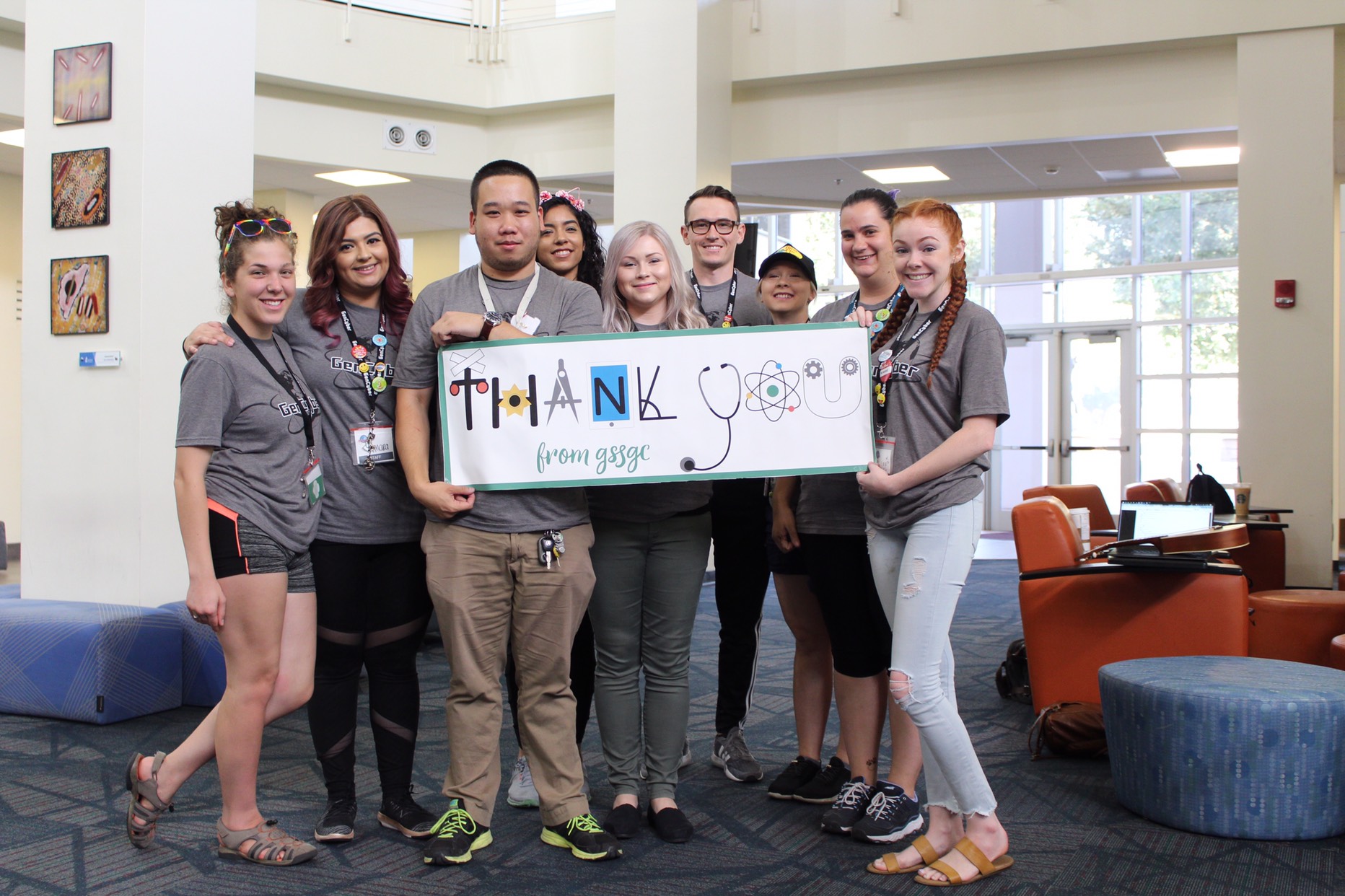 CSUSB's Jack H Brown College of Business and Public Administration Cybersecurity Center recently hosted it's 4th Annual GenCyber camp, this past June 18th-22nd. This free cybersecurity summer program, held in partnership with the Girl Scouts of San Gorgonio Council, welcomed 250 girls from both middle and high schools in the surrounding area. Funded by a generous grant through the National Security Agency, the camp is designed to teach safe online behavior, awareness of the cybersecurity field and exposure to hands-on technology activities related to cybersecurity.
Students attended sessions taught by security professionals from Google, Facebook, Bank of America, Cisco, IBM, Northrup Grumman and the Dept of Homeland Security. Camp sessions included a drone obstacle course, programming micro-computers such as Arduinos and Raspberry Pis, an escape room, securing a web-page, rock climbing, a computer forensics challenge and much more.
The camp depends heavily on CSUSB volunteers which included 66 technology students completing more than 1,060 hours to successfully host the 5-day camp. Nationally, there are almost 200 GenCyber camps taking place this summer at different universities around the country funded by the NSA. Since 2015, CSUSB has hosted more than 1000 middle and high school girls attending this cybersecurity camp.
The GenCyber program is part of the Cybersecurity Center's larger outreach initiative to spread education and awareness about cybersecurity. This 2017/2018 academic year has seen a surge in volunteer activity with more than 160 CSUSB student volunteers completing 1377 hours (including camp hours) and serving 10,549 individuals in the surrounding 2 county region.
Facebook Joins Forces with CSUSB Cybersecurity Department for New Educational Opportunities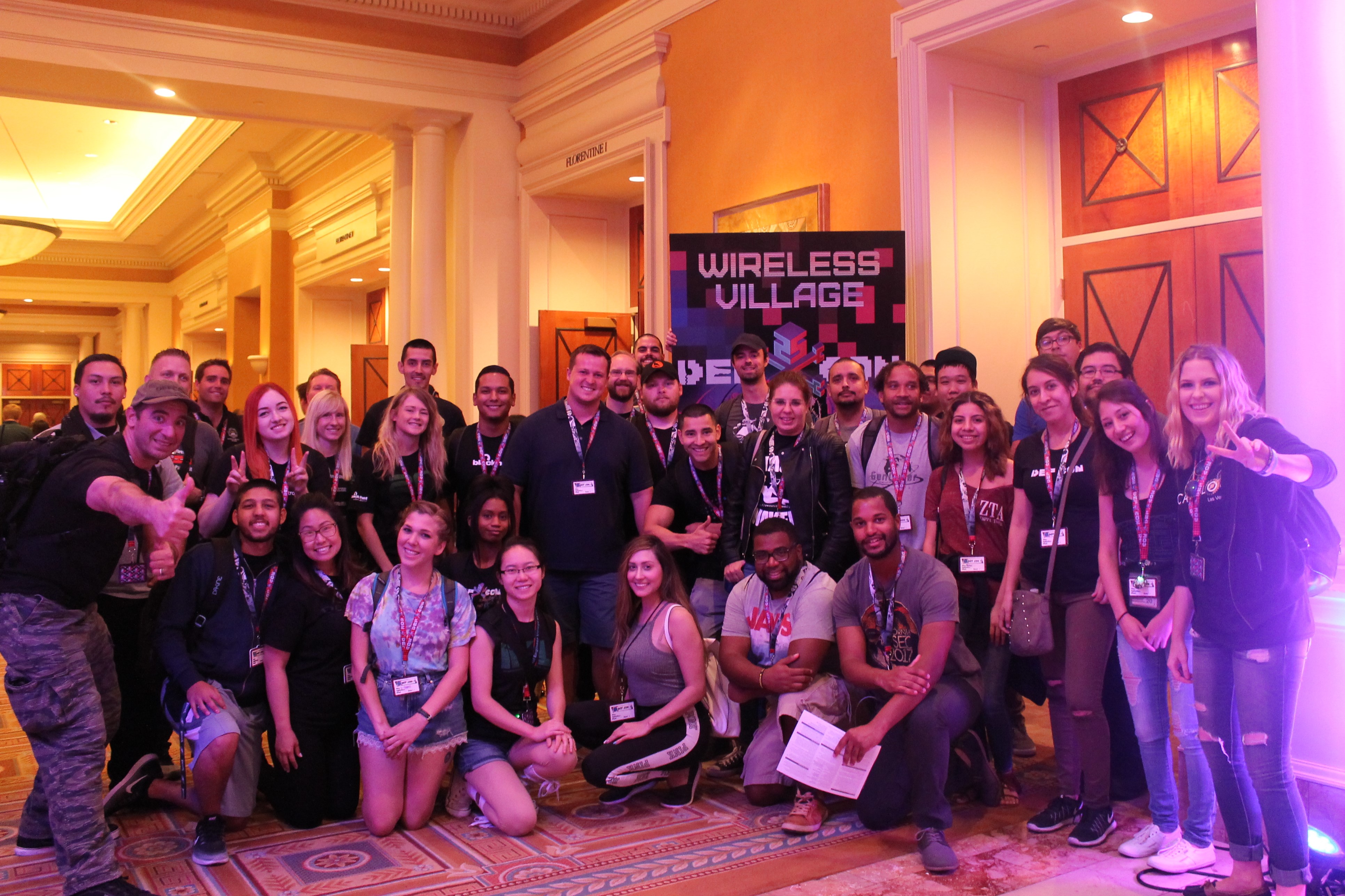 By Christine Hysell
San Bernardino - Since 2015, nearly 750 girls have attended CSUSB's GenCyber camp. Representatives from Facebook return each year to teach a session at the camp in hopes of encouraging young girls to enter the cybersecurity field in the future – but the partnership has expanded beyond a single summer event to include sponsorships and recruitment for older students.
The social media giant sponsored 21 CSUSB students to give them the opportunity to attend Black Hat and DEF CON, two computer security conventions held in Las Vegas in July.
"DEF CON has many purposes, but ultimately, it is a gathering of hackers and cyber geeks from all over the world, ranging from Noobs to Uber hackers," Lauren Cirillo said. "To put it simply, I would not have attended the convention if it weren't for Facebook and their support. I am grateful to them for allowing me this opportunity and fulfilling a dream of mine that I have had since high school."
The students in attendance saw the value of their education in a tangible way through both conventions.
"As a student that as studied Business Administration and is now Cybersecurity focused, the business application focus of BlackHat was so easy to pick up and see the importance of," Nick Trezza said. "The presenters all work in their field and were showing ways to change the way that the working world looks at security. These guys are trying to take the difficulty out of keeping client and business information secretive."
Facebook supported future learning endeavors for these students and others in the cybersecurity field through a new educational initiative: a 12-week course on web security, with students receiving credit and Facebook certification upon completion of the class.
CSUSB is one of seven schools to partner with Facebook, and students plan to visit the Facebook campus in the future. In addition, students hope that this partnership may lead to recruitment for potential jobs and internships.
Facebook's contribution to the educational community (including a mixer and luncheon for the students attending DEF CON and Black Hat) has encouraged students to pursue their passions beyond the classroom.
"I had no idea that I could learn such amazing material without being in school, and it has triggered my interest in game theory," Trezza said. "All in all, the learning experience as a student seeing what professionals and experts are talking about was an unparalleled experience. Thank you to Facebook a million times!"
CSUSB partners with San Gorgonio Girl Scouts to provide free Cybersecurity camp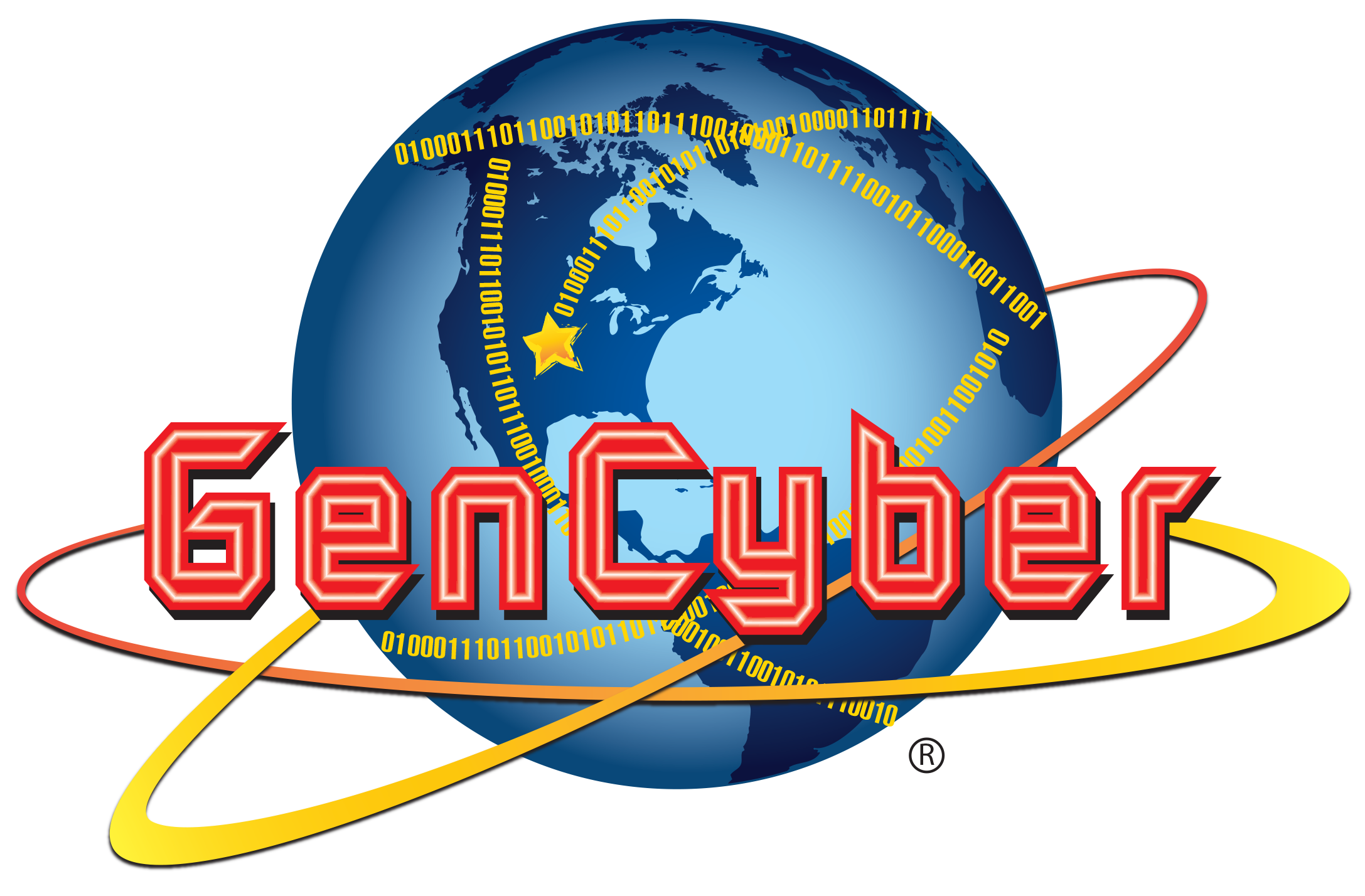 By Christine Hysell
San Beranrdino - Two hours after registration opened for Gen Cyber, a Cybersecurity camp for girls in grades 6-11, all 250 spots were filled. The camp is divided into two weeks – 200 middle school girls meet June 19-23, and 50 high school students attend the next week, June 26-30.
A large number of students from Title 1 schools in underserved areas are recruited to participate in the event, and 62% of attendees in 2015 and 2016 qualified for free or reduced lunch. In the first two years of hosting Gen Cyber, a total of nearly 500 girls attended the camp.
Gen Cyber is funded by the National Security Agency as well as the National Science Foundation. The estimated expense of the event for each girl is over $2000. Every attendee receives a Raspberry Pi (micro-computer), that they will learn to use throughout the week.
Several corporations work with CSUSB, sponsoring the event and offering activities for the girls to be involved in, including Facebook, IBM, Cisco, Google, Bank of America, Northrop Grumman, and the Department of Homeland Security. Capture the flag, various presentations, drone and coding experience, and sundae bars are all a part of the experience.
Primary goals of the event are to provide girls with an understanding of what constitutes safe online behavior, as well as to increase diversity and interest in Cybersecurity and related careers. The camp itself welcomes students from all backgrounds, with 37% of past campers being Hispanic, 31% Caucasian, 14% African American, 5% Asian, 4% Native American, 2% Hawaiian Pacific Islander, and 7% other.
For more information, contact cyber@csusb.edu.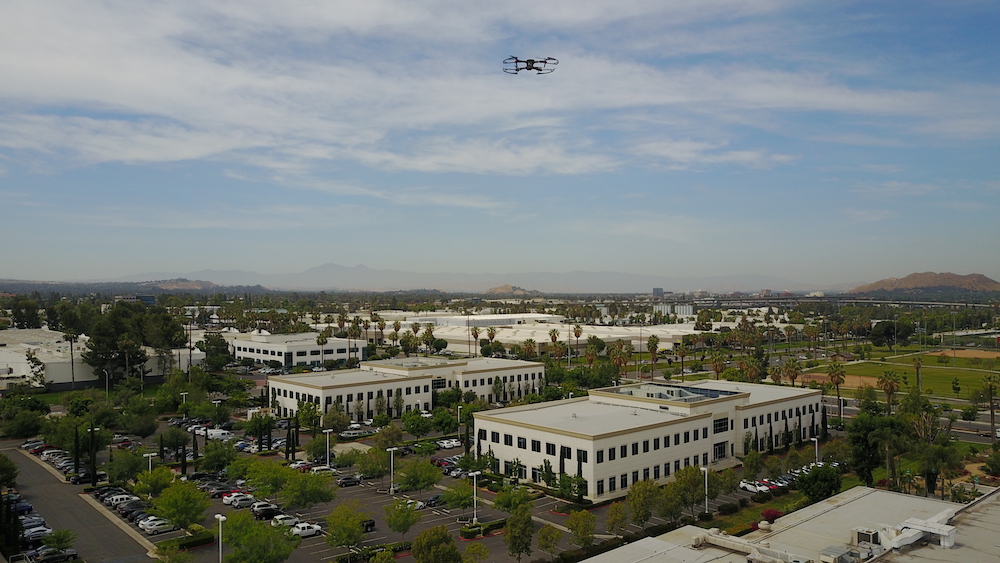 CSUSB Drone Club Holds Demo for Local Girl Scouts
By Christine Hysell 
San Bernardino - On April 26, 2017, approximately 150 Girl Scouts set aside their cookies to attend a drone demonstration at Bourns, Inc in Riverside, CA. Upon their arrival, the girls learned about the various uses of drones and careers in the field, from reconnaissance to Amazon deliveries.
Dr. Vincent Nestler, with help from volunteers from CSUSB's Drone Club, hosted the event. In the days leading up to it, volunteers prepared the drones for the demo with firmware updates, iPad updates, and software configuration, as well as by charging batteries and studying materials. Throughout the day, they presented some of the capabilities and limitations of the technology.
"We taught them the uses of drones and the practicality of why people have drones," volunteer Lauren Cirillo said. "We told them how farmers use drones to find livestock that wander off. We talked about different jobs you can have in drone flying. You can find employment being a drone pilot." Scouts also had the opportunity to work with the drones themselves."We demonstrated for them the key features [of the DJI Magic Pro]," Cirillo said. "We had them go to max height, which is 400 feet in the air. The girls took a selfie with the drone. Using hand movements, you can have it take pictures of you."
The event encouraged girls interested in technology or cybersecurity to pursue their interests. "The girls were thrilled with the drone activities," Girl Scout STEM Program Manager Carrie R. said. "The majority of the girls had never had any exposure to drones. They were so excited to see them in action."
CSUSB would like to thank Dr. Nestler; the Drone Club; Bourns, Inc; and the Girl Scouts of San Gorgonio for making the event successful.
For more information about the CSUSB Drone team, please visit contact us at cyber@csusb.edu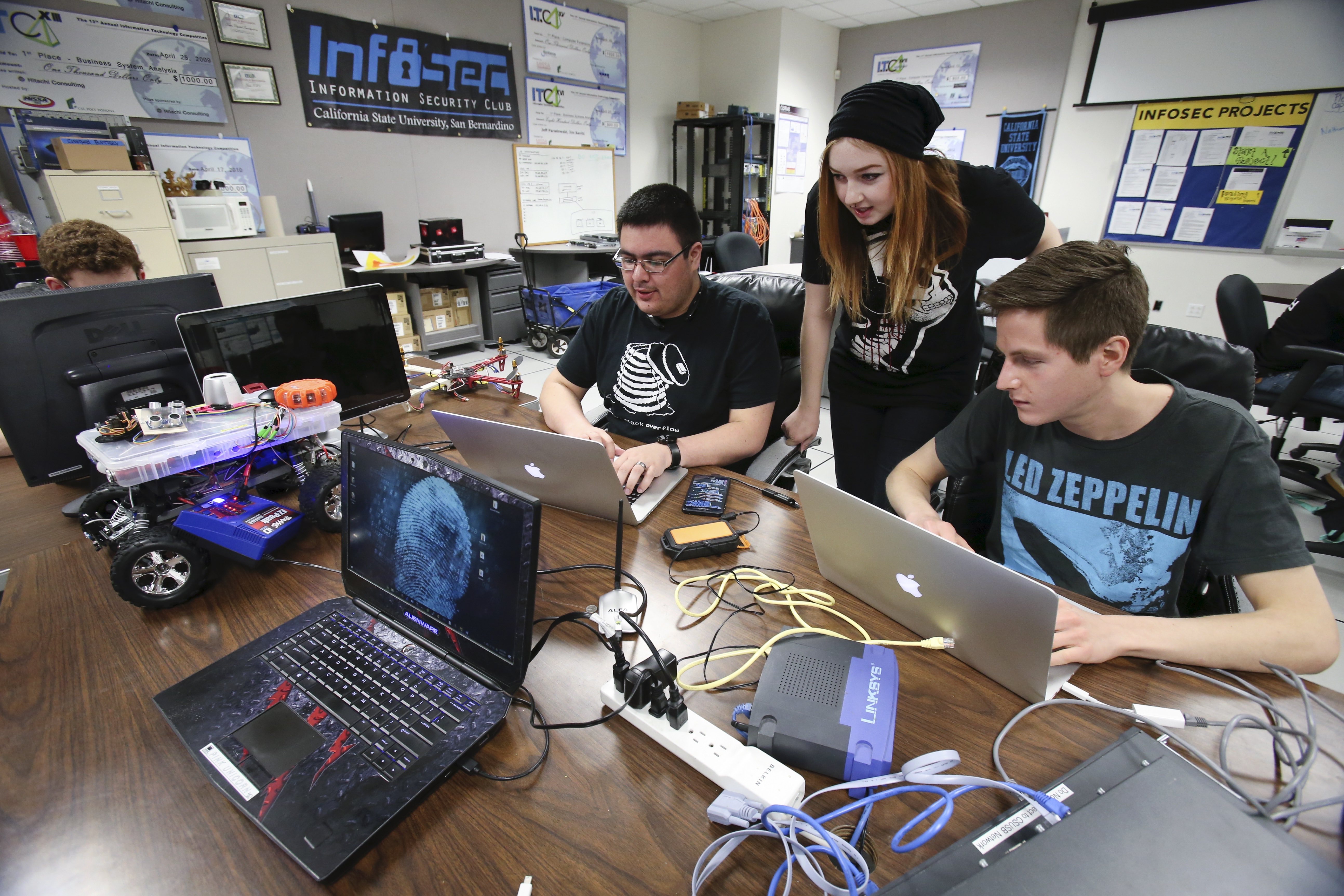 Jan 30, 2017 10:07 AM EST
By Chris Brandt, UniversityHerald Reporter
5 Colleges With NSA-Recognized Cyber Security Programs
Cyber security degrees might not be as common as engineering or computer science degrees but there are already a number of colleges and universities that offer cyber security programs. Those who are interested in pursuing a career in cyber security will find themselves as among the first line of defense against cyber attacks and cyber crimes in the future. Here are 5 colleges that has been recognized by the National Security Agency (NSA) for offering such programs.
Carnegie Mellon University
Carnegie Mellon has cyber security programs from their undergraduate to Ph.D programs. For the undergraduate course, they are offering the Computer Information Systems Undergraduate Program: Information Assurance Track. One of their master's program is the Masters of Science in Information Security where the main focus is handling and managing the emerging complexities of information technology including data and network security. They also offer a Ph.D in ECE: Mobility Research Center where the focus is on mobile devices and the improvement of mobile network and security.
California State University - San Bernardino
The California State University - San Bernardino offers certifications in different cyber security areas. Their Business Administration, Concentraion: Cyber Security is one of the first cyber security programs in California. The university has received various grants from different state and federal agencies, such as the Department of Defense, allowing them to offer various cyber security programs in both undergraduate and graduate levels.
George Washington University
George Washington University in Washington, D.C. has a lot of NSA-recognized cyber security programs in both the graduate and undergraduate levels. Moreover, they also offer online degree programs although it is only for those who are pursuing a master's degree in cyber security. One of these programs is the Online Master of Engineering in Cyber Security Policy & Compliance which incorporates engineering and computer science courses.
Missouri University of Science and Technology
Located in Rolla, Missouri, the institution offers two NSA-recognized cyber security programs: Big Data Managementand Security Graduate Certificate and Information Assurance & Security Officer Essentials Graduate Certificate. Admission to the program requires a B.S. degree in any engineering field with an average GPA score of 3.0.
Purdue University
Purdue University offers a number of graduate and undergraduate cyber security programs recognized by the NSA. The highest one can get is a Ph.D in Computer Science with an Info-Security Focus. According to the university's website, the average time to complete the Ph.D degree is 5 years provided the student has a good undergraduate background in computer science.