CSE Department provides computer labs in an effort to facilitate learning through technology. These computer labs are available to any CSE student, using their myCoyote ID information. The labs provide access to computing systems, with a variety of software students can utilize throughout their studies. Our labs also provide students with resources for printing papers and reports.
Be sure to check the lab schedules for open lab availability and hours. We also understand the requirements of these technologies outside of the classroom. To accommodate those needs, both ITS and our CSE IT provide different method to remote connect to the Computer Labs, accessible from any personal computer, even off-campus.
Lab Rooms and Operating System:
JB-356: 20 Windows and 20 Linux
JB-358: 33 Linux
JB-359: 32 Linux
JB-360: 31 Windows
JB-361: Research Room
The research room can be used for studying, working on projects/assignments,  and team meetings for the following classes:
Senior Project
Internship in Computer Science and Engineering
Independent Study
Masters Project
-For more information please visit JB 351, or contact CSE IT Staff. 
Computer Lab Schedule
Fall & Spring Semester Hours

| | |
| --- | --- |
| Monday - Thursday** | 8:30 AM - 10:00 PM |
| Friday** | 8:30 AM - 4:30 PM |
| University Holidays | Closed |
**Labs are closed during Instructional Hours please view Lab Room Schedule below: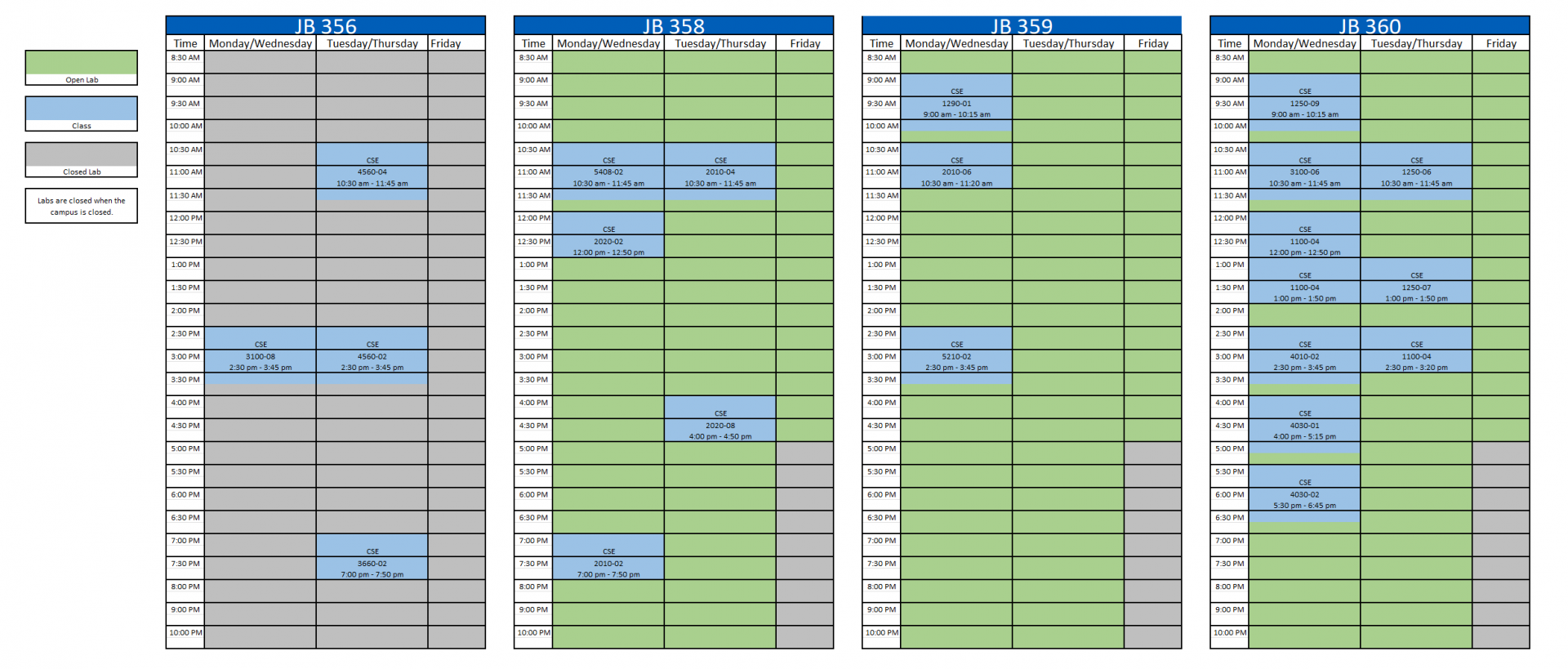 Available Equipment for Check Out:
For more information or questions about checking out equipment please visit JB 351 or contact Pedro.LorenzanoRodriguez@csusb.edu -OR- Kevin.delaCueva@csusb.edu.
Available Software:
Windows:
ADOBE READER
ANDROID STUDIO
ARDUINO
GIMP
INKSCAPE
MICROSOFT OFFICE 365
MATLAB 2021a
UNITY