Textbooks Related to Correctional Education
In 2006 the Center began publishing textbooks related to correctional education. These texts are the result of years of study and expertise from Center faculty and represent the only contemporary set of college level correctional education texts. These books are used in the CSUSB EDCA masters degree program and are valuable resources for inservice, professional development, and other college courses.
All of these books are available through the CSUSB bookstore. We welcome ideas and suggestions from practitioners for future volumes.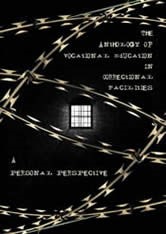 The Anthology of Vocational Education in Correctional Facilities: A Personal Perspective Edited by Robert Mattucci
Our newest title focuses on aspects of vocational education unique to institutional environments. Bob Mattucci has compiled 15 articles and presented them in a well-informed contemporary and historical context. The topics, written by a variety of current practitioners, cover a range of topics of interest to institutional educators.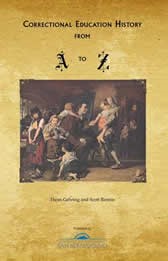 Correctional Education from A to Z by Thom Gehring and Scott Rennie
This book provides multiple ways to enter, explore and navigate the "routes" of our history. It indexes a crazy quilt of social and philosophical projects, historical eras, pivotal and prototypical events, theoretical analyses, vignettes, charismatics, revolutionaries, heroes, and heretics. Stories salvaged from the dustbin of out-of-print books and esoteric reports are referenced along side classical and contemporary works that remain in print. Nothing is extraneous. Embedded in this lovingly illustrated encyclopedia of personalities and themes are threads and cross-references. You, the reader, construct new pathways each time you pick up the book, though you may quickly learn that all roads lead to an enlightened humanism. A to Z presents a Western canon of reformers and ideas whose collective voice defy the cynicism of the ages and express humanism's greatest hope for salvaging the reformatory aspect of prisons.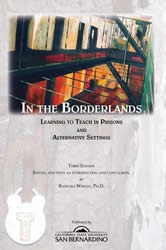 In the Borderlands: Learning to Teach in Prisons and Alternative Settings (3rd ed.) Dr. Randall Wright, Editor.
Certainly some teachers arrive at the prison gates as mature, wise educators—flexible, sensitive to context, prepared to live with uncertainty—while others embark on a personal and professional journey on the inside that is insightful and transformative. These essays illustrate the accumulated practical wisdom of teachers. In each chapter the authors share what they have learned through years of experience teaching "inside." Especially valuable to new educators, at the heart of their stories is their struggle to shape a professional identity behind bars, in the contested borderlands.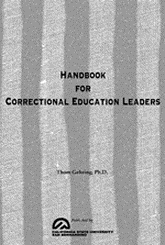 Handbook for Correctional Education Leadership by Dr. Thom Gehring
The Handbook outlines appropriate characteristics that correctional educators should possess, and the characteristics correctional education systems should develop. In this context, leadership is defined in broad terms: in instruction, supervision, and administration. The book has six chapters, on (a) transforming institutional education programs into real schools, (b) proposal writing to improve correctional education, (c) classroom supervision and the skills and characteristics of successful institutional educators, (d) providing appropriate programs for students with disabilities, (e) recidivism, and (f) program evaluations. Most issues of correctional education leadership can be subsumed under these headings.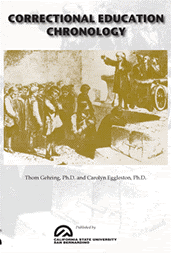 Correctional Education Chronology by Drs. Thom Gehring and Carolyn Eggleston
This is a documentary compendium of correctional education and prison reform history. It is not exhaustive, but it is reasonably comprehensive for the years 1878 to 1987. The Chronology makes an important contribution to the study of correctional education because teachers in juvenile institutions and adult prisons generally seem to suffer from a collective amnesia when it comes to understanding the social, historical, philosophical, and educational roots of their profession. Part curiosity, it is an attitude that compels readers and researchers to look beneath the surface of events so as to discover the reasons, forces, and patterns that have contributed to the way things are today. Readers may be struck by the fact that 'correctional education' appears at the juncture of many fascinating social, political and educational ideas, personalities and events. The authors' purpose is to help correctional educators comprehend where their field has been, so they can better plan its future.