The SBS Writing Lab helps all students who are completing writing projects in the social sciences whether they are taking GE courses or majoring in one of our fields, such as anthropology, criminal justice, economics, history, geography, political science, psychology, sociology, or social work. All tutors can meet face-to-face, online, and through e-tutoring. (See our tutorial below for what each of these mean). Check our schedule for a time that works best for you.
Writing Lab tutors can help with a full spectrum of writing issues:
Writing thesis statements and introductions
Fine-tuning drafts for minor errors
Revising drafts for major issues
Incorporating data and sources, especially in APA or Chicago style
Improving grammar through worksheets, handouts, and individualized tutoring for specific issues
The Writing Lab strives to help students improve their grammar, citation, and writing; by doing so, students will become strong writers who succeed in their upper division and graduate-level courses. 
Register at this site to schedule your in-person, online, or e-tutoring appointment: http://mywco.com/writinglab
Please see below for a tutorial on creating your appointment: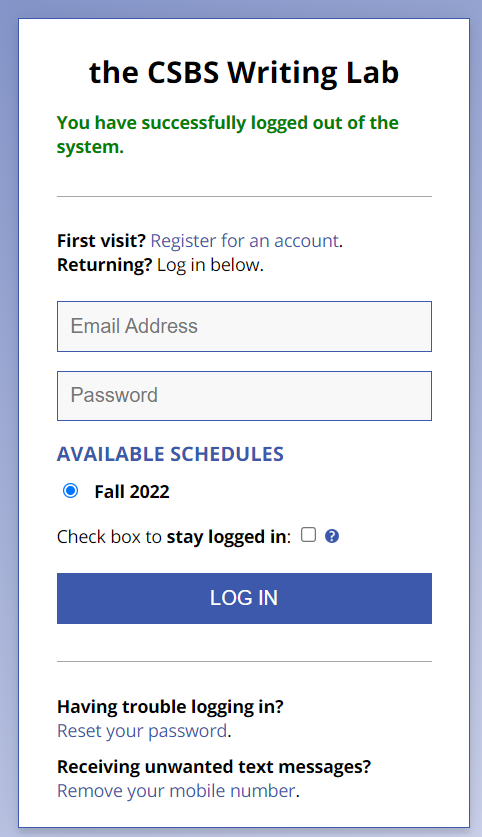 Step 1: Log in to wconline. Select to 'Register for an account' if this is your first visit. If not, log in with the credentials you used to set up your first visit. This should be your Coyote email address and password. If you are having issues logging in, email the Writing Lab for help - SBS Writing Lab


Step 2: Upon logging in, you will see appointment slots.
View the Color Legend above to see what each one indicates:
White boxes are open and available appointments. Dark blue boxes are times when the tutor is not available. Light blue indicates appointments that are already filled by other students. The gold or yellow boxes are appointments you have made.
You will need to select a time slot that fits your schedule. You are welcome to choose 30-minute appointment slots. Anything beyond 30 minutes requires administrative approval. Please contact SBS Writing Lab to set up appointments longer than an hour.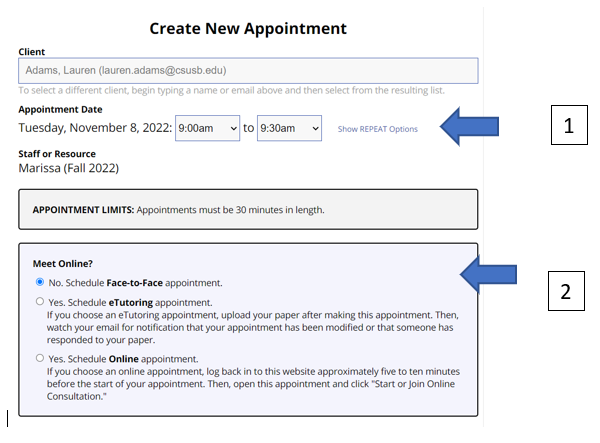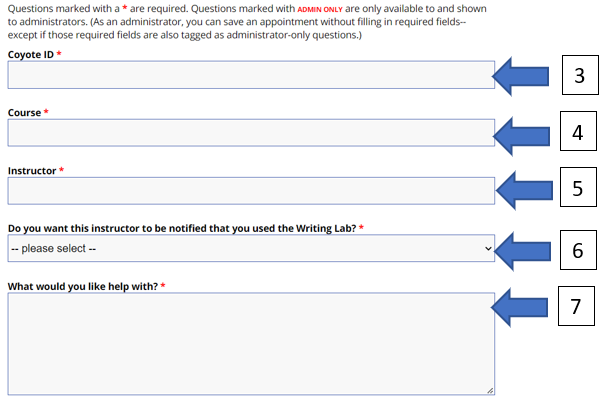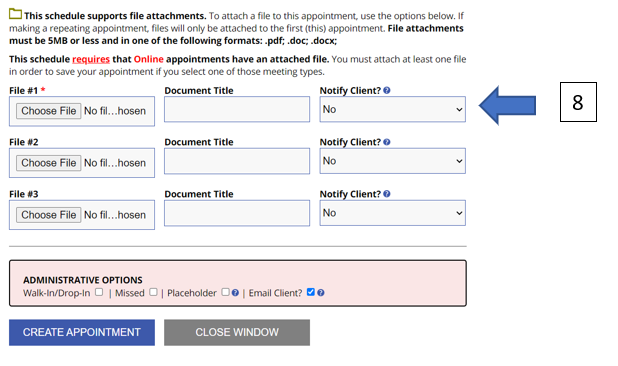 Step 3: Once you have chosen and selected the appointment you want, you will be prompted to create your appointment. Check your appointment date and time (1) and that your staff or resource are correct. Next, check the type of appointment you want. There are 3 types of ways to meet: face-to-face, e-Tutoring, and online.
If you choose to meet face-to-face, you will be expected to join your selected tutor in our writing lab located on the 3rd floor of the Social and Behavioral Sciences building – SB-354A. We are located near the stairwell. Upon taking the elevator, you will find us at the end of the long hallway, next door to the computer labs.
If you choose e-tutoring, you will need to upload the document you want reviewed. It is recommended that you also upload assignment instructions and notify your tutor with the type of help you are looking for.
If you choose to meet online, you will need to log back in to wconline to meet with your tutor. You will need to select your appointment and click on Start or Join Online Consultation (see photo below).

After selecting your appointment type, you will need to enter in your Coyote ID (3), course (4), and instructor (5). This information is important for the writing lab tutors to ensure we are meeting the needs of your professor and to contact you about your appointments. You will need to notify the writing lab if you would like your instructor notified on your use of the writing lab (6). This information can be useful for your professor if you would like to show that you have been seeking help for your papers or if you instructor gives out extra credit for visiting the writing lab. Please indicate what you would like help with (7) as this guides your tutor on what to focus on in your paper. Without this information, your tutor may not be fully prepared to answer your questions. Remember, you only have 30 minutes to meet with your tutor and that time can go by fast!
Once you have entered in all required questions, you will then need to upload attachments. We recommend uploading your assignment instructions and the paper you are working on. There are a total of 3 files you can upload, so you can upload informational documents that you believe would be useful for your tutor during your session. The more information you can provide to your tutor related to your assignment, the better your session will turn out. We look forward to working with you and helping you reach your writing goals!