Announcing our Undergraduate Minor in Counseling and Social Change
The master of science in counseling meets the general and advanced areas of study to prepare students for a career in a variety of professional counseling positions. The degree houses two distinct concentrations; professional counseling and school counseling. The professional counseling concentration prepares students to become Licensed Professional Clinical Counselors (LPCC) as regulated by The California Board of Behavioral Sciences. While CSUSB does not grant the LPCC, upon completion of the degree, you can apply to the Board of Behavioral Sciences for an intern number. The school counseling concentration prepares students for a California Pupil Personnel Services Credential (PPS) as granted by the California Teaching Commission. Either can be completed as a stand alone degree or completed in tandem to meet the requirements for both the LPCC and PPS credential. Students who elect to combine the concentrations can do so for a total of 72 - 78 semester units.
 
At CSUSB our curriculum is up-to-date with innovative counseling training. Many of our professors are leaders in their field, researching and writing and training throughout the world. Some topics of expertise include: Narrative Mediation, Conflict Resolution, Diversity & Counseling, Participatory Action Research, Addictions Counseling, Grief & Bereavement Counseling, and Narrative Therapy, to note a few.

Our professors are committed to providing top-notch teaching and training for students. In addition to offering their expertise in class, professors serve as advisors to students to ensure their academic success throughout the program. We want to see that you are supported and successful, both as students in the program, and as professionals in your future career. During your first semester as a Counseling student you will be assigned an advisor. This faculty member will be available to you throughout your program of study, helping plan your coursework and answer questions.
 
Cohort Information
The combined expanded master's degree with two distinct concentrations has been established using a cohort system of training. What this means is we admit students as a group into the program all at the same time and they progress through the educational program as a cohort group. One cohort starts the program in the Fall and typically has most of their courses together, over the span of the three-year program. Our program is specifically geared to advantage the adult who has a family and/or works. We arrange most of our classes in the evenings, from two nights per week or three nights weekly. Most classes have a hybrid component to further support learning with the most flexibility.

A cohort system provides students with a sense of community, support, and the knowledge you are not alone in your pursuits and challenges. In addition to an active student association, CGSA, there are many educational and social events held throughout the year. We hold quarterly group advisement meetings to share and disseminate information about upcoming events and opportunities as well as on-going specialized training and workshops. All these culminate in the best possible experiences and enhance learning and community. 
 
---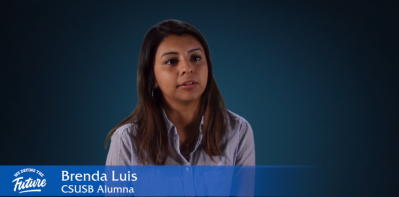 Hear what Brenda reflect on what she is taking away from the program as she gets ready to graduate! 

 
---
Comments About Our Program
Messages from the CTC Review Team:

'Candidates & graduates praise the faculty for the relevance of the curriculum, the modalities of instruction & the guidance & assistance they receive in support of their education.

'Students & graduates praised the integration of service learning, field work & practicum experiences…'

'Site supervisors & employers consistently commented that candidates are well-prepared…'

'The team found the faculty to be mutually supportive & dedicated to student success.'

'Students were very appreciative of the easy access to & quick response from faculty.'

'Graduate students felt very confident as they entered their school counseling career.'

'Students & graduates expressed appreciation of the faculty modeling the values of the counseling profession both personally & professionally.'

Comment from a local school district administrator (March 2009)

'Our school district (San Bernardino City Unified) highly values and favors graduates from the CSUSB counseling program more than the surrounding counseling programs… When a group of potential counseling employees were asked to explain the ASCA model and standards, only graduates from the Cal State program could name the standards.'

What Do Students Say about the Program at CSUSB?

'The faculty is highly accessible and genuinely care about my growth as a counselor.'

'Truly diverse student body and faculty who care, so much so that you quickly gain a new family and a rich experience.'

'The classes offer opportunities to work with schools in the community.'

'You will be ready to counsel.'

Students are asked to reflect and evaluate their professional development as a part of the learning experiences. Here are some examples of comments that were made:

'I believe that it is extremely important to not only acknowledge where growth is needed, but it is also my ethical obligation to be consistent in evaluating my own progress.'
'I remember when I first started the program and I felt awkward when I attempted to use counseling skills. The more experience and positive feedback I received, I felt that awkwardness slowly slip away. Somewhere along the way without me realizing it, I became a counselor. I now walk into a situation with confidence that I can do the job I need to do to help the students under my care.'

One of our graduates wrote:

 'June marked the end of my second year as a school counselor and I find myself always looking back at our program with the realization of all that I was taught. Numerous times I have drawn  on my CSUSB experience as a guide for a current situation. I look back with fond memories, lasting friendships & the foundation that guides me each day.'