Panetta Congressional Internship Program
---
Political science major chosen for prestigious Panetta internship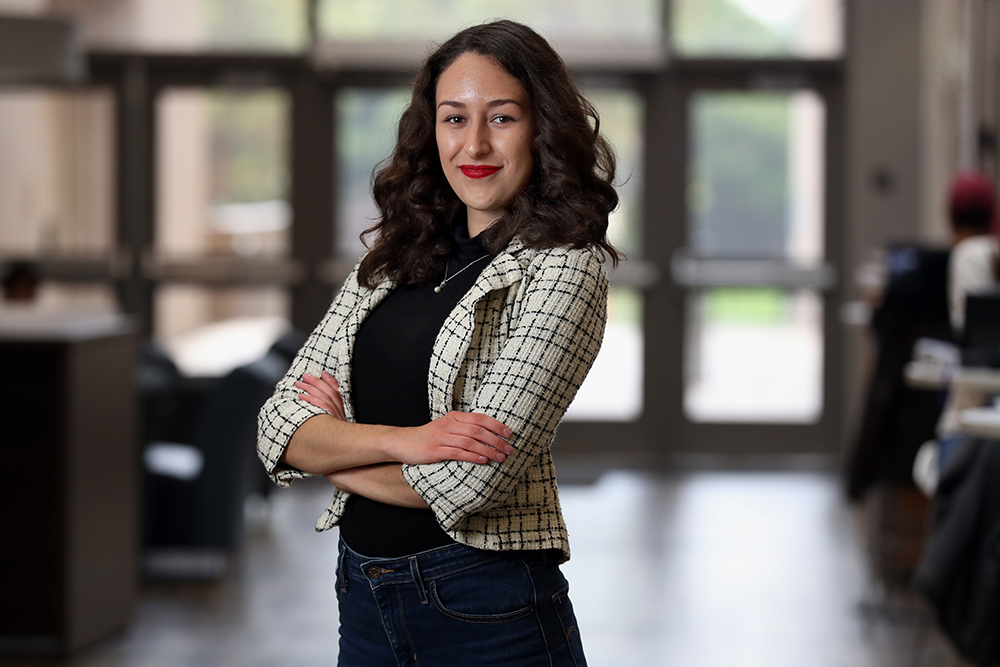 Claudia Castaneda - 2019 Panetta Intern
Claudia Castaneda was selected by the Panetta Institute for Public Policy to serve in its prestigious congressional internship.
Claudia Castaneda, a Cal State San Bernardino political science major, was selected by the Panetta Institute for Public Policy to serve in its prestigious congressional internship, where she worked closely with U.S. Representative Alan Lowenthal in Washington, D.C.
 
"I am incredibly honored to have been selected as the 2019 Panetta Congressional Intern for Cal State San Bernardino," said Castaneda. "I am grateful for the amazing opportunity CSUSB has afforded me as the campus nominee, and I could not imagine being able to have obtained such a prestigious and incredible opportunity without the support and guidance of the hardworking and dedicated faculty and staff in the political science department. I am in awe of their passion and commitment to student success."
 
Participants of the three-month internship, which took place from August to November, are nominated by the president of each California State University campus, Saint Mary's College of California, Santa Clara University and Dominican University of California. They are then interviewed and selected by the Panetta Institute.
 
Before working in Washington, D.C., interns first participate in the Panetta Institute's two-week training program at Cal State Monterrey Bay.
 
While at Monterrey Bay, Castaneda said she enjoyed meeting Leon and Sylvia Panetta, husband and wife who founded the Panetta Institute for Public Policy. She also said she learned more about the United States' most pressing issues in fiscal, cybersecurity, defense and foreign policy from leading experts in the fields.
 
Following the training program, Panetta interns participated in an 11-week internship program in Washington, D.C., where they attended seminars with government leaders, journalists and policy experts. In addition, the interns earned up to 20 academic credits.
 
"While in Washington, D.C., I worked with congressional staff to address constituent concerns and promote greater advocacy for underrepresented communities," Castaneda said. "As a Panetta intern, I gained valuable firsthand experience practicing public service and learned how to become a better local and global leader."
 
Castaneda is a member of the CSUSB Honors Program, the National Society of Collegiate Scholars of CSUSB, and the university's Educational Opportunity Program (EOP). She also participated in 2019's National Model United Nations program in New York City, where the CSUSB team represented the country of Mexico.
 
After graduating from CSUSB, Castaneda plans on applying for the Charles B. Rangel International Affairs Fellowship, a U.S. Department of State program that prepares young people for careers in international service. She also intends to earn her master's in national security studies.
 
"During this time, I also plan to study Korean as a fourth language and work as an English Language Teacher (ELT) in South Korea during the summer," she said. "In the future, I hope to serve as a foreign service officer abroad for the U.S. Department of State."
---
About the Panetta Institute for Public Policy internship program
Founded in 1997 by Leon Panetta, who served U.S. Secretary of Defense and U.S. Congressman among other posts, and his wife, Sylvia, the Panetta Institute serves the entire California State University system plus several other schools. Under the direction of the Panettas, the Institute provides a variety of study opportunities in government, politics and public policy, and sponsors a range of other programs.
 
The internships' goal is for students to learn about policy, practice and procedures of the United States Congress. This year marks the 21st year of the celebrated program, recognized as one of the leading internship courses in the nation.
 
Panetta interns must be junior or senior status during their internship, not yet applied for graduation, have demonstrated commitment to the community and public service, and exhibited superior academic achievement and leadership.
 
For more information, visit the Panetta Institute website.