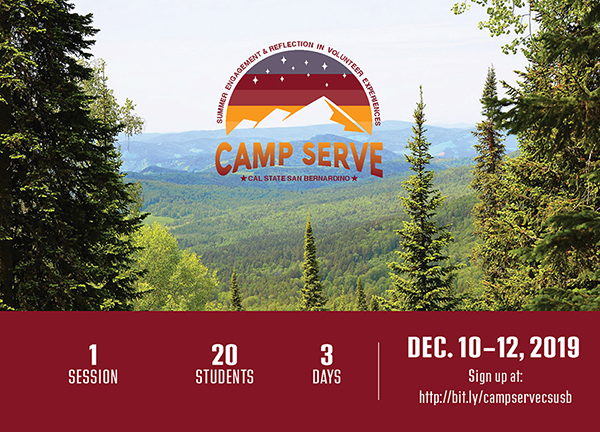 In partnership with the Office of Community Engagement, and Student Recreation and Wellness Center, Adventure Program we bring you our inaugural Camp SERVE program for the fall quarter! Travel with CSUSB to a 3-day volunteer service trip. Centered on service and social awareness, participants have a unique opportunity to participate in local service projects alongside Inland empire non-profit partners. While learning about San Bernardino and Riverside County, Camp SERVE will start their journey at CSUSB by identifying ways to serve our local community and how to make a difference in the world around you.

Trip Cost     
CSUSB Student: $85
     
Sign-Up Deadline
December 2, 2019 @ 4pm

No Pre-Trip Meeting

Activity Level
2 – Active

Trip Departs From
CSUSB Student Recreation and Wellness Center

Itinerary 
Day 1: Arrive at the CSUSB Student Recreation and Wellness Center at 9:30 am to check-in and do some experience at the CSUSB Leadership Challenge Center(LCC). We will break for lunch halfway through our team building and finish with an afternoon of climbing challenges. We depart the LLC for an earlier dinner before our evening of service at a local non-profit. Plan to arrive back at CSUSB around 9:00 pm. No lodging is provided this night. 

Day 2: We will meet at 7:00 am load up our overnight gear, have some breakfast before heading up to Big Bear for a morning of service. We will then enjoy lunch in Big Bear Village and have some time to explore. After checking in to the Big Bear Hostel we will have some time for reflection and a Make a Difference Workshop. We will then prepare dinner as a group before heading to the Bowling Barn.

Day 3: We will rise early to have a healthy breakfast before loading our vans and heading to the Coachella Valley to volunteer for the morning. We then depart for the world-famous Palm Spring Tramway to ride a rotating tram car up to the San Jacinto Wilderness where we will enjoy lunch with a view. After lunch, we will get to explore the wilderness on Long Valley Discovery Trail. After learning about the area's plants and wildlife we will descend the tram and check out the Palm Springs VillageFest at 7:00 pm. We will return to CSUSB at 10:00 pm. 

Packing List

Weather
CSUSB
Big Bear
Palm Desert
San Jacinto Wilderness 

Food 
6 meals are included, starting with lunch on day 1 (2 breakfasts, 3 lunches, and 1 dinner)
Dinner on day 1 and 3 are not included. Bring money

Accommodations 
Sleeping - We will be staying in a large house with multiple bedrooms each person will have a bed. The cabin has electricity, drinking water, flush toilets, and showers.
Bathroom - Flush toilets are available throughout the program.

Water - Drinking water will be available throughout the program.
---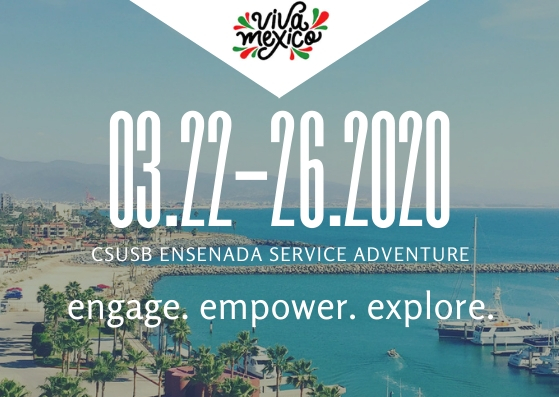 Make a difference in the world this spring break! In partnership with the Office of Community Engagement, Center for International Studies & Programs and Student Recreation and Wellness Center, Adventure Program travel with CSUSB to Ensenada Mexico, a beautiful city on the west coast of Mexico for a week of service, learning and exploration. Our time will be spent volunteering and assisting the community and when not working on service projects we will experience the local cuisine and culture of this fantastic region. We will stay 4 nights at Rancho El Refugio, situated in a farming community in the hills overlooking Ensenada located just 10 miles east of the city. Highlight of the trip includes; volunteering in the community, ocean kayaking, exploring the local community, shopping, and enjoying the local cuisine.
PASSPORTS OR PASSPORT CARDS ARE REQUIRED FOR THIS TRIP.

Trip Cost     
Student: $350
$175 Deposit Due January 17, 2020, 8am
Balance Due February 14, 2020, 12pm
            
Mandatory Pre-Trip Meeting
January 20, 2020 @ 6:30am - 5pm
Location: Meet at SRWC

Activity Level 
3 - Adventurous

Itinerary 
Day 1: We meet at the SRWC at 8:00 am to load our vans and head to Mexico! On the way to Rancho El Refugio, just outside of Ensenada Mexico we will stop for a lobster lunch just south of the border in Puerto Nuevo. After a filling meal and an hour drive, we will arrive at our accommodations for the next 4 nights. 

Day 2: In the morning we will be volunteering and after lunch will head to La Bufadora, the second largest marine geyser in the world. while there you will be able to shop, sample local food and kayak in the ocean. 

Day 3: Today we will have a full day of service. 

Day 4: After a half-day of service we will spend the afternoon exploring Ensenada. 

Day 5: Today we pack up and travel home stopping along the way to explore the beautiful Valle de Guadalupe. 

Food
12 meals are included, starting with dinner on day 1 (4 breakfasts, 4 lunches, and 4 dinners)
2 meals are not included (lunch on day 1 and dinner on day 5) bring extra money 

Hygiene and Comfort
We will be staying in a bunkhouse with beds, access to flush toilets, drinking water and showers.