Ready to Leave Your Paw Print?
Let's join Cody and volunteer for Coyote Cares Day!
CSUSB volunteers are the heart of Coyote Cares Day. This event would not be possible without our students, faculty and staff's commitment to service. Every academic year, Coyotes contribute approximately 100,000 hours of volunteer service to our local communities. Coyote Cares Day service makes an important difference for our local nonprofit agencies - please join us!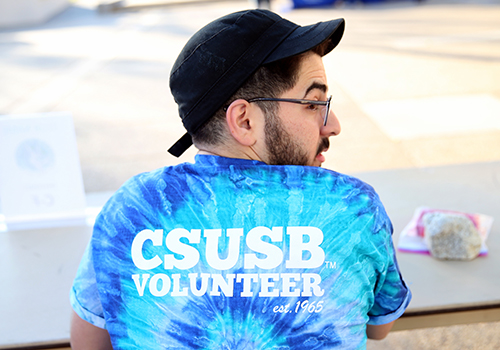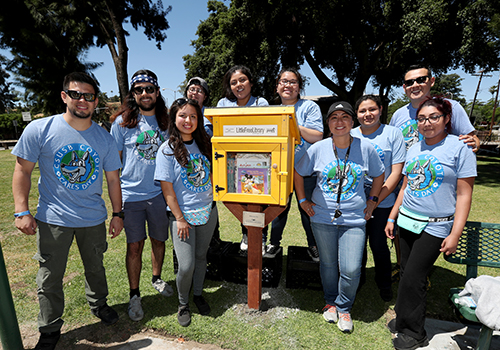 Coyote Cares Day volunteers will receive:
Free breakfast 
Coyote Cares Day Volunteer t-shirt
Transportation to and from the service site
A worthwhile volunteer experience (approx. 3 - 4 hours)
Free food truck lunch 
Entertainment 
Coyote Cares Day "Thank You" gift
You may also receive an additional gift through our Photo Contest!  Take pictures of your service project and group, and share & tag us on Facebook, Twitter and Instagram – our hashtags are #engageCSUSB #coytecaresday2020 #NVW2020.  You could win a fabulous prize!
What are the service projects?
As the popularity of Coyote Cares Day has grown, we continue to expand our volunteer projects.  The projects address the needs of our community agencies and vary from year to year.  For this event, our community partners typically are community centers, community gardens, food pantries, City Parks and Recreation departments, schools and neighborhood associations.
Coyote Cares Day volunteers spend the day planting, painting, cleaning, sorting, assisting with events and various other tasks around the community.  Volunteers will not be notified of site placement until the day of the event at check-in. Please indicate if special accommodations are needed when you register. 
Attendance Policy 
There have been difficulties in past years with many registered volunteers not showing up on the day of the event.  This behavior reflects poorly on those volunteers, and it also negatively reflects on the image of our campus with our community partners.
Some of our community organizations have become hesitant to register as project sites in fear that the CSUSB volunteers they requested will not show up.  We want to include as many CSUSB volunteers as possible, but for planning purposes we need a solid commitment from anyone who signs up to serve. We understand that last-minute circumstances happen.  If you have registered and can't attend, please notify the Office of Community Engagement of your cancellation at leaveyourpawprint@csusb.edu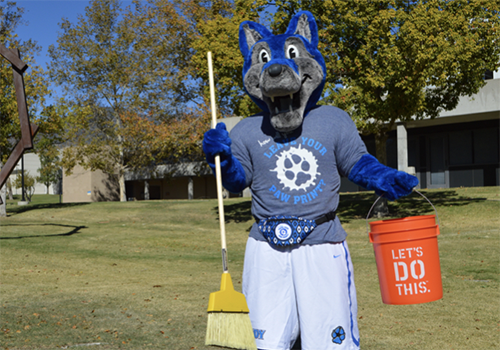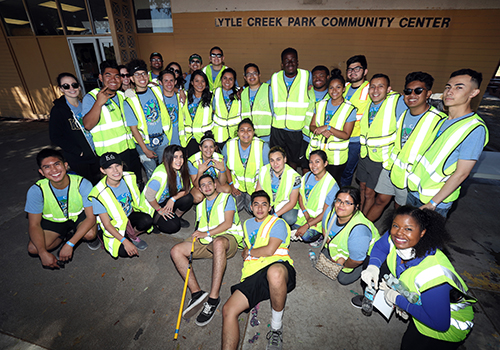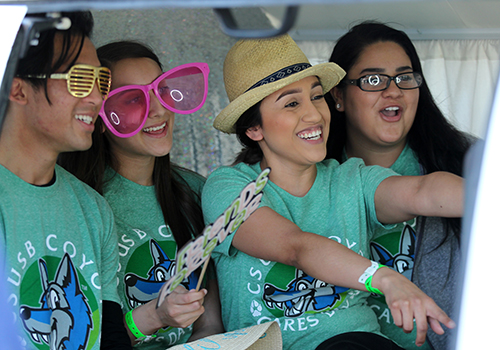 Day of Event Breakdown 
Volunteer check-in takes place the morning of Coyote Cares Day. We ask all volunteers to please arrive early in order to ensure on-time departure. 
At check in, volunteers will pick up their wristbands, transportation/site location information and Coyote Cares Day t-shirt. We ask that all volunteers wear their Coyote Cares Day volunteer t-shirt. This not only celebrates our unity as a campus, but also helps our Site Leaders to easily see you at the project sites. This is for your safety.
The event will begin with a free breakfast and a brief welcome from President Morales. Volunteers are then dismissed to their project sites by the van/bus number indicated on the wristband. Your team leader may ask you to help load the supplies into your van/bus for your project.  Volunteers will work at their project site until the work is completed or when it is time to return back to campus. 
Helpful tips:
• Many volunteers are planting, gardening and painting, so please wear clothes that can get dirty and closed toe shoes – no open toed shoes allowed!
• Don't bring anything that you don't want to carry around all day, including purses and backpacks.  Please leave them at home or in your car.
• You will be outside, so please wear a hat and/or wear sunscreen.  Please wear your hair up if you have long hair and leave your jewelry at home.
• Please don't wear clothes that are revealing, including short shorts.  Keep it classy, Coyotes!
Volunteers arriving dressed inappropriately and/or with open toed shoes will not be allowed to take part of Coyote Cares Day unless you make a last minute wardrobe change!
Please take a few minutes to view our "Dos and Don'ts of Volunteering" video at: https://youtu.be/nLtvh5OkVBI 
Overview of commitment: 
Register as an individual volunteer.
Project site placement will be determined by OCE staff.
Adhere to Attendance Policy.
Wear your Coyote Cares Day T-shirt at all times.
Wear closed toe shoes and read helpful tips.
Prepare to have an amazing experience! 
Please call 909-537-3793 or email leaveyourpawprint@csusb.edu if you have questions about your participation at Coyote Cares Day! 
Ready to Register?
Once you submit your registration form, you will receive a confirmation email. 
Stay Tuned for Additional Info!