From December 1-3, the Forensics team traveled to Longview, WA to compete in the Smelt Classic Tournament. CSUSB entered 14 members into the tournament in IEs and NPDA debate and came home with 3 medals. Says Professor Amy Wassing, Faculty Advisor to the team, 'I am very proud of their performance; we had a great time, met some new people, and even got to check out the local culture and food in Portland.' Students competed against nine other colleges- Lewis & Clark University (Portland, OR), Oregon State University, Pacific University, Western Washington University, University of Oregon, Linfield College, Mt Hood College, Bellevue College, and Lower Columbia College.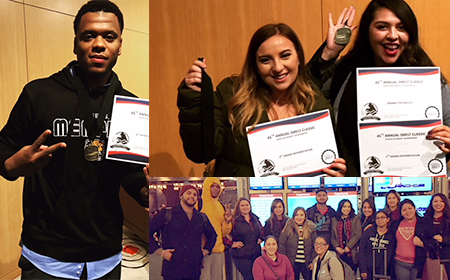 Dramatic Interpretation
Krystal Erickson- 3rd place
Tabitha Kessler
Zahnely Baca- won 2nd place and top novice speaker
Alba Luviano
ADS/STE (After Dinner Speaking/Speech to Entertain)
Theresa Salas- awarded top junior speaker
Dorian Butler- won 3rd place
Maria de Lourdes Campos

Impromptu Speaking

NPDA Debate
Natalie Gayoso & Amanda McFarland
Josefina Valdivia & Tejwant Brar
Elizabeth Vargas & Dalal Museitef
Maria de Lourdes Campos & Felipe Montano Jr.