An event designed to further prepare current students for life after graduation, the Communication Studies Symposium, will be held at California State University San Bernardino May 1, 2018, from 9am-3pm in the San Manuel Student Union. [Registration: https://www.eventbrite.com/e/whats-next-using-my-comm-studies-degree-comm-symposium-and-awards-tickets-44236207688]
With the Symposium theme, "What's Next," the event features panels and guest speakers aimed at informing students on how they can apply their communication degree after graduation.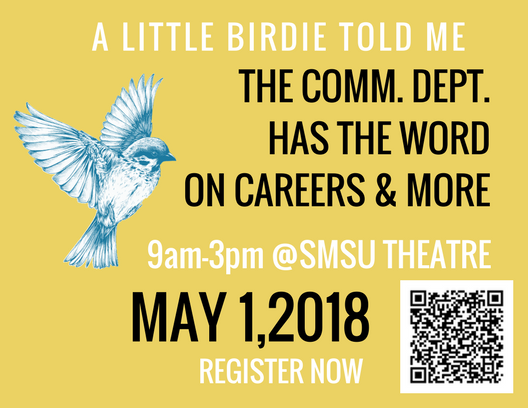 This year's student-led symposium embodies success providing information needed to perform within their respective fields following graduation.
Every year the symposium is presented by students and features alumni from the department providing information on further application of communication studies as professionals. The symposium highlights alumni accomplishments and achievements as some are invited back to share success stories. 
Says Dr. Owen, Interim Chair of the Department of Communication Studies, "The student-designed Symposium is all about celebrating the success and achievements of our COMM students, and we are grateful to the students in COMM classes and student organizations whose contributions, including event planning and design of programs, posters, centerpieces, and publicity materials, will make the event a great success.'
Panels will include the alumni speakers:
Panel 1: Getting My First Job in Communication 
Michael Arteaga, Alumni Engagement Specialist, CSUSB
Stephanie Cardenas, Public Relations Specialist, The Brand Amp
Johnny Coffeen, Screenwriter and Film Director
Ashley Jones, Communications Specialist, Cal Poly Pomona
Ginger Ontiveros, Executive Director of Community Engagement, San Bernardino City Unified School District
Jacob Poore, Manager, Coyote Radio and Coyote Advertising, CSUSB
Manny Sandoval, Public Relations Specialist, San Manuel Band of Mission Indians, Radio Host, KCAA NBC News Talk Radio
Panel 2: What Employers Expect:
Angela Gillespie, Graphic Designer, CSUSB Strategic Communication
Lacey Kendall, Broadcast/Media Consultant, Palm Desert Campus, CSUSB
Kelly Koehler, Account Supervisor, Westbound Communications
Elena Maris, Ph.D. Candidate, Annenberg School for Communication, University of Pennsylvania
Carmen Murillo-Moyeda, Media & Public Relations (Retired), CSUSB
Terry Saenz, Sales Associate, Coldwell Banker Commercial Real Estate Solutions
Jesse Sandoval, Post-Production Supervisor, Warner Bros. Television Group
This press release was written by the undergraduate students of Comm. 243d. Public Relations Practicum.
ABOUT THE CSUSB DEPARTMENT OF COMMUNICATION STUDIES: As part of the College of Arts and Letters, the CSUSB Department of Communication Studies is a multifaceted discipline combining both academic and professional interests including concentrations in media studies, public relations, and human and organizational communication. https://cal.csusb.edu/communication-studies