As first responders prepare for another busy season, the Los Angeles Daily News investigated causes for the increase in rescues in picturesque natural environments, asking if the #optoutside movement or the popularity of selfies plays a role.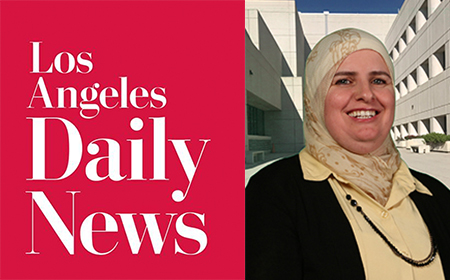 Dr. Muhtaseb is quoted in the story below.
"If we take a technology deterministic view then we will build a causation out of a correlation and it's not necessarily the case," said Ahlam Muhtaseb, professor and graduate coordinator of Communication Studies at Cal State San Bernardino. "It's not necessarily the technology that is making people participate in risky behaviors. It's a reflection of a person's own personality and behaviors and how they employ the technology in their day to day lives."
Muhtaseb points out someone who generally isn't a risk-taker wouldn't be lured to climb a waterfall for a selfie.
"People have to be careful and educated on the appropriate uses on technology," she said. "As with any new technology, the negative impacts might overshadow the positive."
Instead, Muhtaseb and others in the hiking community say the emphasis should always remain on preparation.