Welcome Statement
The Department of Educational Leadership & Technology's mission is to prepare educational leaders, who will work collaboratively with others to establish a positive climate for powerful teaching and learning in the 21st century. The faculty is dedicated to working with our diverse undergraduate and graduate students by assisting them in acquiring appropriate knowledge, skills, and dispositions that will result in well-prepared school leadership teams.
We warmly invite you to visit our programs within the department as we intentionally seek to promote our mission with students who are seeking to build their professional skills and knowledge. Please don't hesitate to contact us if you are interested in our programs or in our research. All of our programs are accredited by the Western Association of Schools and Colleges (WASC) and the National Council for Accreditation of Teacher Education (NCATE). We look forward to working with you on your educational goals.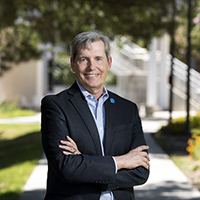 Montgomery Van Wart, Ph.D.
Montgomery Van Wart, Ph.D.
Interim Chair, Educational Leadership and Technology
Professor, Cal State University San Bernardino 
Director of Faculty Development, JHBCBPA
The department offers several challenging and innovative programs:
Doctor of Education in Educational Leadership - California State University, San Bernardino is proud to offer the Doctor of Education Degree in Educational Leadership. At the foothills of the beautiful San Bernardino mountains, CSUSB is centrally located in the Inland Empire. The CSUSB doctoral program is also offered at the Palm Desert Campus remotely during the week and at CSUSB on Saturdays. 
Co-Directors: Dr. Edna Martinez emartinez@csusb.edu, Dr. Sharon Brown-Welty sharonb@csusb.edu and Dr. Stanley L. Swartz sswartz@csusb.edu
Master of Arts in Educational Administration - The M.A. in educational administration is designed to prepare educational leaders who will work collaboratively with others to establish a positive climate for powerful teaching and learning in the 21st century. The faculty is dedicated to working with our diverse graduate students by assisting them in acquiring appropriate knowledge, skills, and dispositions that will result in well-prepared school leadership teams/learning communities.
Program Coordinator: Dr. Susan Jindra sjindra@csusb.edu
Master of Arts in Education with options in:
Instructional Technology - The M.A. in education with an option in instructional technology is designed to meet the needs of technology professionals in schools and other education related settings, as well as business settings. The program has two emphases: research and design/development.
Program Coordinator: Dr. Eun-ok Baek ebaek@csusb.edu
Career and Technical Education - The M.A. in education with an option in career and technical education is designed to provide advanced and specialized education to personnel working in a variety of settings related to vocational education such as secondary, postsecondary and private schools. The program should also meet the requirements for leadership positions in these facilities. 
Program Coordinator: Dr. Joe Scarcella jscarcel@csusb.edu
Teaching Credentials:
Program Coordinator: Dr. Joe Scarcella jscarcel@csusb.edu