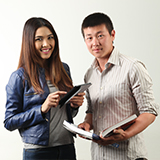 Our office offers assistance to students as they transition into other colleges or returning to their home countries.
ELIGIBILITY
There are only a few reasons that will grant a student permission to take less than a full course study. Please review the eligibility requirements explained on the form.
Must be authorized by the Center for International Studies and Programs.
PROCEDURES
Review the eligibility requirements. 
Complete the Departure form and any other items needed.
Submit the Departure form in person in CE-356 or via email. 
Requests will be processed after five (5) working days. 
*Incomplete requests will cause a delay in the processing time.