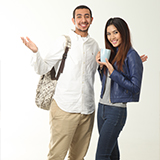 Deferred payment is a payment contract between CSUSB and the student. The department in charge of the deferred payments is Student Accounts, but as international students, you must first be approved by CISP.  Visit our office to receive the installment payment plan form and our request form to process your application. Students signing the agreement agree to pay the tuition in three installments.  
Incomplete requests will cause a delay in completing the request.

ELIGIBILITY
Must be in F-1 or J-1 status.
Must have Health Insurance cleared, as well as any other CISP registration hold.
Must plan to enrolled full time at CSUSB, or have a Waiver Request form on file.
Must be authorized by the Center for International Studies and Programs.
PROCEDURES
Review the eligibility requirements.
Complete a Request for Documentation form and the CSUSB International Student Deferred Payment Agreement.
Pick up documents after five (5) working days or request to send by mail.
Submit the CSUSB International Student Deferred Payment Agreement with the first payment to Student Financial Services (UH-035).