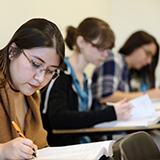 There are two ways of gaining a new nonimmigrant status.  You can leave the U.S., apply for a new visa at a U.S. consulate, and reenter the U.S.  The other way is to stay in the U.S. and change your status through USCIS. 

Leaving the country is usually faster than changing status in the U.S, and you will obtain the visa and the status.  Some disadvantages of leaving the country are the possibility of visa processing delay and the expense of travel. 

By staying in the U.S. you can continue with your classes (if you are eligible to take classes).  There are some disadvantages, such as: slow processing time; you must stay in the U.S. during processing; and you must still obtain a visa stamp should you leave.   This form gives instructions for changing status in the U.S.

ELIGIBILITY
Must be eligible for the status to which you are changing.
If changing to F-1 status, must be admitted to CSUSB.
Cannot have violated your current status, nor can your current status be expired.
RESTRICTIONS
Individuals in J status who are subject to the two-year home-country residence requirement can change only to A or G status.
Persons admitted under the Visa Waiver Program (marked 'W/T' or 'W/B' on the I-94) cannot change nonimmigrant status.
Persons who hold C, D, or K status cannot change nonimmigrant status.
A vocational student in M status cannot change to F status.
B visa holders cannot change to F status without the purpose of finding a university stated on the visa.
Violated your current status, or your current status has expired.
PROCEDURES
Review the eligibility requirements.
Gather all documents required on the change of status form.
Make an appointment with The Immigration Specialist to complete the process.
Remain in the U.S. and maintain the requirements of your current status.