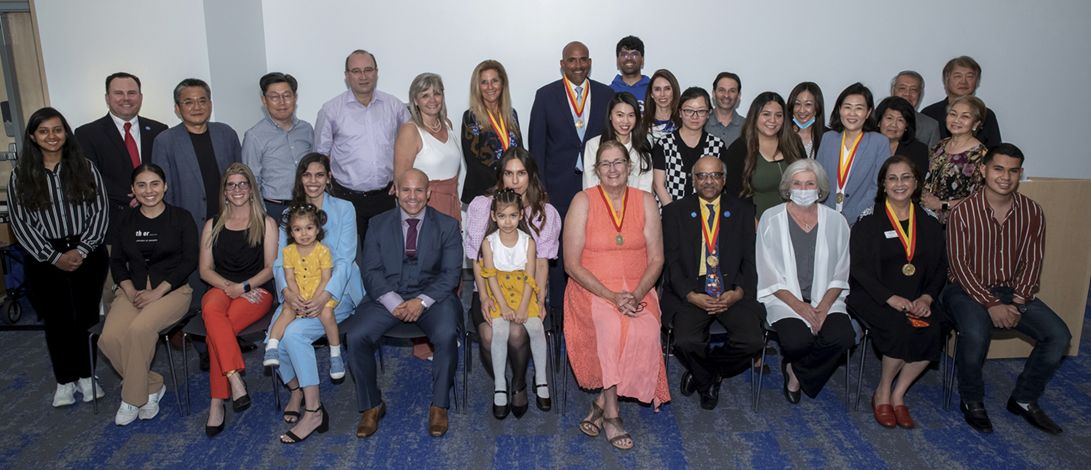 Phi Beta Delta is recognized worldwide as the premier international education honor society and is the first U.S. honor society dedicated to recognizing individuals who have demonstrated scholarly achievement in the areas of international education and exchange.
The Society was founded at California State University, Long Beach in 1986 and was established as a national organization with 38 chartered chapters in 1987. As of December 2012, 192 chapters have been chartered. The National Office of Phi Beta Delta is housed here at California State University San Bernardino.  CSUSB's Phi Beta Delta Gamma Lambda branch is recognized as one of the strongest chapters in the nation and counts many key faculty members, deans and administrators, including the President, as members. 
Phi Beta Delta serves as a vehicle for the development of international academic-based programs by increasing the recognition, credibility, and importance of the international experience. It also strives to develop a campus network of students and faculty involved in international endeavors. Benefits include:
Forums on International Education
Receive invitations to all Phi Beta Delta events
Attend private receptions with renowned scholars in international education
Meet visiting scholars and other CSUSB Phi Beta Delta members at receptions and dinners
Scholarships
Apply for several Phi Beta Delta scholarships for Study Abroad Scholarships or for our international students
Help choose an international student to receive a scholarship to study at CSUSB as a Phi Beta Delta academic member
International Scholars
Utilize resources to help you apply for a Fulbright Scholarship (either as a student or professor)
Access researchers around the world with whom you can collaborate
Publications
Contribute to international research through Phi Beta Delta's peer-reviewed journal which is published quarterly in hard copy and available on Ebscohost. 
How to join
Demonstrate a strong international orientation through studies, research and scholarly activities to earn nomination 
Reach a GPA standard (3.2 for undergraduates and 3.5 for graduates) to meet honor society standards 
Pay a one time induction fee and annual dues ($60 for new members and $30 for membership renewals)
Register membership on OrgSync