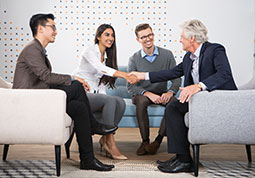 CISP administers the international scholar exchange program for CSUSB. Scholars may be invited to the University for periods ranging from a few days to a year or more to collaborate on research. All scholars need an invitation and sponsorship from an academic department for visa support. Please contact Faculty Director for additional information.
Visiting Scholars
Every year CSUSB receives international faculty and scholars that collaborate with our campus in various capacities: tenure-track faculty, visiting professors, and short-term scholars. The Center for International Studies and Programs assists academic departments and other CSUSB constituencies in producing the invitation letters as well as the J-1 visa documentation needed to sponsor faculty and scholars' non-immigrant statutes prior to their arrival to campus.
CISP works to attract international faculty and visitors to CSUSB and to provide personal, logistical, and academic assistance to them during their short or extended stays on campus. This support includes help with making contacts in all university departments to obtain letters of invitation and to maximize the contributions of international scholars' visits.
CISP has personnel knowledgeable about the immigration issues that affect all visiting scholars and their academic hosts. All campus units are encouraged to seek advice from the CISP about visa procedures.
Info for Academic Units
Academic units may sponsor J-1 scholars in the capacities of visiting professors, research scholars, or short-term scholars. Sponsoring international scholars does not mean the department is responsible for financially support the scholar, although in some instances they may provide a stipend for teaching a class or for providing the unit a particular service (e.g. collaborative research).
Every visiting scholar should secure a letter of invitation from a sponsoring academic unit. The letter must come from chair or dean, stating the intention to host the scholar in the department. Connections to academic departments usually come through CSUSB faculty or via an established MOU.
Academic departments seeking to sponsor an visiting scholar please contact Dr. Hyunkyung Oh via Email: hkoh@csusb.edu .
Verification of English Proficiency
As required by J-1 visa regulation, all visiting scholar need to provide evidence that his/her English skills are sufficient to live and conduct research in the United States. One of the following English language verification options:
OPTION 1: Evidence of having obtained a degree from a postsecondary institution whose language of instruction is English (including U.S. institutions)
•           For degrees from U.S. institutions, evidence must be in the form of a transcript or diploma showing the degree conferred.  No additional documentation indicating the language of instructions is English is needed for degrees from U.S. institutions.
•           For degrees from non-U.S. institutions, evidence must be in form of transcript in English showing degree conferred and English as the language of instruction.
If the transcript from a non-U.S. institution does not note English as the language of instruction, an official letter from the institution's registrar stating the individual attended the institution and the medium of instruction was English can be submitted with the transcript.
OPTION 2: Evidence of citizenship of a country whose official language is English
OPTION 3: Evidence of having obtained the minimum required scores on a recognized English language test: TOEL of 61 iBT/500 paper based or equivalent, TOEIC, IELTS or ITEP score. Only test scores from within the past five years will be considered.
OPTION 4: Skype interview with CSUSB sponsoring department by the faculty mentor.
OPTION 5: Interview with a professor of English of a university who present written comments. This can be home university of the scholar. The evaluator must have been in the profession of teaching and have a Ph.D. in English for non-native English speaker or a bachelor degree for native English speaker.