Welcome to CSUSB!
This month, the entire globe has been adapting to respond to the public health concerns associated with the COVID-19 virus, and this campus is no different. Your health and safety are paramount to us. For this reason, for the first time ever, we are conducting a virtual/online new student orientation via Zoom.
If you are not familiar with Zoom, it is a web-based meeting service that is very user-friendly. If you would like more info on how to use Zoom, please plan to attend one of the training options on the following website prior to March 23:  https://www.csusb.edu/its/support/student-resources-virtual-learning
In preparation for this orientation, you will need to scan or otherwise digitize the following very important documents for submission to CSUSB:
Your Passport bio page (which has your photo and date of birth info)
Your I-20 or DS-2019 form
Your Visa stamp page
Your I-94 card
Proof of Health Insurance (which can be purchased following the instructions here: https://www.csusb.edu/cisp/student-services/newly-admitted-students/health-insurance)
Once you have your documents ready, please begin your international student orientation paperwork submission by clicking the button below. You will need to log in using yourCoyoteID@csusb.edu. After you login, you will be direct to fill out some questions prior to attaching your documents.
Login example screenshot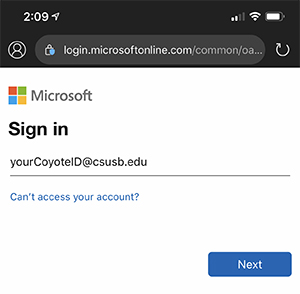 As a reminder, here is the Zoom for the Orientation:
Topic: Spring 2020 Orientation
Time: Mar 24, 2020 09:00 AM Pacific Time (US and Canada)
Join from PC, Mac, Linux, iOS or Android: https://csusb.zoom.us/j/776371270
   Meeting ID: 776 371 270
Interested in learning about zoom?
Please attend the free training offered twice a week at this link: https://support.zoom.us/hc/en-us/articles/206080966-Weekly-Zoom-Training-Webinars
You may also view Tutorials and Guides at this link: https://support.zoom.us/hc/en-us/sections/201740096-Training