Week of July 27
On July 24, ICE issued additional guidance for international students for the upcoming Fall 2020 term. Under the guidance:
New or Initial Students CAN:
Take classes outside the U.S. without having an active immigration status
New or Initial Students CANNOT:
Receive new I-20s as universities are instructed not to issue I-20s to students in new or initial SEVIS status if the student is outside the U.S.
Likely obtain an F-1 visa; eligibility to receive an F-1 visa is at the discretion of the U.S. Department of State
Enter the U.S. to pursue a full course of study that is 100% online
Continuing Students CAN:
Pursue a full-time online course of study from inside or outside the U.S.
Start a new program fully online if students are inside the U.S.
Be eligible for visas if they were enrolled in classes prior to March 9, 2020, and have since then left the U.S.
We will continue to update you on any new developments.  Please don't hesitate to contact us at cisp@csusb.edu if you have any questions about your status, have difficulty finding courses for fall, or any other questions.
Previous Announcements:
We are pleased to announce that ICE Guidance for Fall 2020 was rescinded. This is a result of strong public support for international students, and we are very happy to report that we at CSUSB will return to the March 13 ICE Guidance which allows the following for F-1 visa holders:
Continuing, active-status F-1 students may take online classes to maintain an active SEVIS record and immigration status, regardless of location;
Initial status students not in the U.S. may remain in their home country, register for classes, and will maintain an active SEVIS record; and,
F-1 students may continue to engage in CPT and OPT benefits while classes are online.
Message from CSUSB's President, Tomas D. Morales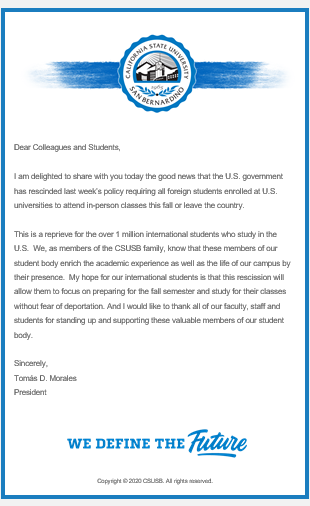 Resources: