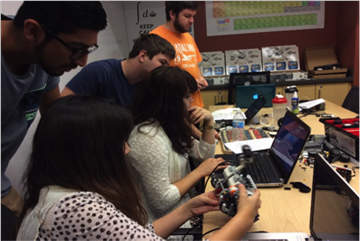 College of the Desert CREST Winternship 2015 participants. (Top) Juan Lupian, (Bottom) Maria Murguia, Patricia Mendez, Cameron Dall, and Max Feagle working together to construct a robot utilizing the computer program LabVIEW.
CSUSB Center for Materials Science Vision Statement
The vision of CSUSB's Center for Materials Science project is to enhance the research capabilities at multiple minority-serving institutions through the establishment of a sustainable, interdisciplinary and inter-institutional advanced materials research center housed at CSUSB and partnered with three eminent research centers.
Project Goals and Objectives
The overall goals of the project are to advance the scientific understanding of organic ferroelectrics and to increase the recruitment, retention and degree attainment of STEM students, including members of underrepresented groups. In order to achieve these goals, we seek to accomplish the following objectives:
Utilize ab initio computational techniques and database mining to predict new organic ferroelectric/piezoelectric materials while also refining the computational techniques and design tools.
Synthesize, and form the predicted organic ferroelectric/piezoelectric materials into solids: crystals, thin films, and composites.
Experimentally establish the properties of new materials utilizing a wide range of techniques including: nanoprobes, nuclear magnetic resonance (NMR), electron paramagnetic resonance (epr), x-ray diffraction, positron annihilation lifetime spectroscopy, neutron scattering, scanning probe microscopy, and bulk electronic measurements including hysteresis loops, dielectric, and piezoelectric butterfly curves.
Utilize the experimental results in subsequent rounds of new material predictions.
Identify promising materials for future applications.
Strengthen active research collaborations and personnel exchange between three minority serving institutions: CSUSB, COD and VVC, and three eminent research centers: UNL-MRSEC, UB, and NASA-Armstrong.
Establish winter intersession research enrichment experiences (winternships) at two high minority enrollment community colleges to promote student interest and opportunity in further study and research.
Provide interdisciplinary research experiences for STEM majors, both native CSUSB students and community college students, including many students from under-represented groups.
Provide bridges for STEM students, starting at community colleges or CSUSB to perform summer research and graduate study at eminent research centers.
Integrate research and education by advancing discovery and understanding, while at the same time promoting teaching, training, and learning; for example, supporting high school teachers and students to participate in the creation of an affordable Scanning Probe Microscope (STM/AFM) suitable for undergraduates and high school students.
Leverage the CSUSB-Upward Bound program as a recruiting tool at three local high schools with over 90% enrollment of under-represented minority students.